Automaticly Refresh manual cached filters
27 November, 2014
Hi,

I have a lot of reports where i use manual cached filters. However when i migrate my environment to an other database(exmpl. from test to production) i now need to open all reports and refresh them to provide customers to see old data. I don't want to schedule them.

Is there an other way to do this?

Regards,

Salvatore

Hi Salvatore,
Thank you for posting your query on our forum.
Apologise if I have misunderstood your request but it is possible to select Run Now in the Schedule Administration.
If you create a schedule for the report and then head to Administration>Admin Console> Schedule Management> Select the report/reports you wish to refresh and Select Run Now.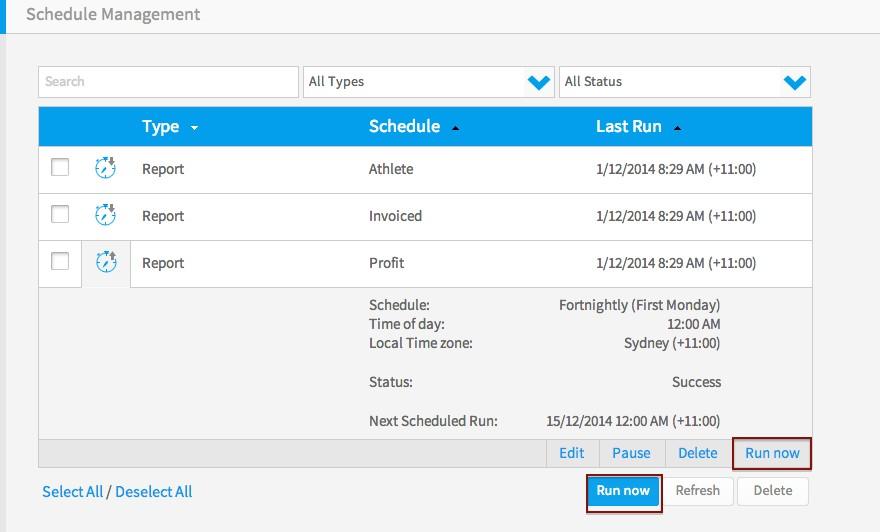 I hope this provides you with the solution you need but if we can assist further with this, please let us know.
Kind Regards,
Katie
Hi Katie,

This is not working for us, we have to use manual cache. We use Yellowfin in our product and bring this to the market with a lot of content(standard reports). However when we install this at a new customer the cached filters contain data from our source system. By using the refresh option at report level we can renew this, however for that we have to open all the reports. A lot of manual work. So we were looking for an better solution for this.

We can not use the scheduled functionality, cause we also use a custom plugin in our datasource connection that not allow us to use this.

Hope this explains.

Regards,
Salvatore

Hi Salvatore,

Thank you for your response and for the extra information regarding your request.

I have spoken with a member of our development team and reviewed our existing Enhancement Requests. I have found an existing task which asks for an automatic refresh for cached filters at view level (TASK ID: 146673). I have added details and the context of your request to this task for this option to be considered for a future build.

If you have any questions or need further assistance with this request, please let us know.

Kind Regards,
Katie