Yellowfin + Exasol
Unrivalled Analytics Performance
Everything you need to deliver exceptional data experiences
You can now purchase Exasol, the analytics database, together with the Yellowfin platform to deliver unrivalled performance for better data-driven decision-making.
Yellowin has bolstered its successful relationship with Exasol by offering the two world class solutions as a one-stop purchase. The Exasol database utilizes an in-memory, Massively Parallel Processing (MPP) engine specifically designed for analytics with lightning-fast responsiveness. Ranked the world's fastest by TPC-H, the industry benchmark for evaluating performance, Exasol, like Yellowfin, is highly flexible, and can be deployed in the cloud, on-premise or as part of a hybrid approach. This unique combination of database speed and innovative analytics functionality ensures you will be able to deliver a truly world class analytics experience.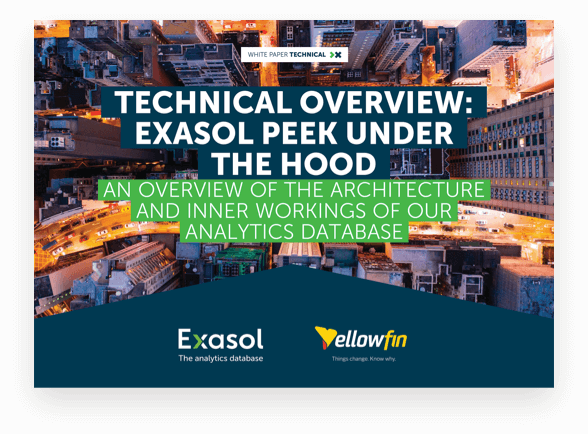 Please enter your details to receive a copy of Technical Overview - Exasol Peek Under the Hood. An Overview of the Architecture and Inner Workings of Our Analytics Database. Find out how Exasol has achieved its quest for speed over the last two decades.
A Proven Technology Stack
As the current Exasol Technology Partner of the Year (2019) and with customers already benefiting from the proven technology collaboration, Yellowfin is proud to offer the Exasol DB for direct sale as part of a combined offering.
Take advantage of powerful, AI-driven automated business monitoring
Whether you're using threshold based alerts or Yellowfin Signals to automatically monitor your data, you can ensure that you will know when and why important changes to your business data happens, when they happen. Paired with the speed of Exasol and always monitoring, discovering, searching and analyzing your business data in an instant, it's your shortcut from data to insights so you can confidently jump straight to actionable conclusions.
Simplicity and Scalability
When you combine Yellowfin and Exasol, you can scale with ease. Yellowfin can be scaled horizontally or vertically and combined with Exasol's self-optimizing and self-tuning capability, you can easily deploy automated analytical applications.
Try Yellowfin on Your Data
Try Yellowfin for free on your own data today to discover the power of analytics when you pair Yellowfin with Exasol, the Analytics Database.