We take you from raw data to great dashboards to actionable insight.
We even help you predict the future
The Yellowfin platform delivers value in three ways:

Join us around the globe as we launch the next wave of analytics with Yellowfin 8
See how you can add context to your reports, tell better stories around your data and automate your insights, no matter which dashboards you use.
Our integrated analytics platform takes you beyond data and
dashboards to expedited insight
Our fully integrated, browser-based ETL and  visual-data preparation tools let you rapidly deliver governed data ready for analysis. Connect directly to all your data sources — even plug in your data-science models — then transform, blend, and enrich that data to produce meaningful insights. Or build that connectivity yourself to perform the data transformations your business requires.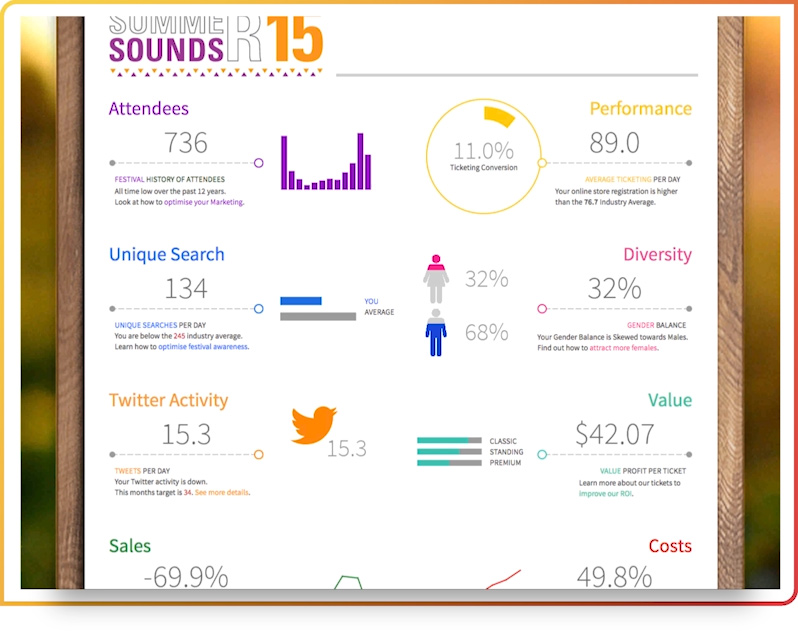 Our analytics tools let you quickly create stunning, flexible reports and dashboards. We automatically find correlations in your data, build the most relevant content, and provide a natural-language narrative to explain the results. You can also ask questions for better results and blend multiple data sources to produce stunning visualizations and infographics. Yellowfin automatically provides the building blocks for greater speed to insight.

To complete our platform, Yellowfin provides market leading collaboration and sharing tools so you can easily share insights with the right people as they need it. Users collaborate where their data lives through commentary and annotations. They also can see all relevant information through their personalized and secure timeline and share those insights across the business.


Best of all it's completely governed and secure
Across every stage of the analytics journey, we provide governance and security
to ensure complete trust in your analytics application.

Magic Quadrant:
5 Consecutive Years
ENTERPRISE
Engage users with governed
data they will actually use.
Deliver timely, engaging, and curated
analytics with the highest employee
usage in the industry.
SOFTWARE DEVELOPERS
Embed analytics for
better product stickiness
Easily integrate embedded reporting to
deliver timely insights and analytics to
keep your customers happy.
Delivering insights that matter to
25,000+ companies worldwide
Yellowfin provides a single, integrated enterprise analytics platform for delivering
faster, better insights for the whole business, regardless of function or industry.