Generate transformational value from your data.
A strategic, enterprise suite of BI and analytics products that change the way you discover and share insights so you can make the best decisions and act on changes in your data, faster.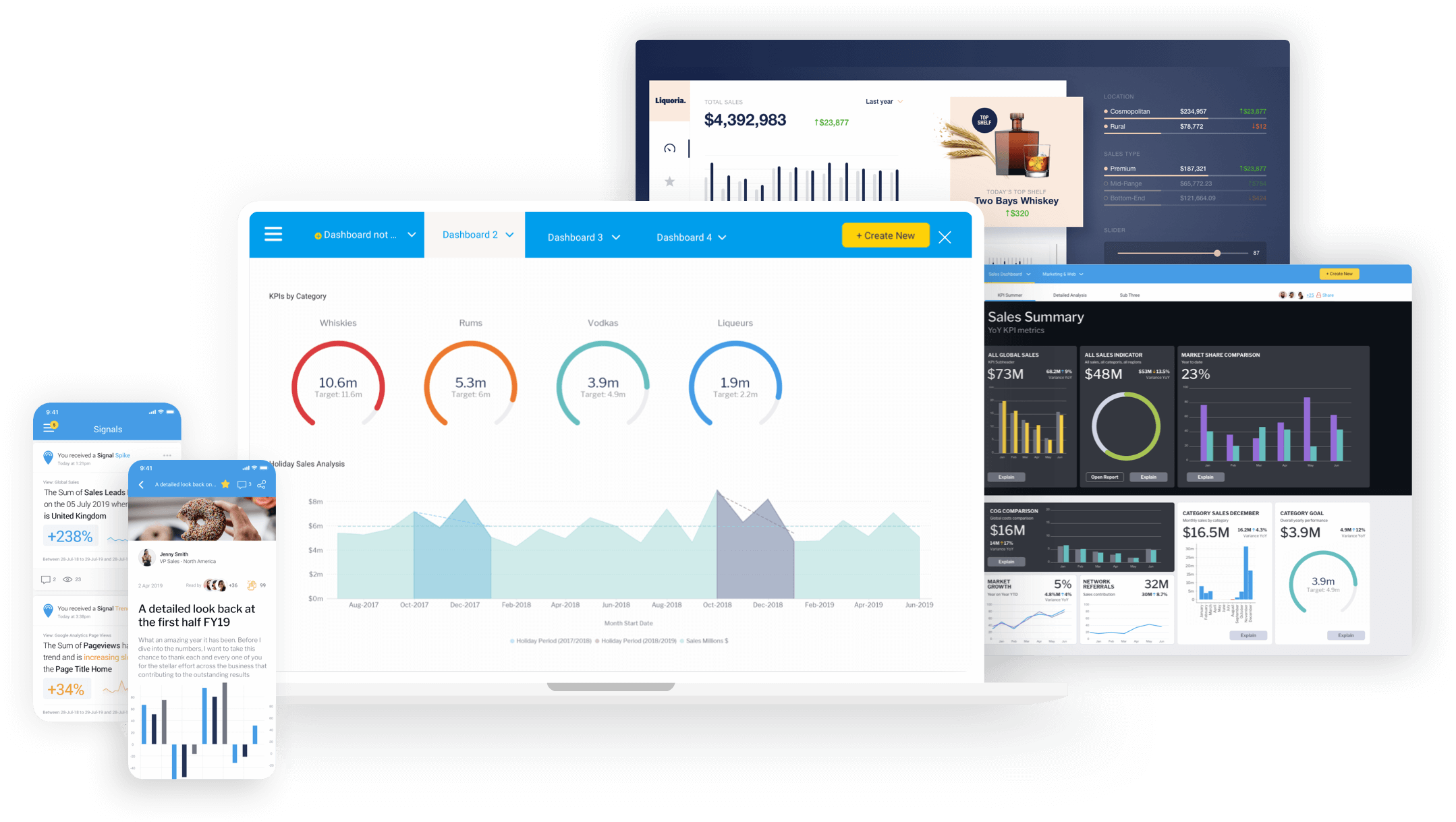 With Yellowfin Dashboards powered by Assisted Insights instantly providing the 'why', Yellowfin Signals automatically alerting you as changes occur and Yellowfin Stories providing context and narrative that can be shared, your business can finally, be truly data-driven.
What you can do with the Yellowfin Suite
The only enterprise analytics suite that combines industry-leading action based dashboards, automated discovery and data storytelling.
Receive Automated Signals
Immediately see what your dashboards can't find
Analyze data and discover insights
Uncover actionable information
Build AI-powered Dashboards
Understand what changed and why
Prepare data for analysis
Connect and transform your data
Author Compelling Data Stories
Generate consistent, organizational understanding
Is Yellowfin right for you?
Not all the Analytic and BI solutions are the same.
Technical fit is critical step in choosing the right solution to meet your needs.
We specialise in three key areas of BI and Analytics.
Enterprise Analytics
When security, governance and scalability matter
Embedded Analytics
When you want to integrate world class analytics into your app
Say hello to the new Yellowfin mobile app and experience the future of analytics
Yellowfin leads the analytics industry in innovation
See what our suite of BI products can do for you
For the analytics team
The best data products for real data people
For the business
Make better business decisions faster
For software developers
Your customers will love our analytics tools
Watch how we find the missing link
Success stories
Delivering insights that matter to 27,000+ companies worldwide
Don't just take our word for it
Analysts love us. Read what they have to say.
Yellowfin received top rankings in worlds largest Business Intelligence Survey for Embedded BI and Operational BI, and recommended by 100% of surveyed end users in The BI Survey 18 by BARC.

"EMA considers Yellowfin to be a leader in the use of AI, machine learning, contextual storytelling, and social communication for business intelligence."
See it for yourself
Let us show you the best analytics products on the market, including the only automated analysis and cross-vendor storytelling products available anywhere.