A data visualization is just the beginning

Data visualization is at the core of communicating data effectively. Whether in chart or tabular form, Yellowfin enables you to create stunning visualizations which can be used to build compelling dashboards, data stories and presentations, enabling everyone to see and understand trends, outliers, and patterns in their data.
Charts
Create stunning visualizations
Bring your data to life with beautiful, interactive visualizations. Understand your business data from all perspectives with over 50 chart types—from simple bars and lines, to trellis charts and infographics. With Yellowfin, the perfect visualization is just a click away. Discover the insights needed to make better decisions today.
Tables
A fresh look for an old favourite
Whilst charts and visualizations are the go-to standard, tables can be exceptionally useful for dense visual design, and in many cases a better way to communicate data than a chart. Use sparklines, bar formatters and conditional formatting to make your tables pop.
Text and Typography
Tell it like it is
Make use of dynamic text options to create text prompts, titles or explanations of your data. Yellowfin makes it easy by linking text parameters to filter inputs or data outputs, and provides rich formatting options to make your text really stand out.
JavaScript Charts
A world of options
In addition to the comprehensive set of out-of-the-box charts, Yellowfin also allows you to to build your own utilizing your favorite JavaScript charting libraries such as D3, Highcharts, and three.js. If you have a specific visualization need that cannot be met with standard charts, the Yellowfin JavaScript framework is the answer.
Maps
Put your business on the map
Yellowfin's Location Intelligence capabilities help put your business on the map. Effortlessly merge your spatial and traditional business data to discover your next big business opportunity. Use Yellowfin's own built-in mapping capability or take advantage of Google Maps API—the choice is yours.
Images
Tell a story with your data
Bring imagery into your reports and dashboards—use data 'content', such as a logo, for a brand-specific report or as visual elements to assist the user with identifying the context for the report or dashboard.
Shapes
Graphic components to create data experiences
Use shapes to highlight or draw attention to data. Boxes, arrows and lines help frame numbers, charts or text, and also draw attention to the data or create partitions so that a large canvas can be visually broken into separate sections.
Canvas
Combine it all for greatness
The Yellowfin canvas enables you to combine all visualization types into a single cohesive object,whether as a single report containing multiple elements, or as a dashboard tab with many reports, text and image elements. The canvas is pixel-perfect, providing you with full control over the layout of your components.
A data visualization is just the beginning
Yellowfin empowers anyone to create data visualizations, and offers a range of ways to share insights to ensure data is at the heart of decision-making.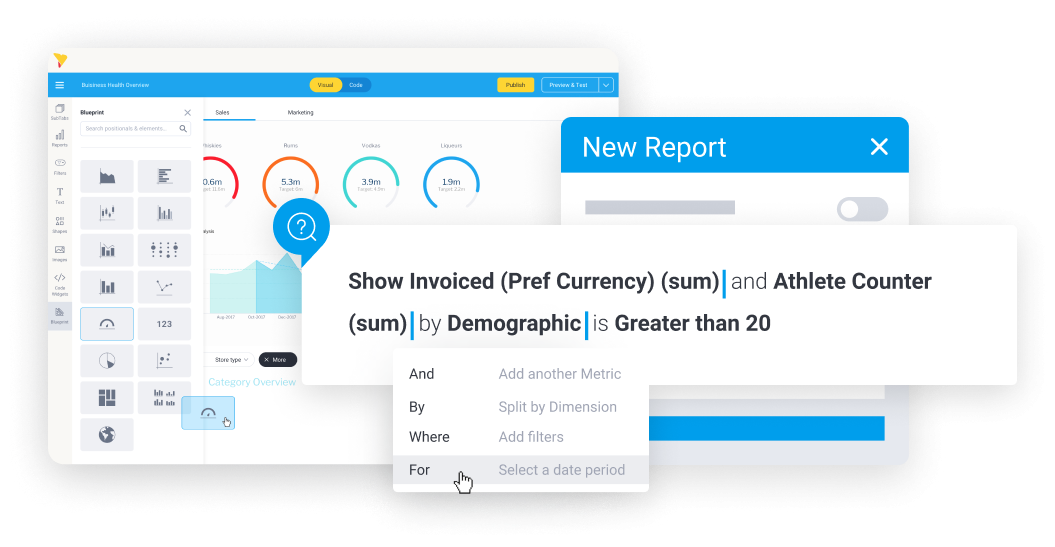 Create
Create data visualizations using a variety of methods to suit your needs and skills. Use quick charts on a dashboard for simple viz's, Guided NLQ to create more advanced visualizations, and for very specific designs use the Yellowfin Advanced Report Builder.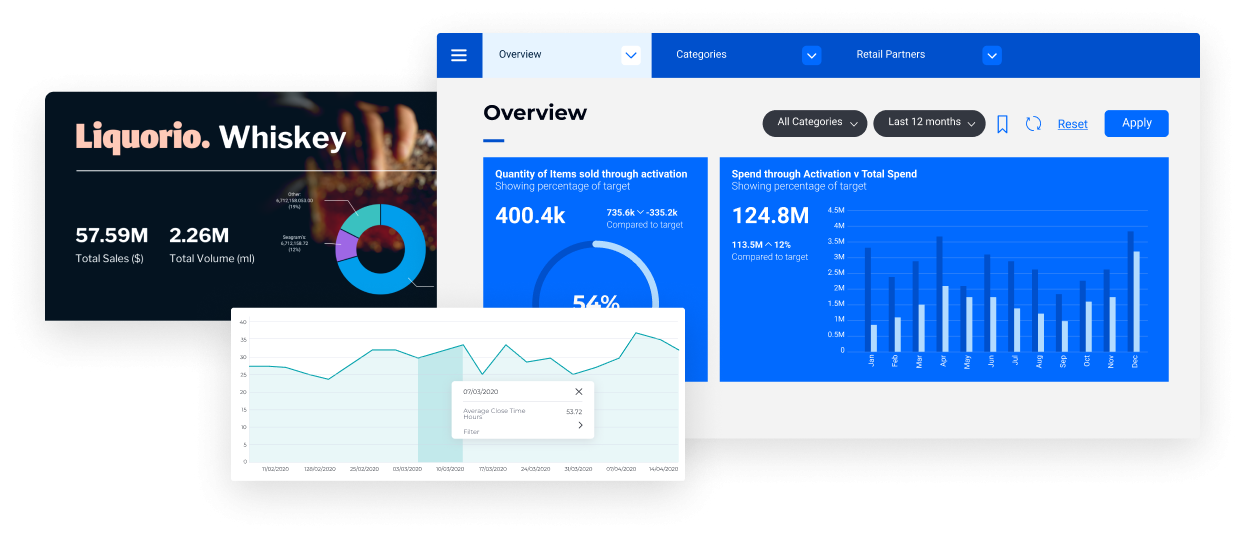 Share
Share visualizations in a variety of ways: add them to your dashboards, use them in your data stories or presentations, or simply share them as single reports that can be accessed ad hoc, or scheduled via email on a regular basis.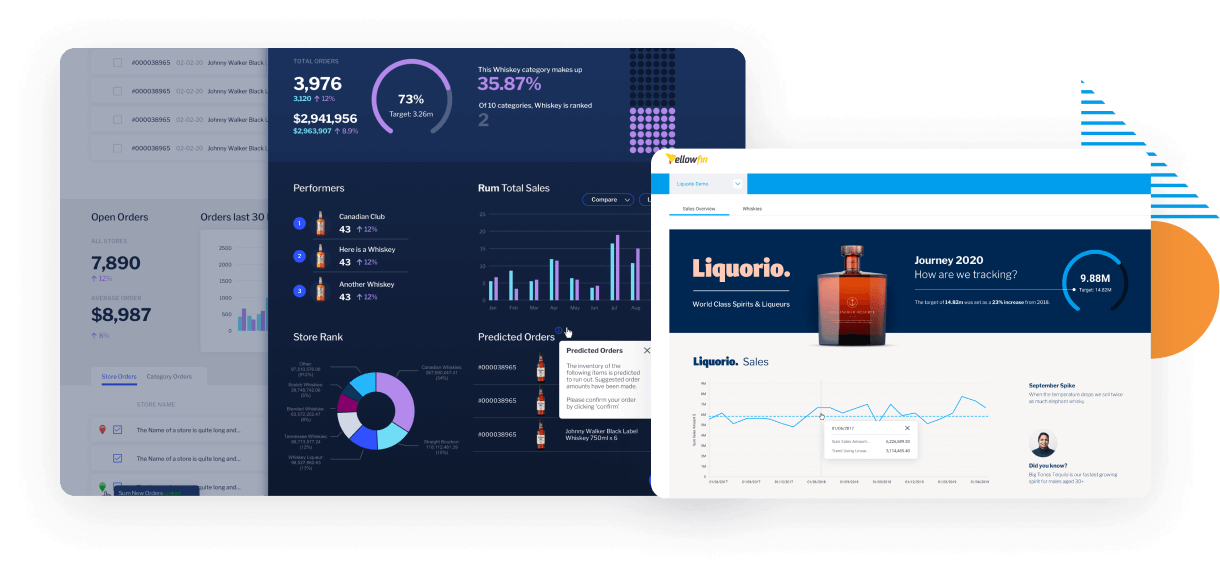 Get a Demo and see for yourself
Request a Demo of Yellowfin in action to see how the Yellowfin analytics solution solves data complexity through automation, dynamic data storytelling, collaboration and beautiful action-based dashboards allowing more people to discover, understand and do more with their data.
Free Trial
Explore Yellowfin now on our sample dataset or try for free on your own dataset for 30 days.
Request a Quote
Yellowfin is priced so that it is simple, predictable and scalable to suit your enterprise or embedded analytics needs.