Accelerate the development of analytical applications
Provide rapid value to your enterprise customers with turn-key analytical applications that drive action and deliver insights as a fully managed service.
Analytical Application Builders
Combine your unique industry or functional IP and the Yellowfin analytic suite to create unique analytic applications that deliver exceptional value to your customers. Create your own solutions that you can deliver as a managed service and that are scalable and transferable across your customer base.
SAP Procurement Spend Optimisation
Magento E-Commerce Analytics & Signals
Combined Salesforce, Billings and Forecasting Analytics
Google Analytics & Adword Spend Optimization
ServiceNow IT Service Management Analytics & Signals
Why assemble apps with Yellowfin?
Modernize
Utilise Yellowfin's innovative capabilities to create unique analytical experiences for your customers
Engage
Engage more deeply with your clients, and create more value with analytical apps and insights as a service
Automate
With automated data discovery and embedded data science models discover insights instantly and deliver value fast
Innovate
Combine the Yellowfin Suite and your domain expertise to assemble new data products, disrupt markets and create new revenue streams
Everything you need across the App development life cycle
The Yellowfin suite has been built to provide you with all the tools you need across the full analytic app development lifecycle. From prototype and design through to running a managed service we have you covered.
Prototype

Leverage domain expertise for rapid prototypes

Design

Unique analytical experiences that drive value

Develop

Data driven analytical applications

Extend

Embed operational workflows that ensure action

Deploy

Deploy anywhere On-premise or in the cloud

Manage

Post production support and hosted services

Engage

Deliver insights as a service on a continuous basis
Yellowfin provides the building blocks
Data Science Integration
Yellowfin makes it easy to productionize and operationalize your data science models. You can call popular data science models such as PMML, PFA, and H2O.ai to augment your apps.
Dashboards & Data Visualizations
Bring data to life with beautiful, interactive dashboards & visualizations. With unprecedented design flexibility and customisability.
Automated
Analysis
Automatically discover and surface the most important changes in data as it happens, using AI-powered pattern detection and relevance scoring.
No/Low Code App development
Build visually with the design canvas and extend with integrated operational workflows to 3rd party apps to drive action.
Data
Storytelling
Provide insights as services through governed data stories and management presentations.
Assemble highly customized apps
Use your IP to build pre-packaged analytical apps. Connect to all your data and build beautiful dashboards using a pixel perfect canvas that lets you create dashboards that will wow your customers.
Connect to all your data
Build compelling visualizations
Flexible design layout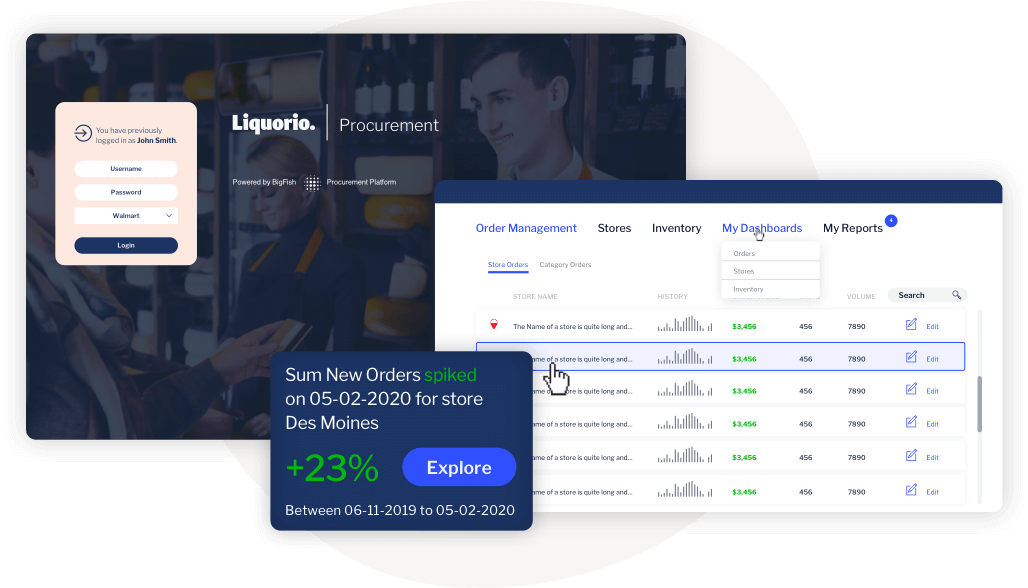 Deliver an exceptional customer experience sooner
Collaborative Visual Development
Intuitive development with built-in collaboration to create apps quickly.
Open & Extensible
Use our developer toolkits, APIs, and Code Mode to rapidly assemble and deploy unique analytical applications at scale.
Unmatched Time To Value
Go live faster, achieve results sooner.
When we say partner, we mean business
Highly
Differentiated
Not just dashboards - a truely unique offering for your customers
Automated Analysis
Data Storytelling
Operational Workflows
Commercial &
Tech Support
We work with you to plan onboarding, training and success beyond the first few projects
Marketing assistance to grow our combined brand
Follow the sun support for your global customers
We don't compete
Our resources are focused on building the world's best analytics suite
We rely on our partners for long term implementation and service support
Globally recognized as a leading innovator
See why we've made it into the Gartner Magic Quadrant 9 times in a row and have been named a Visionary again in 2022.
Recognized as 'Strong Performer' in The Forrester WaveTM: Enterprise BI Platforms (Client-Managed),
How to Turbocharge you Application with Contextual Analytics
Innovate your application and create highly valuable analytic experiences for your end-users with contextual analytics.
What is Contextual Analytics?
Learn how contextual analytics transforms embedded BI with guided, personalized insights for your app users, increasing the value they get from your software.
How to Select an Embedded Analytics Product:
Twelve Criteria to Consider
Learn from the analytics experts at Eckerson Group the 12 most important criteria to consider when selecting an embedded analytics product - and start implementing your modern BI platform sooner.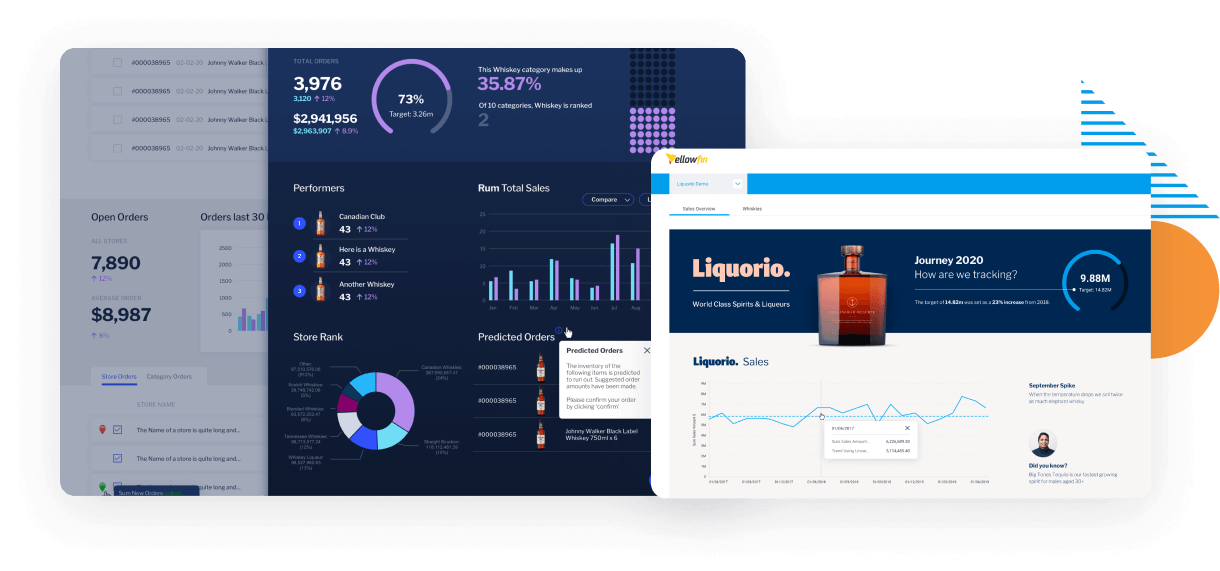 Get a Demo and see for yourself
Request a Demo of Yellowfin in action to see how the Yellowfin analytics solution solves data complexity through automation, dynamic data storytelling, collaboration and beautiful action-based dashboards allowing more people to discover, understand and do more with their data.
Free Trial
Explore Yellowfin now on our sample dataset or try for free on your own dataset for 30 days.
Request a Quote
Yellowfin is priced so that it is simple, predictable and scalable to suit your enterprise or embedded analytics needs.