Named user
Price is based on how many named users have access and is suitable for small to medium sized deployments. There are no feature limitations at a user level.
Server
Price is based on required CPU cores and is suitable for larger deployments.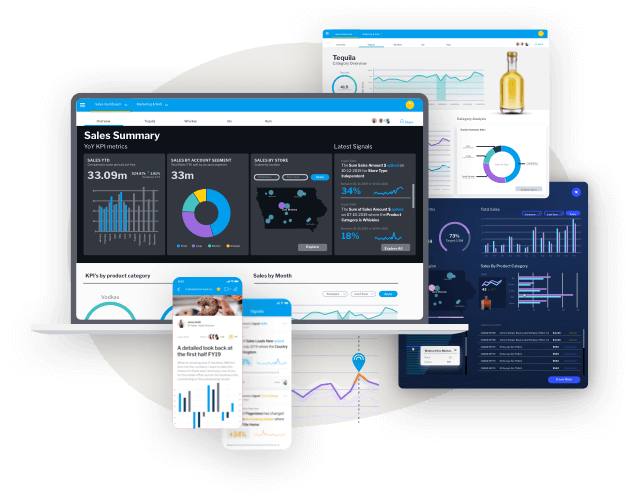 Server
Price is based on required CPU cores needed to support your deployment.
Custom
A flexible pricing model designed to align with your unique go-to-market model ensuring predictability and scalability without any hidden costs or surprises.
Scalable with unlimited compute power
Flexibility to accommodate multi-regional deployments
No limits on dev and test licenses ensuring devops is covered
No limitation on access to functionality across users — no nickel and diming
Smooth and predictable pricing to align with your GTM model (delighting the CFO!)
Extending, hosting and database selection
Analytics Plus

Everything you get in Yellowfin Analytics PLUS Automated Business Monitoring with Yellowfin Signals. Available on a named user, server and custom pricing basis.

Self Managed or Fully
Managed Service

Self manage your own deployment on-premise or in the cloud, or take advantage of a fully managed service and have Yellowfin securely hosted for you — the choice is yours.

Analytical Database

Take advantage of the unrivalled power of a high-performance in-memory analytics database on-premise, in the cloud or both. No platform, vendor or architecture lock-in.
Read more on pricing in the Yellowfin Evaluation Guide
Your Yellowfin pricing questions answered in one place. Understand how our simple, predictable and scalable pricing with no surprises and no hidden add-ons is competitively priced to fit your needs. Also explore how our unique, custom pricing model can work with your bespoke embedded analytics requirements.
Globally recognized as a leading innovator
Innovative product vision, top-scoring product functionality, and the best customer experience are just a few of the reasons we've made it into the Magic Quadrant 8 times in a row & have been named Visionary in 2021 - again!
Recognized as 'Strong Performer' in The Forrester WaveTM: Enterprise BI Platforms (Client-Managed),
Yellowfin received top rankings in world's largest Business Intelligence Survey for Embedded BI and Operational BI, and was recommended by 100% of surveyed end users in The BI Survey 18 by BARC.

"EMA considers Yellowfin to be a leader in the use of AI, machine learning, contextual storytelling, and social communication for business intelligence."
Delivering insights that matter to 29,000+ companies world wide
See it all in a couple of minutes
Introduction to Enterprise Analytics
Introduction to Embedded Analytics
See for yourself
Let us show you the best analytics product on the market with the only analytics platform that combines action based dashboards, automated business monitoring and data storytelling capability.