Enterprise IT
A suite you can build your business on
Yellowfin isn't just a lightweight data discovery tool masquerading as something more. Yellowfin is the perfect enterprise BI suite – we're easy to use, deploy, integrate and manage at scale. At the same time, Yellowfin is recognized as a leading alternative to the cost and complexity of traditional BI software.
Easily balance governance and security requirements with your organization's thirst for information. Enable data analysts to create reliable insights from a single source of truth. Empower business users to independently consume, share and act on all your data with confidence. Deliver analytics across your organization and drive a culture of data-driven decision-making.
Yellowfin is a single 100 percent browser-based application with centralized architecture, metadata layer and dozens of data, content, role and functional security mechanisms. Know that the right people have the right access to the best information at all times – on any platform or device. It's simple: Yellowfin is built for enterprise.
Administration in one place
Yellowfin's Administration Console allows you to manage, view and search system-wide configurations, from data sources, meta-data layers, language settings and users, in one place. Manage your entire BI deployment with Yellowfin's highly intuitive Administration Console.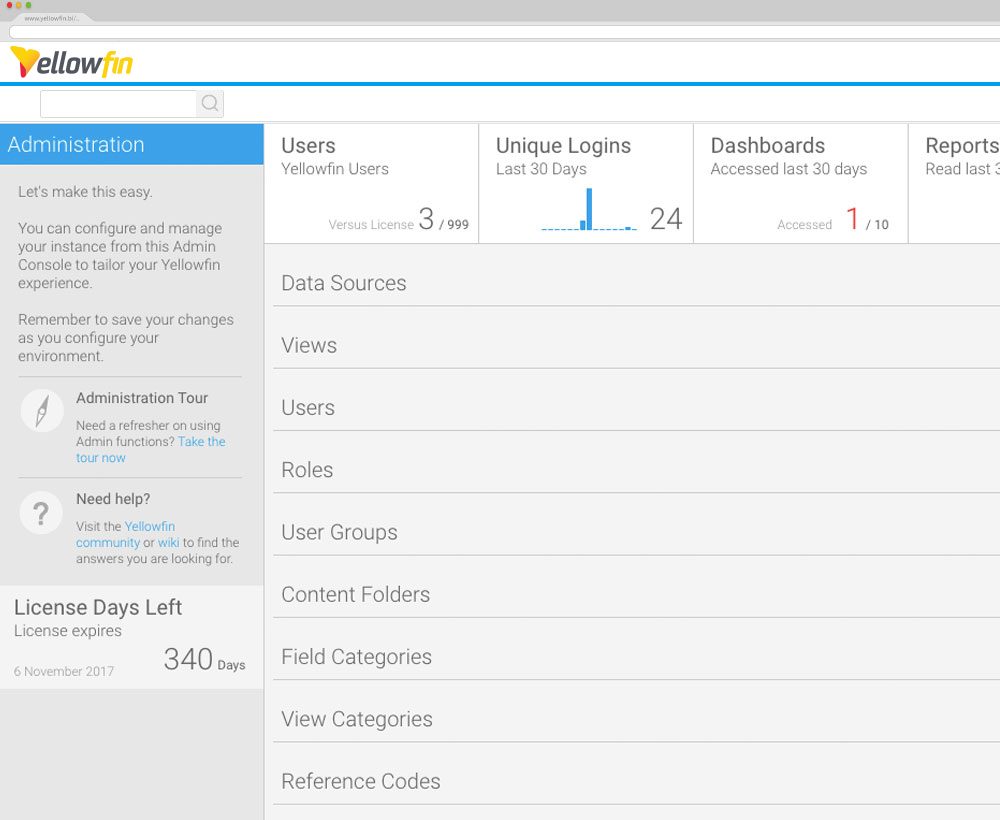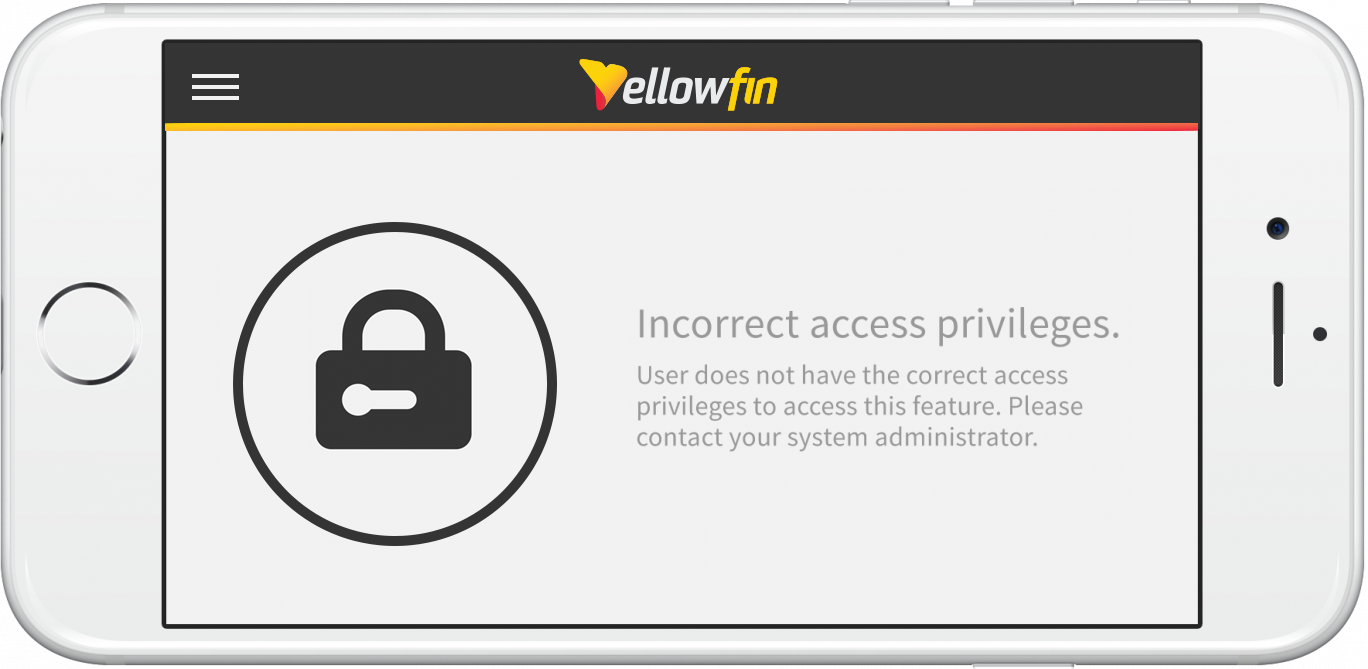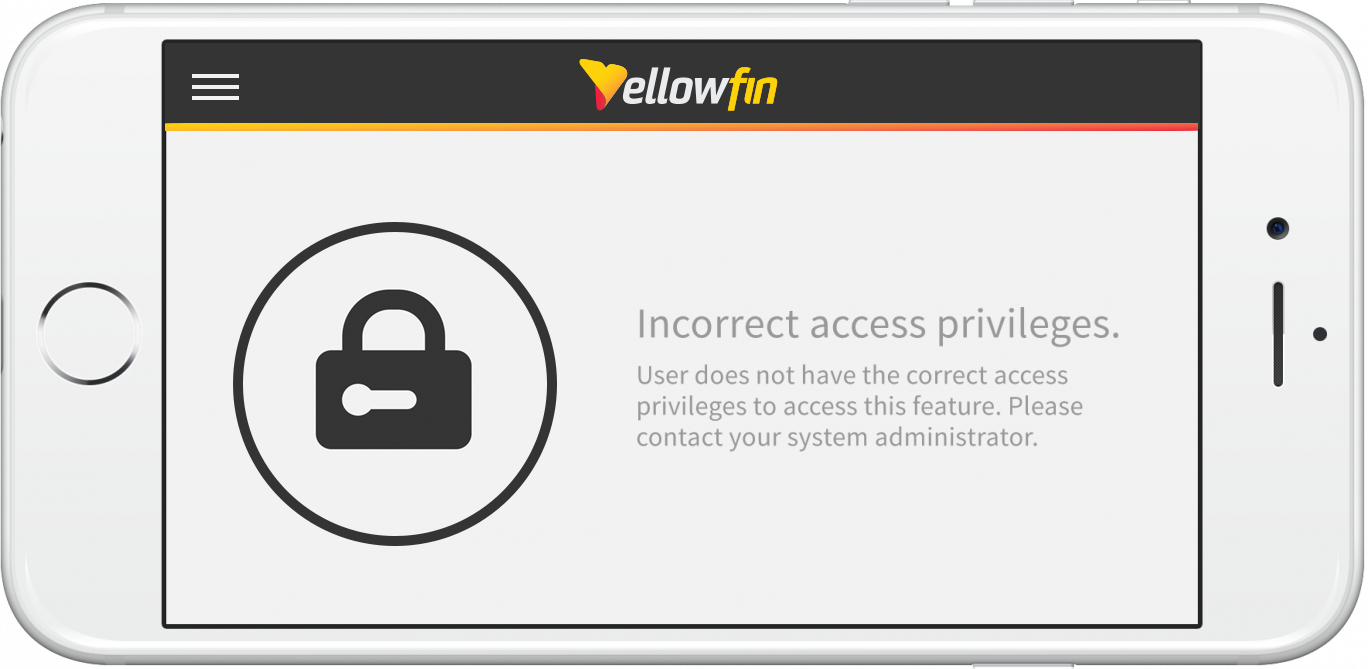 Rock solid security
Yellowfin also ensures that your data security is front and centre. That's why we provide you with a user, role, group, content, function and data level security model that you can configure as you wish. Or, better still, use LDAP or active directory to reuse the security frameworks you already have in place in your business. Keep your data protected with Yellowfin.
Connect to all your sources
Whether it's Big Data sources, Web APIs or a relational database, control them all from the Yellowfin Suite.
Scale as you need
Built with growth in mind, Yellowfin's native clustering provides horizontal and vertical scalability that big deployments need to cater for many thousands of concurrent users. Cluster Yellowfin on multiple servers - physical or virtual, as demand grows to enable high availability and load balancing.
"We needed to establish one platform across the enterprise to satisfy all our BI requirements so that the user experience wasn't fragmented. Yellowfin enabled us to implement an enterprise BI solution that met the needs of our 250 staff members."
Jeff Kuziemko – BI & EPM Director,
U.S. Green Building Council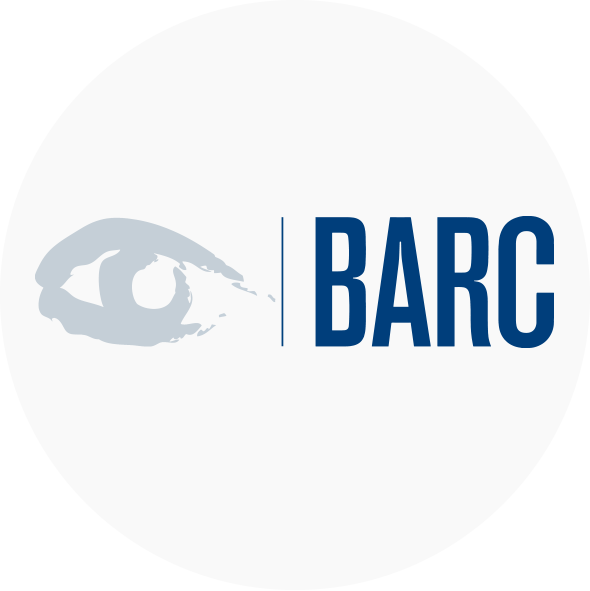 Highest user adoption rates
You want your platform to be used by everyone? Yellowfin has the highest adoption rates in the industry. According to BARC, our adoption rate is nearly three times that of our competitors. There's a reason for that!
Download the Gartner Report
See why Yellowfin ranked among the Top 5 analytics platforms across all 15 Gartner Critical Capabilities for Analytics and Business Intelligence Platforms, 2018