BARC's Report
on Yellowfin:

Headline Results from
The BI Survey 17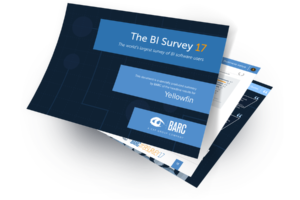 Discover how Yellowfin stacks up against the competition in the world's largest, independent Business Intelligence survey – BARC's The BI Survey 17.
BARC ranked Yellowfin first for 4 categories and a leader in 8 categories across several peer groups in BARC's The BI Survey 17.
See how Yellowfin compares to other BI tools for:
Project success
Project length
Business value
Price-to-value
Ease of use
Cloud BI
Mobile BI
Operational BI
Innovation
Self-service
Download The BI Survey Yellowfin Highlights report now to see what BARC has to say about Yellowfin.