incuda unlocks full-stack data warehouse platform for retailers with Yellowfin BI
Background
Founded in 2012, incuda is a German IT services and consulting company that provides a full-stack data warehouse platform, including data centers, databases and data models and reporting tools, for mid-sized (between 20 and 500 million in yearly revenue) multi-channel retailers (e-commerce, stores, call centers, catalogs, etc).
incuda offers all their clients several pre-built, packaged products to drive insights from data, with incuda BI being its core product that provides detailed data for a wider overview and increased understanding of business performance, using data from various online and offline channels, as well as back-office and 3rd party systems to integrate all data sources of a retail business model an help connect retailers with their markets and all the information they need to run, report and optimize a retail company – prospects, customers, products, purchases, logistics, pick & pack, revenue, profit and more.
incuda's data platform uses a white-labeled version of the Yellowfin BI suite, and has leveraged Yellowfin's extensive embedded analytics capabilities to elevate its core offering. incuda has been a customer of Yellowfin for over 10 years, and continues to make use of its suite today.
"Yellowfin is one of the key components that allowed us to build a standardized product in the first place, with excellent scalability across our clients. Without its multi-tenancy, I think the approach would have been much less attractive for us and for our clients. It is one the critical key components to enable our product as a scalable platform."

Franz Posch, Founder, incuda

Challenge
Rapid market shifts and customers inexperienced with data

In 2012, incuda identified several investor-funded, e-commerce start-ups in the growing retail market that had a high requirement for data insights, but were too small to afford traditional data warehouse and BI solutions and consulting services.
With extensive backgrounds in the consulting business, incuda recognized a need in their market for affordable, efficient BI which could bring established retailers up-to-date with their data very quickly. The company rapidly moved to increase the maturity of its data warehouse approach, to make it more affordable for this new customer segment through standardization.
"incuda provides a standardized data warehouse platform for all customers," explains Franz Posch, founder of incuda. "What standardization means is every customer has the exact same core data model, reporting tools, and reports and dashboards, helping them get up-to-speed."
According to Franz, the key challenge incuda faced was in translating the value of their offering to these new clients. "The most critical help we could give them, from our experience in the consulting field, was the marketing side – giving proof of the value of the product and allowing young companies in marketing and sales to very quickly analyse campaigns across a wide set of traditional and new marketing channels, optimise the marketing mix and grow in the market."
To help realize its objectives of value and growth, incuda determined it required an embedded BI solution that had scalability, flexible architecture, and multi-tenant capability. "Scalability across all our clients was our most important driver when we began searching for a BI solution partner."
Solution
Scalable embedded BI with multi-tenancy

incuda spent three months searching for the right BI solution that offered what they needed to implement and deliver their data warehouse platform to the mid-sized retail customer market. The company eventually evaluated Yellowfin as its lead choice, based on several features.
"When we looked at our solution and where we could provide more scalable analytics and reporting capabilities to our market, Yellowfin was the only scalable BI tool that allowed for simple and robust multi-tenancy," explained Franz. "When you consider the core of our product is like a standard product, we wanted to make business content – dashboards and reports – available to all our customers. But we need to maintain it across the customer-base. If we find a bug, we need to fix it, but we did not want to fix it for every single client – we want to fix it once. Same with new features, especially as a young product always growing our features. We want to build and implement these things one time, and have it available for everyone. Yellowfin offered just that."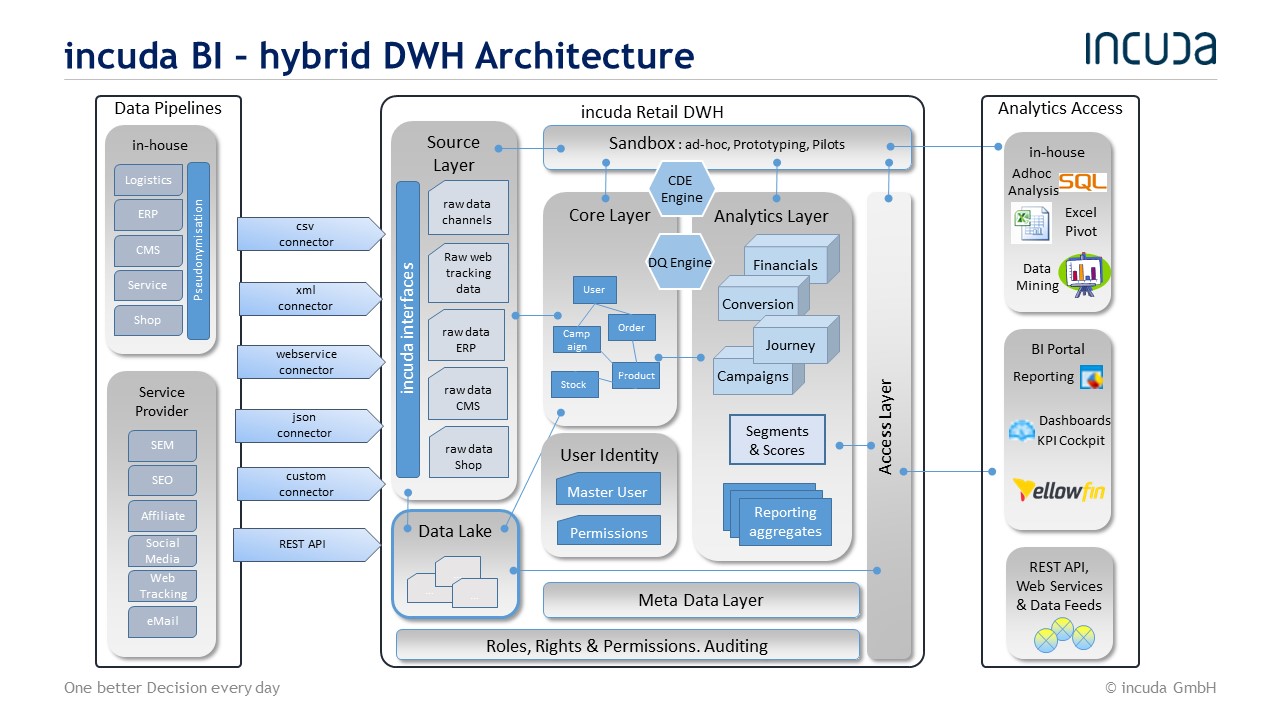 Implementation
Standardized reporting and self-service BI in one

incuda moved forward to implement Yellowfin as part of its incuda BI product, and soon was able to provide standardized reporting, dashboards and data warehousing for the new wave of mid-sized retailers that were relying on more traditional solutions for their insights.
"When we provide our platform to one of our customers, they start with the standard capability of the platform, meaning we fill the data model, calculate the standard metrics, and they have the standard reports for revenue, product sales, stock levels, marketing attribution and the user journey ready-to-use. This is available immediately to every new client, as soon as we load the data in the platform for them," said Franz.
"The incuda system is completely open; customers can access all data and it's completely transparent. They can build their own tables, calculate their own metrics, and run their own test campaigns. They also have full control of copying the reports in Yellowfin and building their own reports and changing elements, and doing all the typical BI stuff you do with a data warehouse."
"We use connectors to connect to data sources, so if you get a new marketing channel, then you just plug in the connector and you see the data in your report – so you see the marketing performance on profit in Yellowfin. It's more or less plug-and-play to try it with a new marketing partner, or to integrate additional source systems. With this connector approach, we connect data sources and make them available in the Yellowfin reports and dashboards very fast."
With both standard reporting and self-service BI options made available, incuda's new product offering rapidly resonated with their retail customers thanks to its accessibility. "Essentially, incuda maintains the one BI interface on the reporting side, and makes it available to all customers, who can add their reports, dashboards and analysis. For us, Yellowfin was unique in enabling this approach."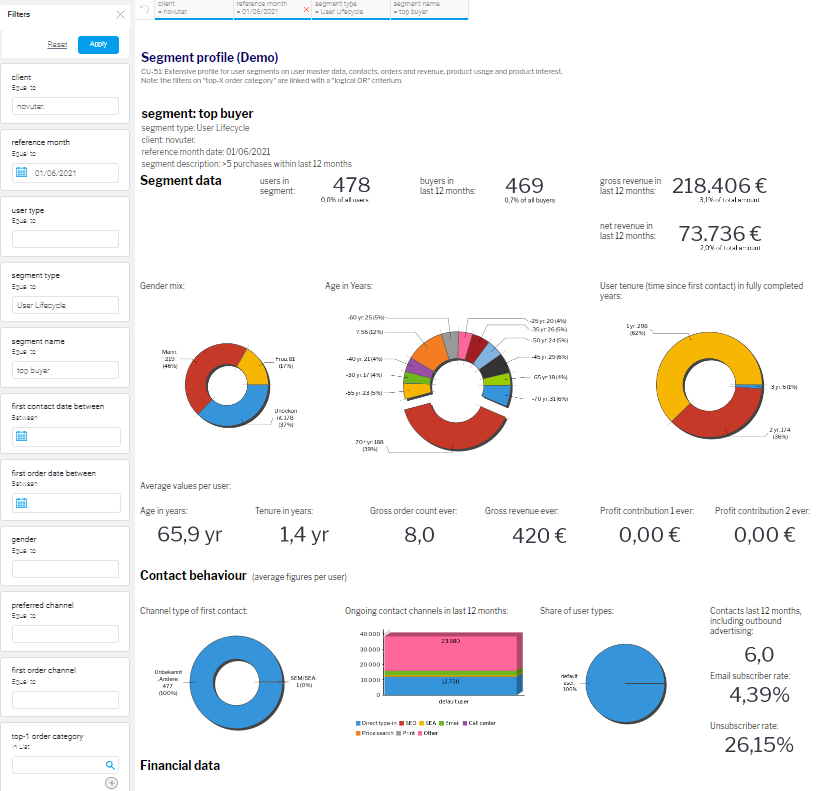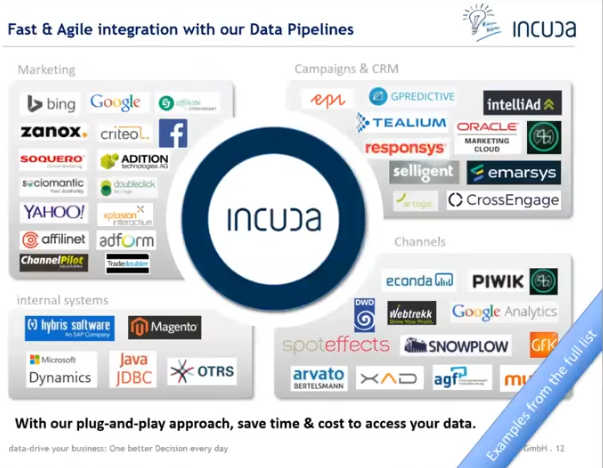 Results
Data-driven decision-making made easy for every business user

incuda BI has used Yellowfin to power its data platform and analytics capabilities for over 11 years, recording several benefits for its business while addressing many challenges that its mid-sized retail customer base previously faced around data accessibility and solution value.
"The feedback from our customers is that Yellowfin is a very strong tool to calculate both simple business metrics like reporting on the previous business year, and very easy to calculate more complex reporting and dashboard structures. They find it much harder to do in other BI products, such as Power BI," said Franz. "You can do it, but it's not as easy, robust or as scalable as YF."
"In the operations team, we have three KPIs for the full platform: Complete data, correct data, and data security. We have met these goals and grown together with Yellowfin in our maturity, stability and availability, especially as the Yellowfin product – the internal technical side – over time has become more sophisticated and much more transparent for us, allowing us to monitor and configure the system much better in terms of the use we expect from our customers."
For Franz, one of the biggest benefits Yellowfin has enabled its retail customer-base is in the democratization of data – making information and analytics more accessible to not just data experts, but everyday business people within the retail company.
"What we see changing with our clients who use our platform with Yellowfin is they are increasing the number of employees that work with data – at least a 50% increase in data consumers, and we see this as influenced by their use of Yellowfin," said Franz. "Business people are working with reports, and this self-service approach has been really embraced and sped up the time-to-insight. The old process of the multi-channel retailer was users had to put a ticket in with the IT department to explain a report – now, power users in the business department can do this stuff on their own."
Future
incuda is continually looking at ways it can further leverage the Yellowfin BI suite as well as enhance its data warehouse product experience for retail customers. For Franz, it's in the story behind the numbers. "We're looking in different directions. One is content – data warehouse BI is mostly focused on numbers, performance, growth and profit – but what we've been looking at for the past few years is the context of information – stories, media. The more relevant you are in your communication to the market, the better figures you will get."
"For me, the most amazing thing is that we're still using Yellowfin after 11 years," said Franz. "The market evolves, the players are changing, the versions have different strengths, and we've changed a lot of the different modules – but we've stayed with Yellowfin. It's been an amazing solution for incuda for over a decade."
See for yourself
Let us show you the best analytics product on the market with the only analytics platform that combines action based dashboards, automated business monitoring and data storytelling capability.
Get a Demo