Yellowfin Data Preparation
For any analytic project to be successful, you need your data to be ready for analysis. Yellowfin Data Preparation has everything you need to connect to, or extract data, from all your data sources and prepare your data for analysis, both manual and automated.
Simplify Data Complexity
The Yellowfin Metadata Layer is the foundation for Self Service.
Getting your meta-data layer right is a key step to enabling business user self-service, generating automated analysis and speeding up the creation of all of your content. Creating a great metadata layer is the cornerstone of a great analytics experience for all your users.
Connect to all your data
No lock in
Connect to files, relational databases, cubes, Hadoop, NoSQL and API data sources. On premise or in the cloud. If you have a bespoke data source you can even write your own connector.
The choice of database is yours. Data is not ingested into the Yellowfin Platform. As such you can connect to any supported data source and query your data without moving it. There is no proprietary database that locks you in.
Analytical Databases
Snowflake, Exasol, Google Big Query, Redshift, SAP Hana etc. Yellowfin has plenty of options for your development team.
Relational Databases
DB2 Universal Database, Progress 9.1, MySQL, HSQL, ODBC, OpenEdge, AS/400, Interbase, Universe, Firebird, Cache DB, Pervasive, Sybase ASE, Sybase Anywhere, Sybase IQ, SQLite, Derby, H2, FoxPro, Lotus Notes, Microsoft Access, Vectorwise, Greenplum, Apache Hive2 and many more!
APIs
Connecting to your favorite Web applications is now as easy as connecting to your on-premise databases. Create, share and act on analytical insights from your most important third-party Web apps with out-of-the-box dashboards and reports for Salesforce, Xero, Google Analytics, Zendesk, Twitter, YouTube and more.
Spreadsheets
Yellowfin treats your spreadsheets as just another data source. Quickly and easily combine CSV files with other data types to create a single, up-to-date and accurate version of the truth. Avoid the frustrating limitations, delays and error-prone nature of Excel reporting. Use your spreadsheet data to create stunning visual analysis and interactive reports in minutes.
Transform Your Data
Clean, blend, enrich, and transform
The data transformation capabilities within Yellowfin allow you to do the most common transformation tasks, as well as hook into web connectors like Salesforce and Google Analytics. The module helps you clean, blend, enrich, and now transform your data.
This means you can get to your insights faster and more cost-effectively because your transformation tool is completely integrated with your analytics platform.
Build
Drag and drop interface.
Creating data transformation paths just got visual, so you don't have to learn scripts. With Yellowfin's integrated drag-and-drop GUI interface, your team can create data transformation flows within Yellowfin.
Combine
Multiple sources to drive your insights.
Tables, flat files, free hand SQL – there are multiple data sources available to drive your transformations. As well as web connectors to popular web-based tools such as Google Analytics, Sales Force and much more.
Operationalise
Integrate your Data Science Models.
In addition to providing standard transformation steps, such as aggregating, calculation, and merging, Yellowfin enables transformation widgets to tap into popular data science models such as PMML, PFA, and H20.ai - as well as geocoding, on the fly.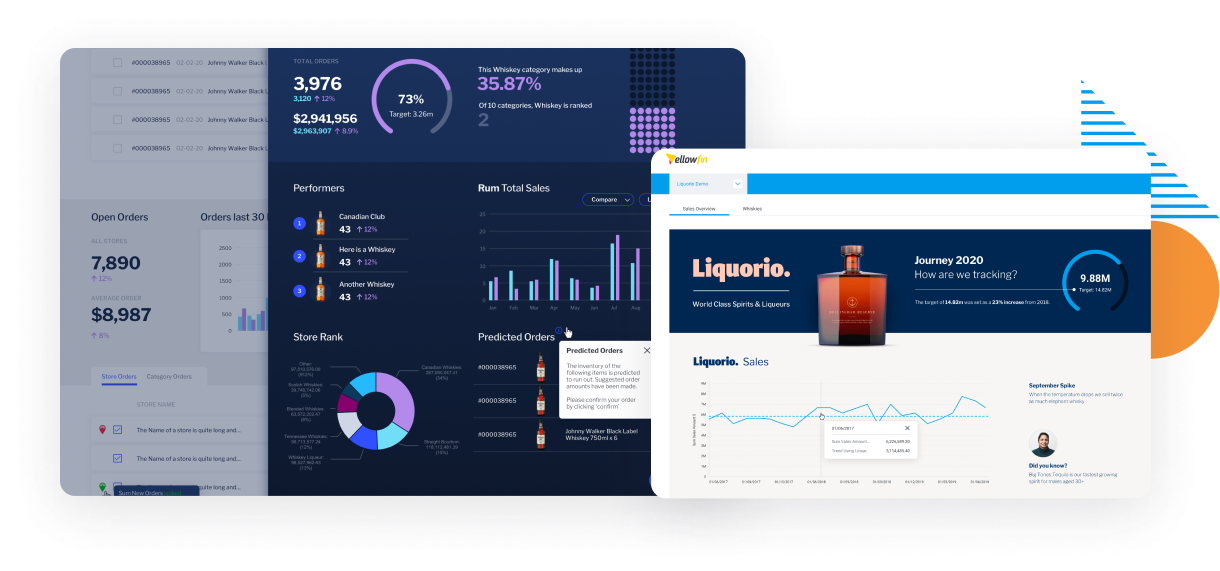 Get a Demo and see for yourself
Request a Demo of Yellowfin in action to see how the Yellowfin analytics solution solves data complexity through automation, dynamic data storytelling, collaboration and beautiful action-based dashboards allowing more people to discover, understand and do more with their data.
Free Trial
Explore Yellowfin now on our sample dataset or try for free on your own dataset for 30 days.
Request a Quote
Yellowfin is priced so that it is simple, predictable and scalable to suit your enterprise or embedded analytics needs.