Self-service BI — insights for anyone
Turn complex data into useful answers
To get the most value from your data, you need to be able to explore your data, discover patterns and outliers, and share your insights with others. This applies to everyone in your business — from business users to data analysts. Yellowfin's intuitive self-service BI options accelerate discovery and allow everyone to share insights in a governed way.
Self-service BI — insights for anyone
Yellowfin has a number of ways for anyone to create reports using our advanced Report Builder, Quick Charts or Guided Natural Language Query (NLQ), from an experienced data professional to an every-day business user. And by anyone we mean everyone — even those with no previous analytic capability, opening up the world of data-driven insights and decision making to all.
For business users
Yellowfin's Guided Natural Language Query (NLQ) is the most intuitive way for anyone to ask hard questions of their data. Combined with Assisted Insights, Yellowfin empowers everyone, regardless of their skill level, to query data and find the answers they are looking for.
For dashboard builders
Create reports and build dashboards seamlessly with Yellowfin's Quick Charts and Guided NLQ. Both tools enable the creation of a wide variety of data visualizations directly within a dashboard, so dashboard builders can rapidly assemble up-to-date, relevant and beautiful dashboards that tell the whole story.
For data analysts
Data analysts need deep functionality, and Yellowfin's Advanced Report Builder has just that. Subqueries, advanced functions and a huge array of formatting are just some of the features that enable data analysts to create the professional, smart data visualizations and reports they need.
Guided NLQ
The easy way for anyone to ask the hard questions of their data
How do business leaders foster a data-driven culture to help drive decision-making? That's a good question, and Yellowfin Guided NLQ (Natural Language Query) is the right answer.
Intuitive
Simple to use without compromise
With Yellowfin's Guided NLQ, non-technical users will rarely, if ever, need to request a report from an analyst. The interface is highly intuitive and powerful as it guides you through the process of exploring your data, enabling anyone to ask very complex questions. Once you have the answer, in the form of a best-practice chart or table, it's easy to add that visualization to any dashboard or data story to share your insights.
Guided
Guided results, not search results
Unlike the commonly-used search approach, Yellowfin Guided NLQ has comprehensively modelled thousands of question types and sequences to enable anyone to ask complex questions of their data. And the answers are delivered as best-practice visualizations for every possible question combination.
Embeddable
Ask questions from anywhere
With Guided NLQ, ask questions from anywhere within the Yellowfin platform, or embed into any software application or web page to deliver true self-service reporting to end users, reducing the workload on your developers to create ad-hoc reports for your clients.
Dashboards are a common way for business users to access their data. Typically, they are designed by subject domain experts who then have to rely on technical experts to build them. Yellowfin's dashboards enable users with a wide variety of skills to design, create and publish dashboards quickly and easily.
Fast
Build dashboards quickly
Quick Charts enable you to build visualizations directly within the dashboard. You can compose your dashboards without having to flip between report creation and dashboard building tools. Choose from a wide variety of visualizations to communicate your data in the best way possible.
Flexible
The choice is yours
Depending on your needs or ability, choose from a variety of toolsets to create the right visualization for your dashboard. Use a Quick Chart, ask a question via Guided NLQ, or use the advanced Report Builder — whichever you feel suits you and your data best. Whichever path you choose, all visualizations can be edited via the Advanced Report Builder, so you never need to compromise on your choice of chart or table to share your insights.
Automated
Assisting the business user to find out why
While most dashboards are great for monitoring business metrics, they don't always explain what caused those spikes or drops. Yellowfin's Assisted Insights automatically analyses data to understand what changed and why. With Assisted insights, business users can get the answers they need quickly, without the need to ask a data analyst. For example, if they want to know why sales spiked last quarter, or what caused the rise in web traffic, they can ask Assisted Insights.
When you need advanced reporting functionality, like sparklines, specific formatting or adding sections, the Yellowfin Advanced Report Builder enables data analysts to create any content required by the business. Incredibly deep functionality and a simple drag-and-drop wizard supports the needs of the most technical data visualization requirements.
Powerful
Advanced Query Capability
Yellowfin's Advanced Report Builder is one of the most progressive reporting tools on the market. Data analysts can create incredibly complex reports that include subqueries, advanced functions, linked filters and more. — enabling them to deliver the analytic content that their business users demand.
Visual
Create stunning visualizations
Give life to your data with stunning interactive visualizations. Understand your business from all perspectives with more than 50 chart types — from trellis charts to GIS maps and infographics. Still can't find a Yellowfin chart to meet your needs? Include third party JavaScript chart libraries of your own with ease.
Tabular
Stylish table formatting
Data often needs to be displayed in a tabular format. Yellowfin's table formatters enable you to include sparklines, bar formatters, conditional formatting and images to create high-impact tabular-driven reports.
Assisted
Automated data discovery
If you're a data analyst, you probably spend most of your time manually creating reports, charts and responding to requests from the business. You might have to follow a number of steps for manual data discovery. However, with Assisted Insights, you can use the Report Builder to simply drag the data that requires analysis and let Yellowfin find the insights for you.
Yellowfin named in Gartner Magic Quadrant for Analytics and Business Intelligence Platforms 2019. Read More
Yellowfin named in Gartner Magic Quadrant for Analytics and Business Intelligence Platforms 2019. Read More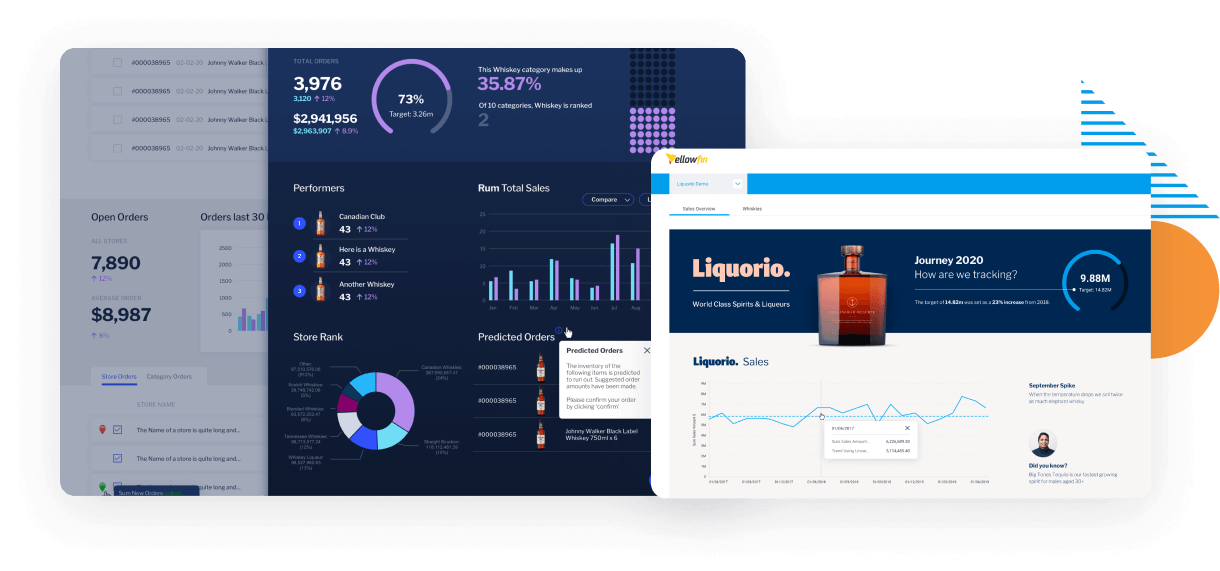 Get a Demo and see for yourself
Request a Demo of Yellowfin in action to see how the Yellowfin analytics solution solves data complexity through automation, dynamic data storytelling, collaboration and beautiful action-based dashboards allowing more people to discover, understand and do more with their data.
Free Trial
Explore Yellowfin now on our sample dataset or try for free on your own dataset for 30 days.
Request a Quote
Yellowfin is priced so that it is simple, predictable and scalable to suit your enterprise or embedded analytics needs.