VectorWise smashes 300GB and 1TB TPC-H Benchmark Records
Ingres Corporation, pioneers of the breakthrough analytic database, VectorWise, today announced it has broken two records for the Transaction Processing Performance Council's Industry Standard TPC-H benchmark across 300GB and 1TB data sets running VectorWise on a Dell PowerEdge R910 server with Red Hat Enterprise Linux 6.0.
Adding to its previous 100GB record-breaking benchmark, the new 300GB and 1TB benchmarks underscore improved scalability, delivering a solid foundation for real-time information retrieval and analysis as companies continue to grapple with increasing volumes of data. Tweet this: @ingrescorp Smashes TPC-H benchmarks at 300GB and 1TB http://bit.ly/iOZGbF
"VectorWise suddenly appeared out of left field; a super fast database using a wholly new technique to achieve its speed," said Robin Bloor, CEO of Bloor Research Group.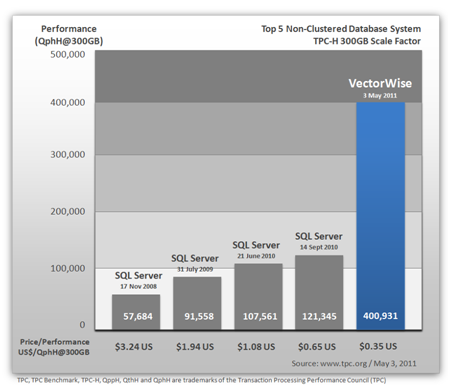 The new benchmarks set an even higher standard for performance and price/performance, making faster results more affordable than ever before. By combining Yellowfin and VectorWise you can build the most easy to use reporting and analytics solutions that deliver the fastest performance on today's hardware.
Details of the 300GB Benchmark
The VectorWise and Dell 300GB benchmark delivered 330% of the previous best single-node performance; an astonishing increase of 230%, with 400,931.8 QphH@300GB, versus the previous high of 121,345.6 QphH@300GB. Price for performance came in at US$0.35/QphH@300GB versus the previous best of US$0.65/QphH@300GB, thereby reducing the cost of performance by 46%.
Details of the 1TB Benchmark
The 1TB benchmark delivered an astonishing 251% of the previous best single-node performance; a 151% increase, with performance of 436,788.9 QphH@1TB versus the previous high of 173,961.8 QphH@1TB. The price for performance came in at US$0.88/QphH@1TB, 36% less than the previous best price for performance at US$1.37/QphH@1TB.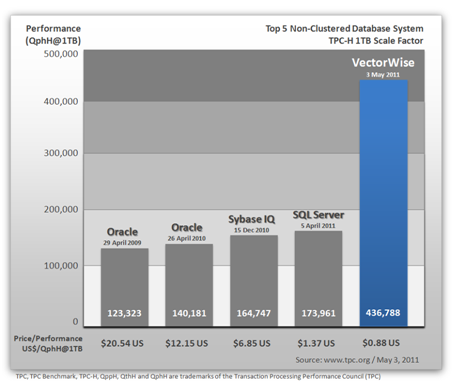 "This new level of performance and price/performance will enable organizations to do more with less," said Terry Garnett, CEO of Ingres. "The massive leap in server performance achieved by Dell and VectorWise has important industry implications as well. It enables a new breed of sophisticated analytics for low latency environments. For example, financial services companies will be empowered to perform intra-day risk analysis and retail organizations can now perform just in time analysis to optimize inventory levels and margins – all at dramatically lower costs."
"The Dell PowerEdge R910 server with the latest Intel Xeon E7 processors is designed to tackle the toughest workloads and greatly enhance database performance making it an ideal platform for UNIX/RISC migration," said Sally Stevens, vice president, Enterprise Platform Marketing at Dell. "These new benchmark results demonstrate how customers in the financial services sector can easily deploy on-demand analytical solutions in a simplified manner and with record-breaking performance."
VectorWise is a record-breaking database that unlocks the power of modern commodity CPUs with a revolutionary database engine that leverages vector-based processing and on-chip memory to provide performance gains of up to 70x over other databases at a tenth the cost.
-END-
About TPC-H Benchmark
The TPC Benchmark™H (TPC-H) is a performance test of the independent Transaction Processing Performance Council (TPC) for data warehouse solutions that is recognised worldwide. The benchmark simulates data warehouse analyses requiring considerable processing power and measures both the speed and capacity of database solutions. TPC-H categories are delineated by database size, and based on the latest round of independently audited results.
TPC and the benchmark name TPC-H are registered trademarks of the Transaction Processing Performance Council. The TPC believes that comparisons of TPC-H results measured against different database sizes are misleading and discourages such comparisons.
About Ingres Corporation
Ingres is a leading provider of data management solutions enabling companies to derive the highest value from their data. Whether it is by supporting their business with transactional systems running mission critical workloads on Ingres DB, providing rapid insight from historical data using the record breaking VectorWise or innovating with applications in the cloud using SkySafe managed services, thousands of organizations around the world rely on Ingres' products and services to deliver disruptive price/performance. Ingres solutions are in use at more than 10,000 customers worldwide including Lufthansa, Philips, Lockheed Martin, Fujitsu, Irish Revenue, Sainsbury, Logica and many government and defense departments around the world. Ingres is headquartered in Redwood City, California, with offices in New York, London, Paris, Frankfurt, Amsterdam, Leeds and Melbourne www.ingres.com
Ingres and VectorWise are trademarks of Ingres Corporation. All other trademarks, trade names, service marks, and logos referenced herein belong to their respective companies.
About Yellowfin
Yellowfin is a global Business Intelligence (BI) software vendor headquartered and developed in Melbourne, Australia. Yellowfin is a highly intuitive 100 percent Web-based reporting and analytics solution.
For further media information, interviews, images or product demonstration, please contact:
For regular updates and news follow Yellowfin on Twitter (@YellowfinBI) or subscribe to our free e-newsletter. www.yellowfinbi.com