An introduction to the 2014 FIFA World Cup using Data Visualization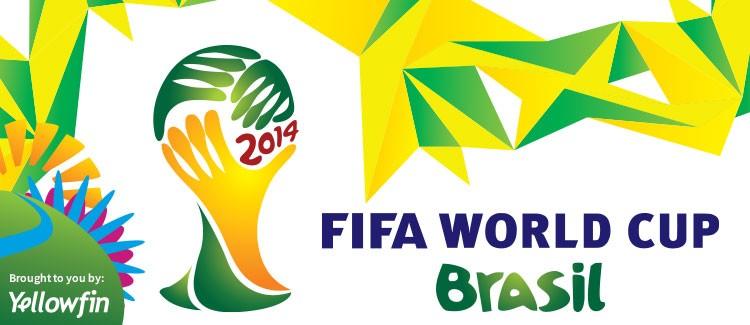 Data Source: Data Visualizations in this post are based on data sourced from www.theguardian.co.uk
Source: Commentary, data analysis as well as Business Intelligence and analytics software brought to you by Yellowfin
Can you feel it? The surging excitement and palpable energy?
From small groups of close friends and World Game aficionados huddled around lounge room television sets, to strangers uniting in public displays of devotion, and roaring stadiums packed with nationalistic pride. It's unmistakable. The world's largest and most important (arguably) sporting event is underway. And what better way to welcome the 2014 FIFA World Cup than with Brazil's typical football-based fervor?
For the uninitiated
Like many global spectacles, the World Cup has its fair share of bandwagoners. So, just in case you aren't familiar with the formalities, here's a quick explanation. The World Cup is staged every four years, designed to alternate (on even years) with the Summer Games. The Football World Cup has taken place every four years since the inaugural championship in 1930 – aside from 1942 and 1946, when it was suspended during World War II.
The competition is divided into two parts. The first is the qualification stage, which takes place across the three years proceeding each World Cup. The World Cup Finals – more commonly known as just the 'World Cup' – includes the 32 national teams that made it through the qualification stage. The first phase of the World Cup comprises the Group stage, where the 32 teams are randomly placed into eight groups of four (A,B,C,D,E,F,G,H). The two teams from each Group with the most points (3 for a win, 1 for a draw), and / or highest goal aggregate, proceed to the Round of 16 (sometimes referred to as the Second Round). Here, the winner of each Group plays the runner-up of a different Group. The victor moves into the Quarter Finals, the Semi Finals, then The Final. The losing semi-finalists playoff for third place.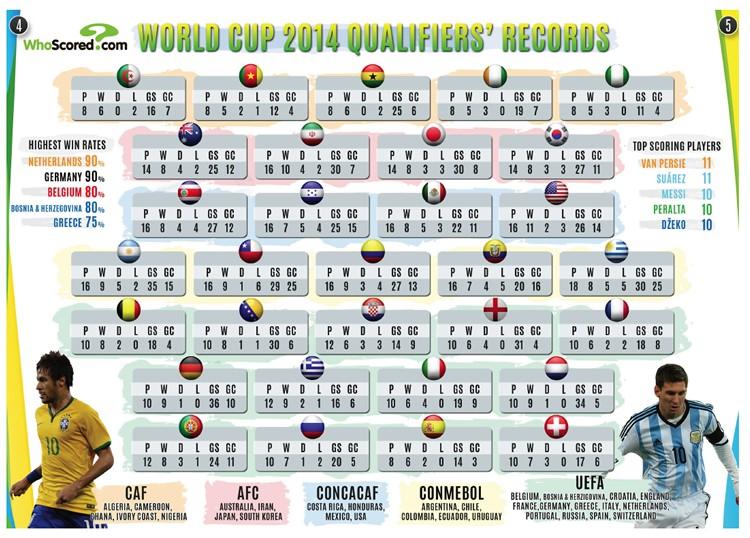 The Opening Ceremony: A carnival of color
The evergreen Jennifer Lopez, omnipresent Pitbull and stunning Claudia Leitte swung the Opening Ceremony – and an entire country, if not the world – into official party mode in front of a capacity crowd of 62,000 on Thursday at the Corinthians Arena in Sao Paulo.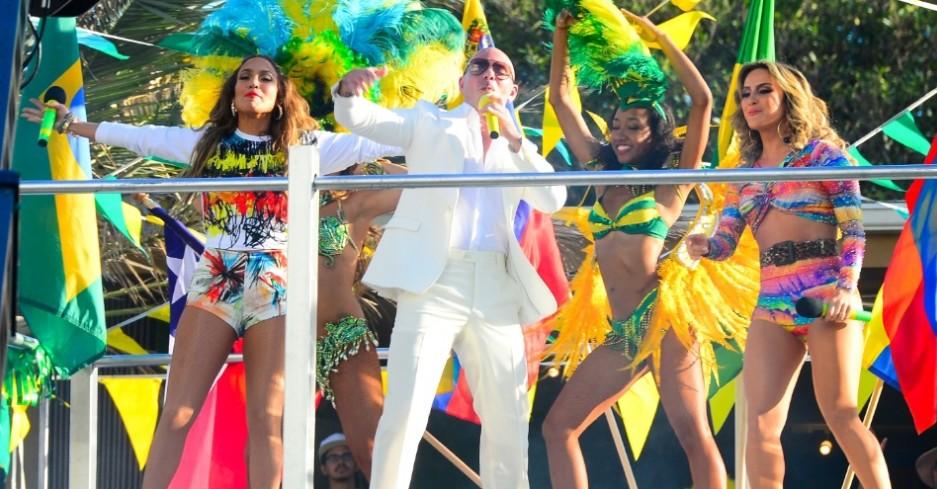 Over 600 artists in total – encompassing stilt walkers, acrobats and dancers – put on a colorful display in front of Brazilian President Dilma Rousseff, UN Secretary General Ban Ki-moon and beleaguered FIFA president, Sepp Blatter.
Let the games begin: Brazil and Croatia kick-off the 2014 World Cup
However, the party almost came to a premature end, with hosts Brazil conceding an early own goal to Croatia in just the 11th minute of the tournament's opening match.
But, as the below infographic indicates, Neymar truly was the man to watch, netting a double to lift his side to an eventual – albeit nervous and unconvincing – 3-1 victory in front of a rapturous Sao Paulo crowd.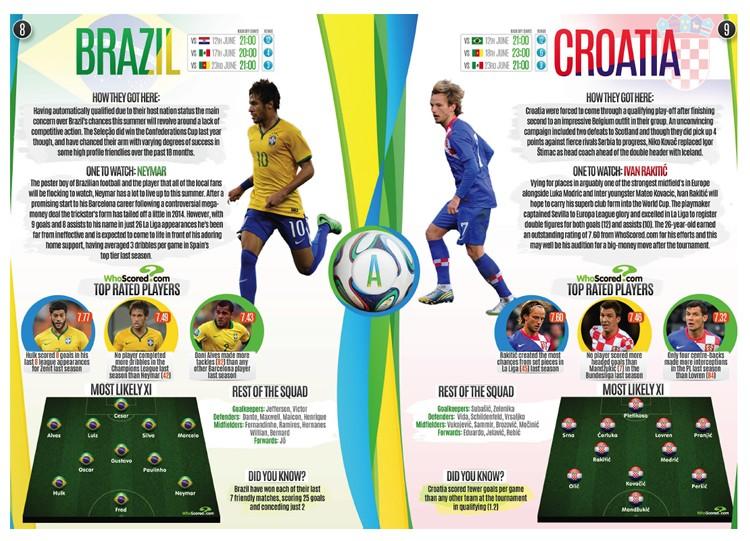 Highlighting Brazil's lucky escape was the fact that Neymar could have easily been removed from the game before scoring, only attracting a yellow card for an errant elbow to the throat of Croatia's Luka Modric early in the first half. But this was only the penultimate moment of a match draped in controversy, with referee Yuichi Nishimura awarding a dubious penalty after an exaggerated fall from Brazil's Fred in the box following a routine challenge from Croatia's Dejan Lovren.
It seems that – other than a stadium full of screaming fans – history was on Brazil's side, having faced and beaten Croatia 1-0 in their only previous World Cup encounter (2006).
Number of World Cup appearances by country
Aside from the host nation kicking-off proceedings for tradition's sake, it seems fitting that Brazil took center stage in 2014, having participated in 20 out of 20 World Cups. In fact, Brazil is the only country to have taken part in all World Cup Finals since its inception in 1930.

But Brazil has too much passion for the global game to simply make up the numbers. Widely considered the epicenter, the heartbeat, of world soccer, Brazil is the most successful nation in World Cup history, with seven appearances in The Final and five titles (Sweden 1958, Chile 1962, Mexico 1970, USA 1994, Japan / South Korea 2002).
Brazil is also one of three countries, alongside Argentina and Spain, to win a FIFA World Cup outside its home continent (Sweden 1958 and Japan / South Korea 2002).
Germany, with a proud history of footballing excellence, has participated in 18 World Cups, with Italy qualifying for a chance to secure soccer immortality on 17 occasions.
Total goals scored at the World Cup by country
Given Brazil's pedigree, combined with its unrivalled number of appearances and unparalleled level of World Cup success, it probably comes as no surprise that they've also scored the highest number of World Cup goals compared to any other country (210). This dominance has translated to winning results, with Brazil also claiming the most World Cup wins of any nation (67).

Again, Germany comes in a slender second with 208 World Cup goals, with Argentina netting 123, Italy 121 and the United Kingdom a total of 119.
Average number of goals scored by country per World Cup appearance
However, it's unfair to assess a nation's World Cup prowess purely on the number World Cup appearances and total World Cup goals alone. Whilst it's a feat in itself to make the finals, injuries, misfortune and unexpected match-ups can cripple a country's World Cup qualification attempt. And, it stands to reason that countries that have participated in a greater number of World Cup campaigns will have scored a greater number of World Cup goals too. So, is there a fairer way to evaluate a nation's capacity to excel at soccer's pinnacle event? If history really is a good predictor of future events…
What happens when we assess the average number of goals scored by country per World Cup appearance?

Unsurprisingly, Brazil maintains a world-class goal average, netting 10.5 shots on goal per World Cup crusade. But, what's particularly noteworthy, is that Brazil does not boast the best goal average. That honor instead goes to Germany, which averages 11.56 goals per World Cup tournament.
What you probably wouldn't have guessed – unless you're a true football fanatic, is that Turkey has the third highest goal average, getting 10 balls past the keeper per World Cup appearance. Although, a little context somewhat subdues this discovery.
A cursory Google search tells you that Turkey has only qualified for the World Cup on two occasions – Switzerland 1954 and Japan / South Korea 2002 (where they finished third). What the initial statistic of goal average doesn't reveal, is that Turkey has also conceded 17 goals in its two campaigns, whilst winning just five of its 10 matches.
Trends by Group at the World Cup
Total number of goals scored by Group at the World Cup and average number of goals scored by Group per World Cup
So, what other factors might contribute to the World Cup fortunes of your team? We already know that superstition plays a significant role at this event. Remember Paul the Octopus – the slimy underwater critter used to 'forecast' the outcome of matches at FIFA 2010? People took Paul's predictions so seriously that the poor little cephalopod was the recipient of death threats.
This time, football fundamentalists are putting their faith in Nelly the elephant, 'Big Head' the turtle, and a team of baby pandas. Seriously.
So if it's considered reasonable to analyze World Cup fortunes based on the whim of wildlife, surely it's fair to consider the impact of being placed in different Groups.

Over time, it appears that teams placed in Group B are most likely to be involved in a shootout or blowout, with a total of 405 goals scored in Group B clashes at the World Cup. Group C and D are tied on respective totals of 385, with Group A combatants netting a combined goal total of 373.
However, what's immediately evident is that Group E and F matches have yielded substantially fewer goals comparatively (154 and 141 respectively), with another obvious drop-off in Groups G (64) and H (71).
What a superficial glance at total goals by Group at the World Cup doesn't divulge, is that while the A, B, C and D Groups have been in existence at 17 FIFA Finals, the fifth and sixth groupings (E and F) have only been used at nine World Cup tournaments, and G and H at five.
As with examining goals scored by country, it only seems rational to assess the average, rather than the total, number of goals scored by Group per World Cup appearance.
What's intriguing here, is that Group B still stands out as a magnet for high-scoring encounters, with the highest average number of goals scored per match (5.96). At the other end of the scale, Group G matches appear to be historically dour affairs, with a lowly average of 3.2.
Total World Cup matches and total World Cup wins by 2014 Group B teams
Given the above findings, regarding the average number of goals scored by Group per World Cup, it's fitting that Group B has been labeled this championship's "Group of Death" – offering the prospect of both mutual goalfests and cakewalks.

Spain and the Netherlands are World Cup stalwarts, having competed in 56 and 43 matches each (13 and 9 World Cups apiece). Chile has a notable 29 matches of experience from which to draw (8 World Cups), while Australia has a relative dearth of World Cup experience, having played just 10 matches across three tournaments.
As expected, the total number of World Cup wins by 2014's Group B teams is aligned with the total number of World Cup matches played (28 wins for Spain, 22 wins for the Netherlands, 9 wins for Chile and 2 wins for Australia). So then, who really has the best chance of escaping World Cup carnage in this year's Group of Death?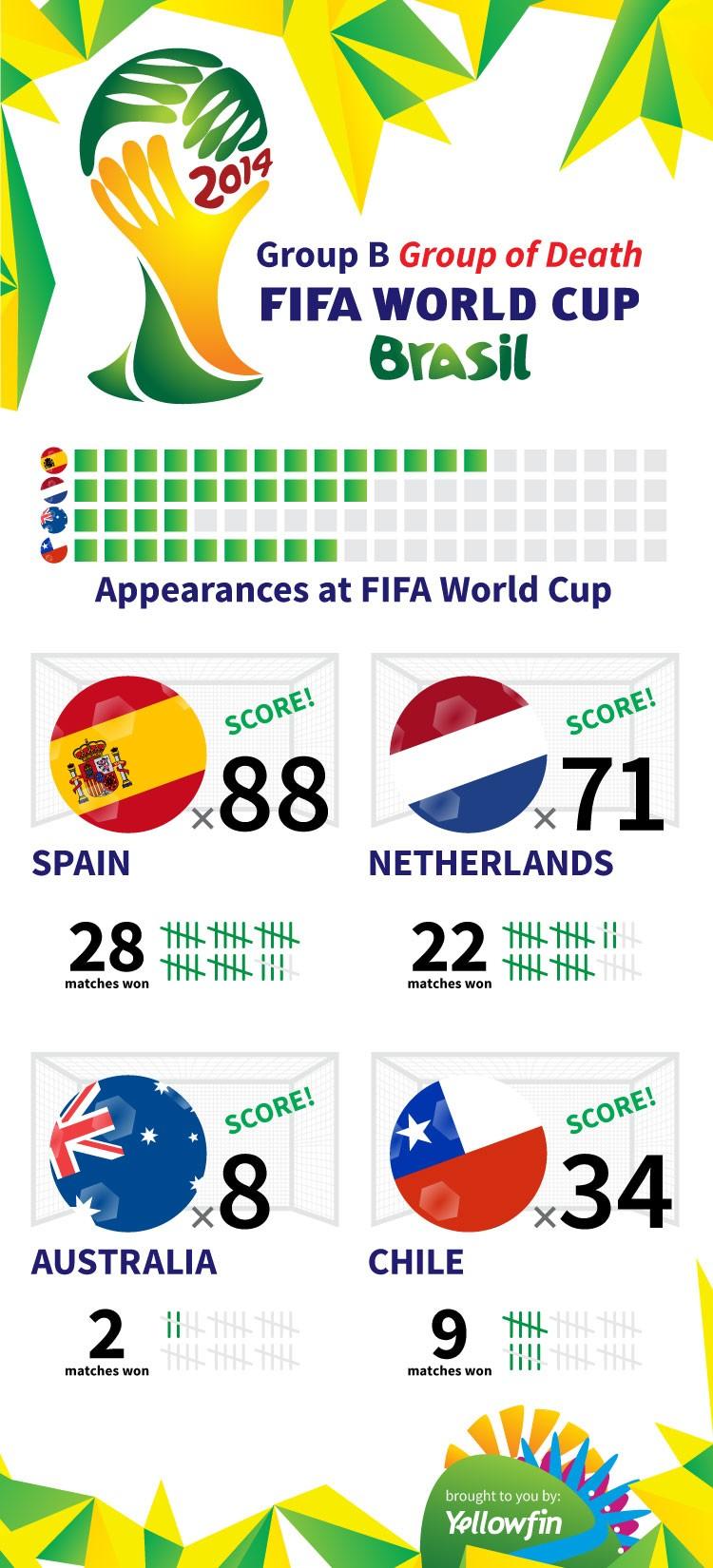 Number of goals scored per World Cup campaign by 2014 Group B teams
It seems reasonable to suggest that Spain and the Netherlands both have a chance of blasting their way clear in 2014, having scored 88 and 71 goals respectively, averaging 6.67 and 7.89 goals per World Cup campaign.

The same figures suggest that Chile and Australia will be competing for last place in Group B, with 34 and eight World Cup goals each, making an average of 4.25 and 2.67 goals per tournament.
Percentage of World Cup games won by 2014 Group B teams
Spain has won an impressive 50% of its World Cup bouts, having only lost 16 of 56 outings. Spain is one of only eight countries to actually win the FIFA World Cup, and is the reigning champion from South Africa 2010. The Spaniards have reached the Quarter Finals four times, finished fourth in 1950, and have won the UEFA Championship on three occasions (1964, 2008, 2012).

The Netherlands boasts a similarly impressive winning percentage of 51.17, having dropped just 11 of 43 matches. Despite holding the record for losing the most Finals without winning, finishing tournament runners-up on three occasions (1974, 1978 and 2010) is still a masterful effort.
And, those that have attempted to block the Dutch's path to glory have done so at their own peril. The Dutch have accumulated the most cards, on a per game average, of any team in World Cup history (79 yellow and 7 red in just 43 games).
Australia (Yellowfin) vs Chile
Given Australia's cruel lack of star power at the FIFA 2014 World Cup, it might be an inopportune moment to admit that, as an Australian-based company, we (Yellowfin) have a soft spot for the Socceroos.
Going by the numbers – and the bookies for that matter, Australia may as well buy an early ticket back down under. The Aussies have an unenviable win rate of just 20%, having only managed to emerge victorious in two of its 10 World Cup performances.
But all may not be lost…

While 2014's dark horse, Chile, possesses a squad with attacking flair, they are historical underachievers, with a win rate of 31.04%.
Having said that, Australia has only been represented at the World Cup three times before (1974, 2006 and 2010), with its major achievement being a Second Round berth at Germany 2006, narrowly falling to eventual champions Italy.
Chile, on the other hand, have made the round of 16 twice (1998 and 2010), with a third place finish as hosts of the 1962 World Cup. However, since then, Chile have only won two of 17 World Cup games played. And, for those of you who believe in omens, Australia secured its first ever World Cup points courtesy of a nil-all draw against Chile in 1974.
Wish us luck…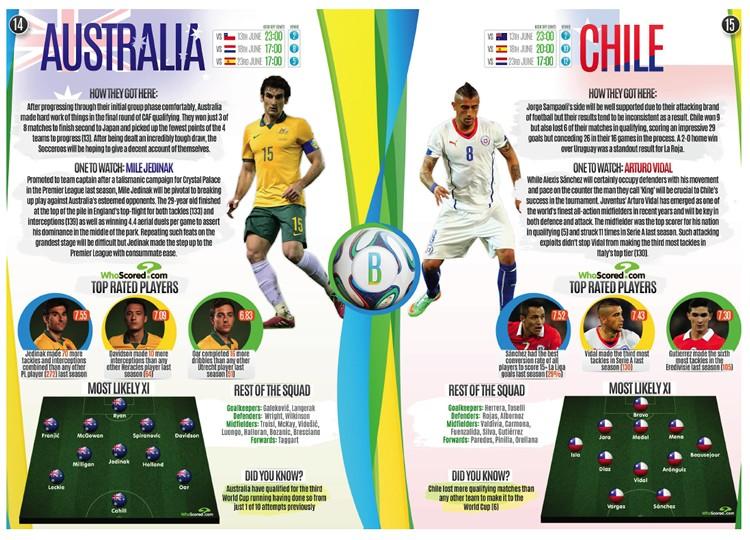 Stay tuned for our continuing series of data blogs, appearing throughout the 2014 World Cup.