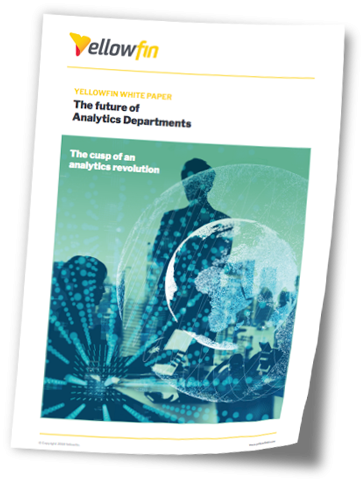 The future of analytics departments: your analytics team needs to restructure for automation
Download the paper
If you want to make sure you are building a team for tomorrow, download this paper on the future of analytics departments.
You know that there is enormous change on the horizon in the BI and analytics industry – automation within BI tools.
But have you thought about how your team structure will need to change to meet the new capabilities?
You need to ensure your team is ready for the next wave of analytics tools. If you aren't thinking about the team of tomorrow, you could soon be the team of yesterday. Businesses are coming to a deeper realisation of the value of data and are investing more each year. But to get ahead of the competition and stay there, they need a cutting-edge analytics team.
Glen Rabie is at the forefront of bringing the automation revolution to the BI industry as CEO of Yellowfin, a global BI and analytics platform vendor. He compares the analytics teams of tomorrow to the Formula One teams of today. Analytics teams need to go through the same changes that have shaped F1. After decades of involvement in the BI industry and watching the industry change, Rabie shares his thoughts on the new order of analytics teams:
The change that's coming
BI and analytics team structures today
What does the future analytics team look like?
The opportunity that awaits

This is the seismic shift in the industry that you can't afford to react to. You need to be proactively shaping your team or you will suddenly discover a huge redundancy of tasks and gaping holes in your future strategy.
We've also sent a copy to your inbox so you have it for reference or for sharing with friends or colleagues.
Want to find out more about Yellowfin analytics?
Request a free 30-day trial.