Keio Department Store Goes Paperless to Digital Reporting with Yellowfin BI
Background
Keio Department Store is a retail department store specializing in Japanese domestic brands. Founded in 1961, the company first opened their flagship Shinjuku store three years later, directly connected to Shinjuku Station in Tokyo, Japan, which is recognized in the Guinness Book of Records as the 'world's busiest station'. Since then, Keio has contributed to the development of Shinjuku for over 60 years. In addition to the Shinjuku store, the company currently operates 9 other stores in and around the Tokyo area. The crown emblem and pigeon wrapping paper have been used since the foundation with the hope that their customers, business partners and employees will 'hand in hand, together for development'.
"Yellowfin intuitively enables numbers to be visualized, which leads our employees to change to a data driven mindset. We hope to be able to utilize more of its features for future prediction in the near future."

Hirokazu Sugiyama, Corporate Planning Office Manager of System Development, Keio Department Store

Challenge
Legacy paper-based reporting with complex information management

Many companies in Japan are currently working on Digital Transformation (DX), triggered by the 'DX Report', commonly known as the '2025 Cliff Report' released by the Ministry of Economy, Trade and Industry. In 2019, Keio Department Store revamped their mainframe-based core system, which had been in use for more than 40 years, to address its digital transformation objectives. In conjunction with this change, the company decided to digitize their paper forms. However, there were about 800 types of forms utilized at the company, which would require a sophisticated software solution that could manage such vast and complex information and make it more accessible to those within the business that needed it for reporting and analysis purposes.
Keio Department Store first kick-started its preparation for digital transformation by creating a system that allowed business intelligence (BI) tools to view reports which were previously output by a core system that managed information such as product management and sales management. The company then revamped its core system and built 'Keio Department Store Data Lake (KDSDL)' as a data utilization platform used by all 800 employees and provided integration  to BI tools. Yellowfin was eventually selected as the BI tool, following a careful evaluation process.
"We considered and evaluated several BI tools, and thought that Yellowfin would be able to create reports that anyone could use at a glance, even if there was a gap in IT literacy among users," said Hirokazu Sugiyama, Manager of System Development, Corporate Planning Office, Keio Department Store. "We also wanted to adopt a platform that could be produced and delivered in-house by ourselves as we focused on no-code, low-code development, and Yellowfin met these requirements." In addition to these requirements, the ability to set the detailed access rights for reports that can be viewed according to the user's positions and job titles was highly valued by Keio.
Solution
From paperless to fully digital embedded data reporting
In October 2019, when the new core system went live, the company consolidated about 400 different types of forms and made them available in Yellowfin. Keio Department Store also started to revamp its information system, which was developed based on a certain DWH product introduced in 2008. The system was designed to be able to view daily sales information and other necessary reports for each job title and position, and analyze and grasp the best customers and best-selling products. The output of the system was also paper forms. With the renewal of this old information system, about 400 stylized reports were also migrated to Yellowfin over about a year, Sugiyama said.
In particular, the migration of the forms from the old information system was quite hard as Yasuhisa Shiota, Data Solution Technology, Techmatrix Corporation who supported implementing Yellowfin said. This is because Yellowfin was the system used by all 800 employees. "We needed to create a system that could be used at a glance without providing specialized training. Their main task is not to interpret numbers and tables, so we focused on how to convey information in an easy-to-understand manner. That was where the developers showed their skills and that was where we took on the challenge," said Sugiyama.
After providing the employees with prototypes, the company listened to their opinions and gradually brushed up on them. Today, more than 800 different reports can be viewed by devising the items to be used in the filters. All of these reports were created by their system staff.
There was also careful attention in releasing the system to the users. The company limited the functions to be available for the users, such as changing filter conditions and scheduling features for getting information when needed. In addition, not all employees have access to all data. Data access rights are linked to the master information in the HR system and the content can be viewed changes depending on their job titles and positions. "The system is structured so that access rights can be changed and granted even when there are personnel transfers," said Mitsuo Okamoto, Subsection Chief of System Development, Corporate Planning Office, Keio Department Store.
Yellowfin can be used simply by accessing from a web browser, but with just that, the users can not only check the previous day's sale but also view daily sales by department and time at a glance. For example, sales and store representatives can easily see how far they have come against their targets. Comparisons with the previous year can also be easily viewed in a way that is unique to department stores. "When comparing single days, the day of the week is different from the previous year's calendar day. In order to track purchasing trends, it doesn't make much sense to compare different days of the week. Therefore, we have made it possible to compare single days on the same days of the week and cumulative totals on calendar days," said Okamoto.
In addition, the system allows for easy color-coding to break down the sales between regular and sales items, and easily analyzing for sales of products that have been swapped. By switching tabs, the users can also check sales by customer types, such as 'memberized organizational customer' or 'general'. "By placing tabs and links on a single screen, we designed it so that the management and employees can easily access the information they need, however, we did a lot of customization behind the scenes to achieve this. It was an essential effort to bridge the gap in user literacy," said Sugiyama.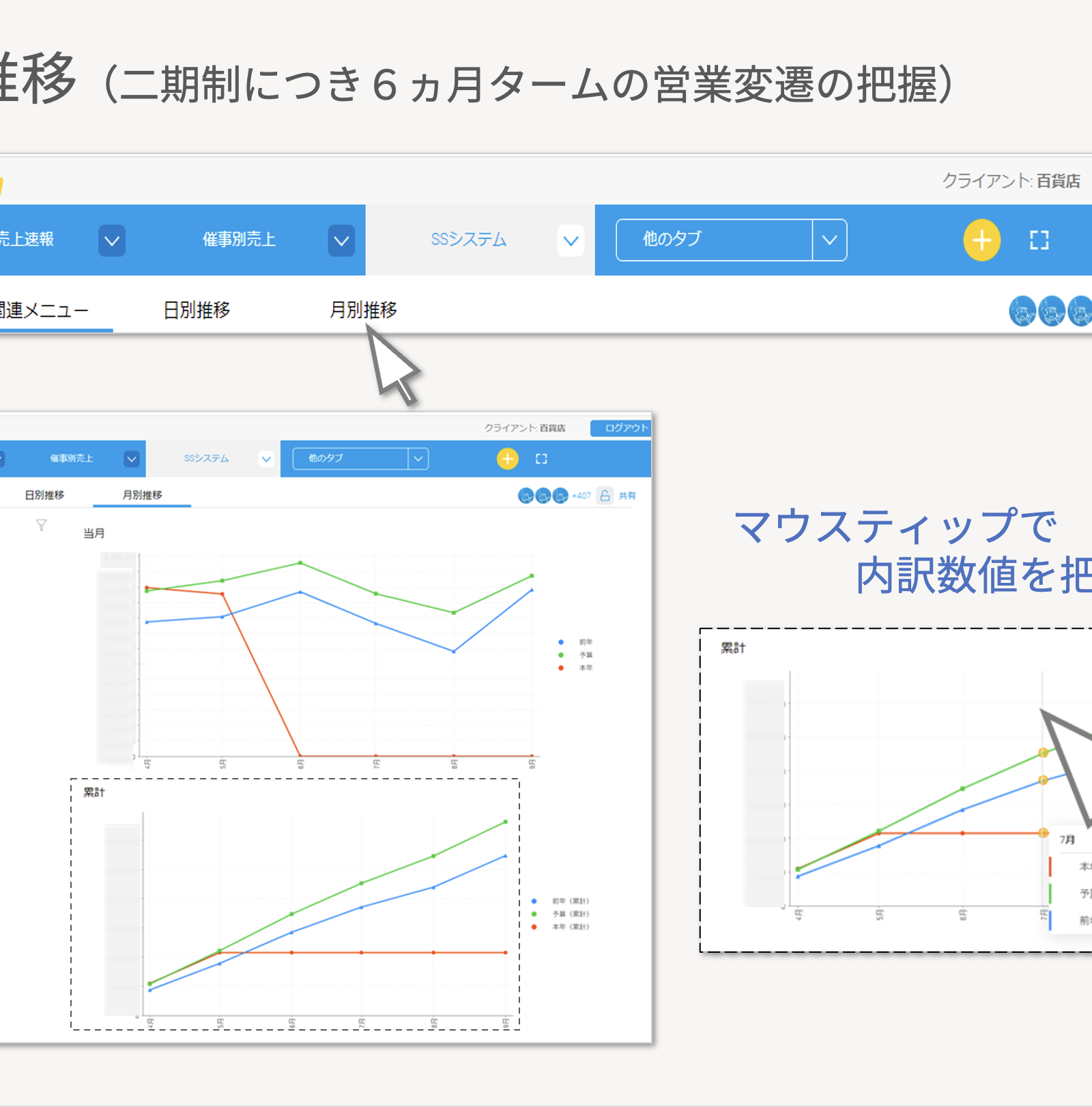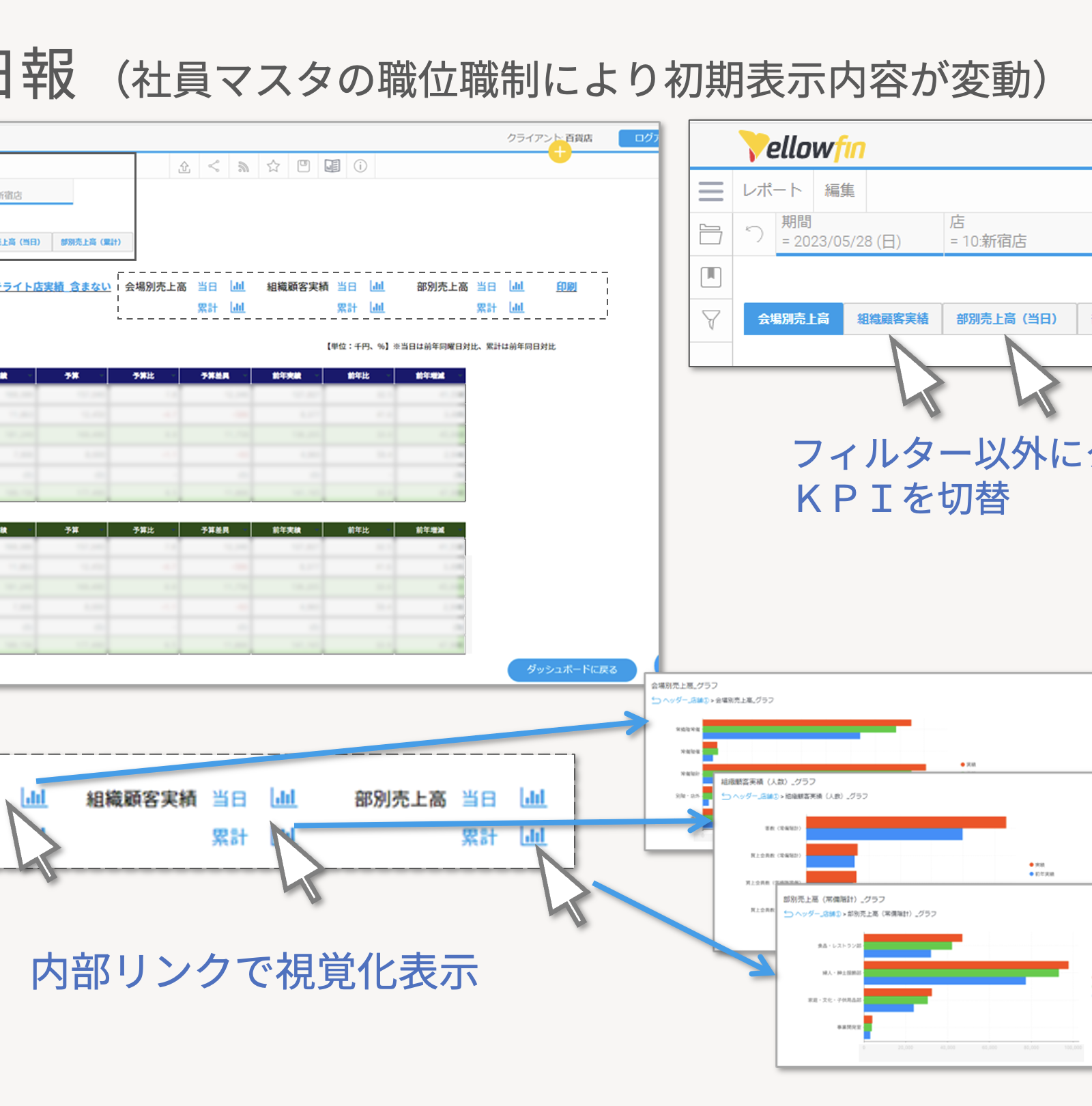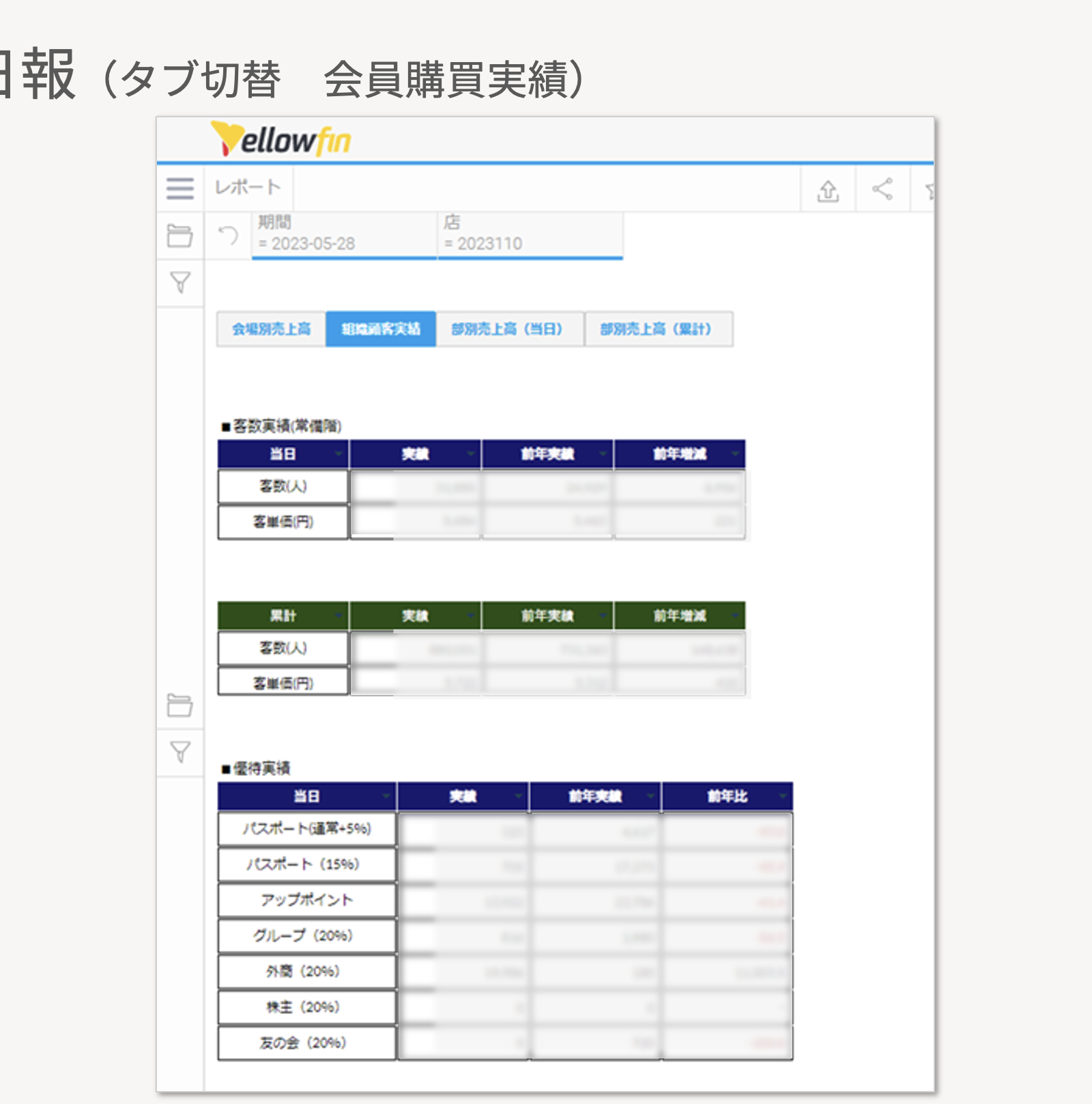 Results
Highly accessible analytics and contextual insights for everyone

The effect of implementing Yellowfin at Keio Department Store is not only that the old-fashioned paper-based approach has been updated and engaged in DX (digital transformation), but also that each employee is changing to a data driven mindset through visualizing their KPIs. "Now the word 'Yellowfin' is heard anywhere around the office on a daily basis, like "check it with Yellowfin" and it has become as common as other tools, such as Word and Excel," said Sugiyama with a smile.
The COVID pandemic is said to have played a major role in the relatively smooth transition away from the old-fashioned approach. "Just as  COVID has changed our daily lives, it has brought to us the fact that the company has to change as well," said Sugiyama. The pandemic, which required people to refrain from going out unnecessarily, severely damaged the retail industry, including department stores. Keio Department Store, which is based in Shinjuku Station and was particularly visited with foreign visitors to Japan, also saw a significant decline in the number of customers due to the restrictions on immigration. The company struggled a lot with how to make sales in such a situation. 'Keio BEAUTY LINE Mini App' and 'Keio Department Store Shinjuku LINE Mini App' services for Keio Passport Cards members were launched in 2021 as digital solutions to overcome this situation and be able to be closer to the customers. The company, of course, is working to visualize the effect of these new measures.
The visualization of numbers has also helped motivate each employee. As Yellowfin became a common tool in the company, employees made a variety of requests asking 'if we can view this, can we make available viewing something else?' "We tried to realize these requests from as far as we could address," said Okamoto.
Future
There are now fewer requests from employees and the development has settled down, but there are still some challenges left. First, the aggregation of information that people manually process into Yellowfin results. "We need more knowledge to make this happen," said Sugiyama.
Second, Keio wants to be able to utilize the results for the future. To do that, it will require mastering Yellowfin's new analytics features. "We want to be able to use Yellowfin Signals, Assisted Insights and Stories to predict the future," said Sugiyama. In addition to their own data, the company will also need to utilize third-party data, such as weather, temperature and traffic etc. "We think it will be necessary in the future to create a system that delivers proactive alerts of needed data," said Sugiyama.
Shinjuku is currently undergoing a large-scale redevelopment and in October 2022, the main building of Odakyu Department Store Shinjuku, which was also located at the west exit of Shinjuku Station like Keio Department Store, ceased operations due to redevelopment. Keio Department Store is now charged with the great mission of 'enriching the Shinjuku Store from losing customers to Shibuya, Ikebukuro and other major areas in/around Tokyo'. But that is not all. The area surrounding the Keio Department Store is also undergoing redevelopment. They would like to enrich Shinjuku and create an atmosphere at the store to make customers feel convenient and glad to come to Shinjuku. Making full use of Yellowfin would be a key to achieve this mission.
"Yellowfin intuitively enables numbers to be visualized, which leads our employees to change to a data driven mindset. We hope to be able to utilize more of its features for future prediction in the near future," Sugiyama concludes.
See for yourself
Let us show you the best analytics product on the market with the only analytics platform that combines action based dashboards, automated business monitoring and data storytelling capability.
Get a Demo