Extend BMC Smart Reporting with Yellowfin BI:
Get More Support, Features, and Data Sources
Download our helpful guide to learn more.
Get more from BMC Helix and BMC Remedy: Upgrade to Yellowfin BI
To learn more about Yellowfin BI for Helix Remedy, watch a demo of the Yellowfin integration and SSO for Remedy ARS.
Technical demos presented by Yellowfin certified partner, Materna.
Learn How to Build Custom ITSM Dashboards for BMC Using Yellowfin
Yellowfin 9.8 evolves the dashboarding capabilities from the latest version of Smart Reporting significantly. Keep reading to learn more about the types of dashboard formats and data stories BMC users can expect when using Yellowfin BI and its Present feature.
Yellowfin vs. Grafana: A Side-By Side BI Platform Comparison
Discover the feature/functional differences between Yellowfin BI and the existing Grafana-enabled Helix dashboards.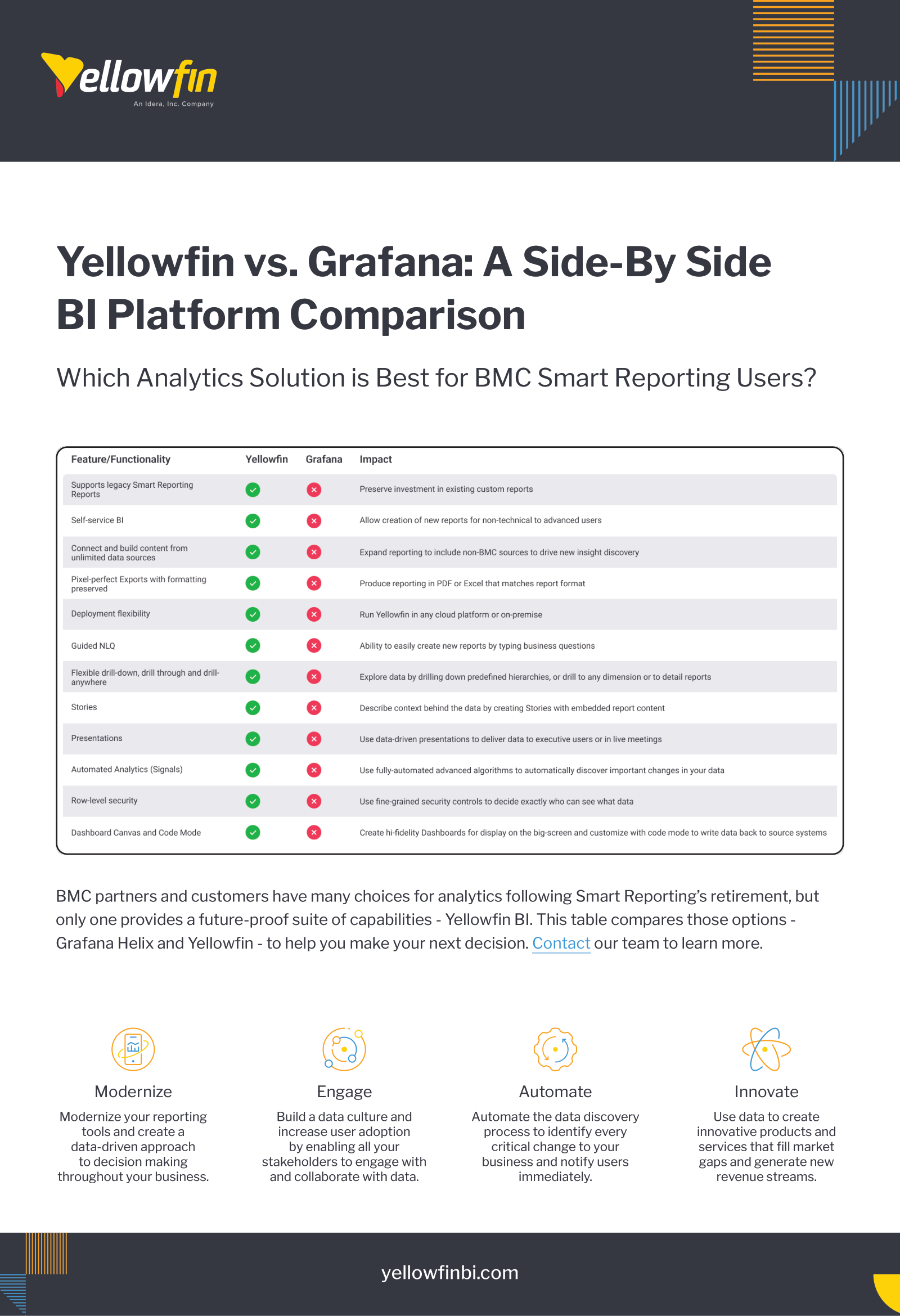 Extending BMC Smart Reporting to Yellowfin 9.8
Following BMC's recent "End of Life" announcement for Remedy Smart
Reporting, we are pleased to confirm that there is an option to keep your
existing reports by upgrading to Yellowfin.
Watch the webinar on-demand to know more about the upgrade paths
available, technical consideration, resource planning, services, and
commercial options.
Discover Your Options for BMC Smart Reporting
BMC's EOL of Smart Reporting for Remedy is just months away, connect with our team to learn about your options for Yellowfin for Smart Reporting.
Customers can now purchase a fully supported Yellowfin analytics platform that extends the life of their current Smart Reporting solutions and works with BMC's new Helix ITSM platform.
Continue to use a fully supported version of Yellowfin:


No need to migrate to a new reporting platform
No need to rebuild reports and dashboards
Direct support from Yellowfin and or our BMC certified partners


BMC Partners and customers get preferential pricing and can build on their existing BMC Smart Reporting foundation.
Contact the Yellowfin team to learn more.
Speak with someone from the team
Note:
By registering, you confirm that you agree to the processing of your personal data by Yellowfin as described in the
Privacy Statement
. Yellowfin is part of the Idera group and may share your information with its parent company Idera, Inc., and its affiliates. For further details on how your data is used, stored, and shared, please review our
Privacy Statement
.