Everything you need to deliver exceptional data experiences
Yellowfin simplifies the entire analytics workflow. From connecting to and preparing your data, to building dashboards and preparing management reports, the Yellowfin BI platform has you covered.
Globally recognized as an innovator
See why we've made it into the Gartner Magic Quadrant 8 times in a row and have been named a Visionary again in 2021.
We've been recognized as a 'Strong Performer' in The Forrester WaveTM: Enterprise BI Platforms (Client-Managed),

Yellowfin named a Value Index Leader in the 2021 Value Index reports for Analytics and Data, Embedded Analytics and Mobile Analytics. Comparing against 18 other vendors, Yellowfin has been ranked #1 in Adaptability and recognized as an Innovative Vendor.

"EMA considers Yellowfin to be a leader in the use of AI, machine learning, contextual storytelling, and social communication for business intelligence."
See it all in a couple of minutes
Introduction to Enterprise Analytics
Introduction to Embedded Analytics
Creating analytical experiences for 29,000+ companies world wide
Get value from your data faster
Data and analytics is the next frontier of innovation and competitive advantage. Yellowfin provides you with all the business intelligence reporting tools you need to drive transformational value from your data.
Accelerate time to value
Get to value fast with a game changing analytics solution combined with exceptional customer support.

Be more efficient
Automate key parts of the analysis process ensuring timeliness, accuracy, and reliability.

Low cost of ownership
Deliver analytics to thousands of users with just a small admin footprint.
Take analytics to where decisions are made
The Yellowfin BI platform provides all the flexibility and extensibility you need to bring data analytics to where decisions are made.
Consume anywhere
Take action on every change in your business, everywhere you are, with the Yellowfin mobile app.

Deploy anywhere
Host on public clouds like AWS, Azure and GCP, as well as private or hybrid cloud environments.

Integrate with everything
Easily embed Yellowfin into your applications and use data to drive action.
Built to scale
Yellowfin helps you to stay secure, keep control, and manage your analytics environment easily as you scale to 1000s of users with a modern BI platform.
Massively scalable
Scale horizontally or vertically to deliver analytics to thousands of users with just a small admin footprint.

Rock solid security
Yellowfin security is highly configurable and fine-grained to ensure your data remains safe and secure.

No proprietary lock-in
Yellowfin is a 100% open platform. No proprietary databases or proprietary development languages.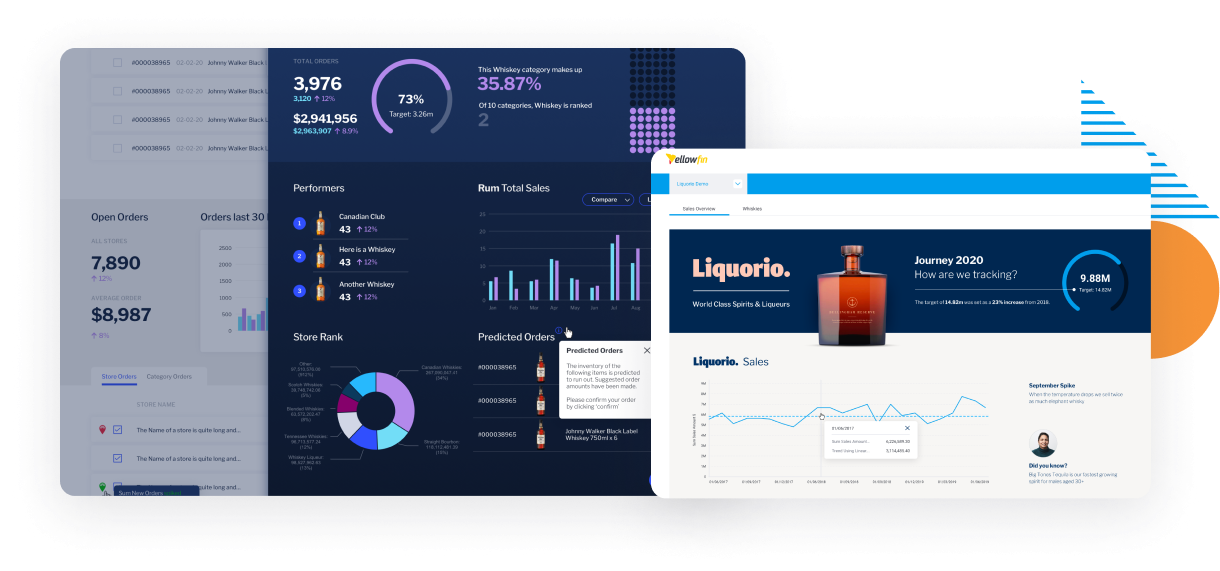 Get a Demo and see for yourself
Request a Demo of Yellowfin in action to see how the Yellowfin analytics solution solves data complexity through automation, dynamic data storytelling, collaboration and beautiful action-based dashboards allowing more people to discover, understand and do more with their data.
Free Trial
Explore Yellowfin now on our sample dataset or try for free on your own dataset for 30 days.
Request a Quote
Yellowfin is priced so that it is simple, predictable and scalable to suit your enterprise or embedded analytics needs.