Download Dresner's 2012 Wisdom of Crowds Business Intelligence Market Study
Dresner Advisory Services' (DAS) Wisdom of Crowds Business Intelligence Market Study is one of the industry's preeminent Business Intelligence (BI) studies.
Yellowfin ranks No. 1
Yellowfin achieved the equal highest overall ranking (4.57 out of five), as well as best outright score in the study's "Emerging Business Intelligence Vendors" sub-group.
"A member of the 'Emerging' market segment, Yellowfin moved into the #1 spot for 2012 (up from #3 in 2011) with increased performance in nearly every category. It exceeded both peer and overall sample averages by a wide margin. Yellowfin is a 'Top 10' vendor across all categories."


– report author, former Gartner Research Fellow, and President, Founder and Chief Research Officer of DAS, Howard Dresner

Download your free copy today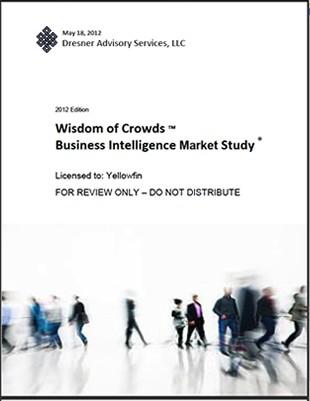 Ranking system
The study also compares and ranks 17 of the world's foremost BI vendors, their solution and associated services.
Yellowfin outscored traditional big name players, including Microsoft, IBM, SAP Business Objects, MicroStrategy, SAS Institute and Oracle. Yellowfin also outperformed other high profile vendors, including Information Builders, Actuate, Qliktech, Tibco Spotfire, Dimensional Insight, Arcplan, Pentaho and Jaspersoft.
Vendors are ranked on a five-point scale, across 33 different criteria, based on seven categories, including: Sales experience, value, quality and usefulness of product, quality of technical support, quality and value of consulting services, integrity and whether existing clients would recommend the vendor and its product to others.

Trend towards consumer-oriented BI
The latest edition – based on 859 responses from professionals with first-hand experience using vendor products and services – analyzes market place trends throughout 2011 and assess user perceptions towards BI for the coming year.
The report also appears to reveal an interesting general trend away from traditional BI vendors. The study divided vendors into four categories:
"Titans" – the largest and long-established BI players (IBM Cognos, Microsoft, Oracle and SAP Business Objects)
"Large Established Pure-Play" – BI vendors predominately focused on BI software and services with business background of 15 or more years (Actuate, Information Builders, MicroStrategy and SAS institute)
"High Growth" – BI vendors that have achieved critical mass in the market and are growing at an extremely high rate (Qliktech, Tableau and Tibco Spotfire)
"Emerging" – BI vendors that are typically younger than other categories and offer unique and often innovative business models, technologies and/or services (Acrplan, Dimensional Insight, Jedox, Pentaho, Jaspersoft and Yellowfin)
None of the "Titan" vendors were amongst the "Top 10" vendors for any of the study's seven comparative categories. Further, three out of the four worst overall rankings came from this study sub-group. Conversely, four out of the five best overall rankings came from the "Emerging" vendor sub-group.