Business Intelligence Release Notes: What's new in Yellowfin 6.1?
Yellowfin 6.1 is focused on making Yellowfin's Business Intelligence (BI) solution even easier. Yellowfin 6.1 enables non-technical business users with the ability to independently receive, share, explore and act on different types and volumes of data from an expansive range of data sources.
The release achieves this through:
A new native application for the iPhone – to compliment Yellowfin's new iPad application – that delivers a unique consumer-oriented mobile reporting and analytics experience
Enhanced mapping capabilities via the ability to apply geometry data to Google maps
Multilingual displays – users logging in from different countries will have the ability to read reports in different languages
Restyled collaboration User Interfaces (UI) to facilitate faster, simplified information sharing and content collaboration
Support for a greater range of databases to satisfy organizations' growing Big Data needs
For all the details, check out the official Yellowfin 6.1 Release Notes
Yellowfin 6.1 Webinar recording
Yellowfin 6.1 Webinar slides: Move through the presentation at your own pace
New native iPhone app delivers consumer-oriented Mobile BI
Yellowfin for the iPhone integrates Yellowfin's renowned ease-of-use and collaborative capabilities to deliver a Mobile BI application based on the intuitive, interactive and collaborative principles underpinning the world's foremost social media platforms and applications.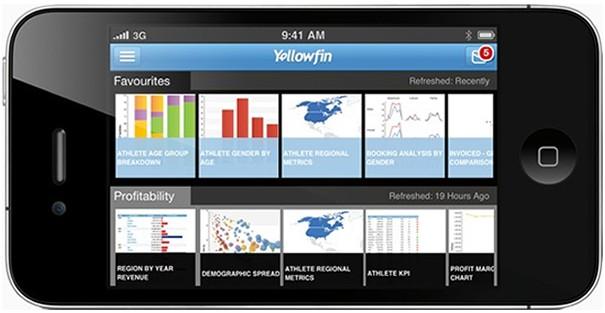 To learn more, please view the following resources:
"Yellowfin's new iPhone application solves the issue of experiencing Business Intelligence on smartphones," said Yellowfin CEO, Glen Rabie. "We've designed this application with consumers, rather than data analysts in mind – we've thought about how people like to use applications for popular social platforms, such as Facebook or Twitter, browse the Web and consume content. Rather than concentrating on building a Business Intelligence application, first and foremost, we've built a fantastic user experience. Why shouldn't people find mobile analytics as intuitive and gratifying as StumblingUpon great insight, or Digging their favorite blog?"
The new iPhone application reaffirms Yellowfin's position as a preeminent provider of Mobile BI, rounding out an impressive 18 months for the vendor, in which Dresner Advisory Services identified it as a leading solution in two separate studies analyzing and comparing the world's foremost Mobile BI providers. Yellowfin was also recognized in Gartner's latest annual Who's Who in Mobile BI report.
Updates to iPhone and iPad applications bolster Mobile BI interactivity
Yellowfin 6.1 introduces a number of new features and capabilities to Yellowfin's native applications for the iPhone and iPad to further enhance its market-leading Mobile BI platform. Highlights include:
Drill anywhere functionality: Users can now utilize Yellowfin's drill anywhere functionality on reports accessed from their iPhone or iPad.
Native mapping support: Native map support has been added for Geographic Information System (GIS) maps, GIS heat maps, GIS bubble maps and Google maps, allowing users to access complex geometric reports from mobile devices.
Yellowfin 'Whiteboard': The Yellowfin 'Whiteboard' feature takes advantage of the iPad and iPhone's native multi-touch interface, allowing users to draw (with their finger) on a report to highlight important information, trends and outliers. This feature functions like a screen shot / capture, allowing the resultant annotation to be shared with other users.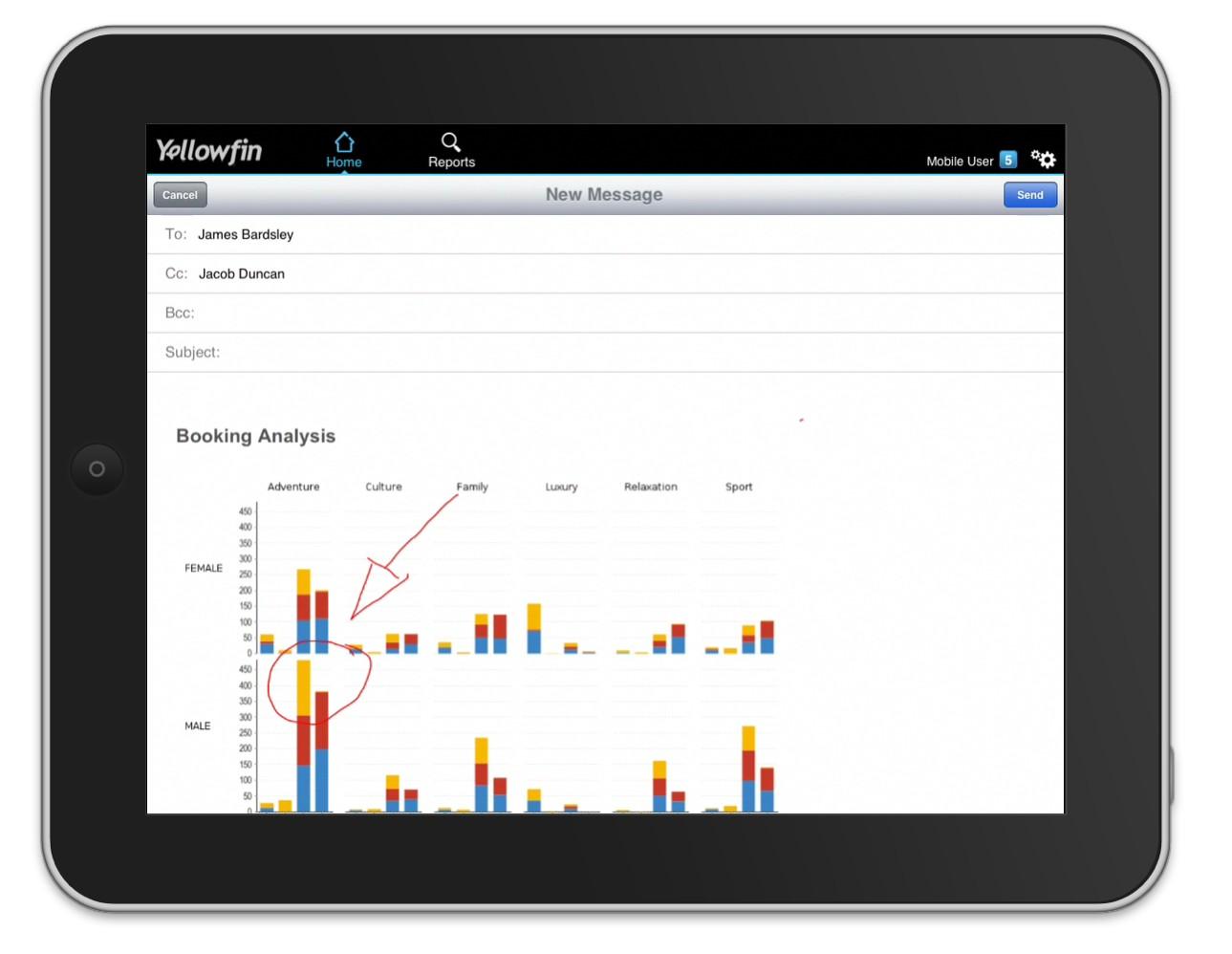 Yellowfin for the iPad was released in November 2011. Yellowfin for the iPhone was released in April 2012.
New Google mapping capabilities boosts Location Intelligence functionality
Yellowfin 6.1 delivers enriched mapping capabilities, that enhance Yellowfin's award winning Location Intelligence functionality, with the ability to apply geometry data to Google maps (Google Polygons). Users are now able to map the outline of a specific province or area.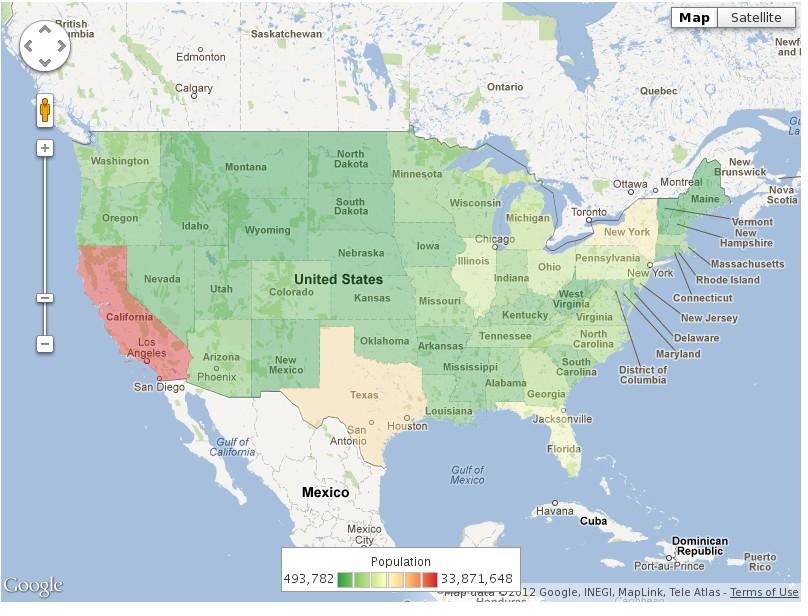 New multilingual displays: View Yellowfin reports in any language
Multilingual displays allow users logging in from different geographies to read reports in different languages.
If users change their preferred language in their user profile, when they login to Yellowfin, they will automatically view both the UI and translated reports in their selected language. This feature enables the same reports within a single instance of Yellowfin to be viewed in multiple languages depending on user preferences.
Restyled collaboration UIs make Collaborative BI easier
UI enhancements to Yellowfin's collaborative components enable faster, simplified information sharing and content collaboration. These updates apply to the Yellowfin comments, sharing & emailing and broadcast & subscribe UIs.
Additional database support targets Big Data
Yellowfin 6.1 offers support for a greater range of databases to satisfy organizations' growing Big Data needs. New databases supported include D3, Connection Cloud, Lucid, Greenplum, Hadoop, SAP Hana, Vertica and SAS dataset connection.
Where to next?
For detail on all UI, analysis and miscellaneous additions or improvements, as well as a comprehensive overview of all major 6.1 product enhancements, download the official Yellowfin 6.1 Release Notes