Data visualization predicts New Zealand's Cricket World Cup
By Eshan Wickrema and Lachlan James
When it comes to cricket, it seems that size doesn't matter. But, despite a flawless start to the 2015 International Cricket Council (ICC) Cricket World Cup, can New Zealand continue its formidable home ground form and undefeated run into the finals? Let's assess the odds with Business Intelligence and data visualization.
New Zealand's formula for success: Bowl first, bat second
What's the deal with the Cricket World Cup, you ask?
Read our opening data blog of the 2015 Cricket World Cup
HERE >
Small island nation and 2015 Cricket World Cup cohosts, New Zealand, have moved through the group stage of the tournament unconquered, dispatching cricketing heavy weights England, Australia and Sri Lanka on home turf.
All the Black Caps' 2015 World Cup victories, and therefore matches to date, have been won when chasing (batting second). With the exception of New Zealand's final pool match against a plucky Bangladesh outfit, they've chased-down their opponents scores in quick time – requiring an average of just 24 overs to reach their victory target. That's under half the full innings allotment of 50 overs for a One Day International (ODI)!
These wins have been set-up by two crucial factors:
The outstanding bowling performances by its relatively unheralded seamers Trent Boult (15 wickets) and Tim Southee (best tournament bowling figures to date: 7/33), combined with career best form from veteran slow-armer Daniel Vettori
The kamikaze batting displays of skipper Brendon McCullum
New Zealand's bowling efforts in the first innings have restricted their opponents to fewer than 200 runs, with the exception of Bangladesh (288) – a huge accomplishment in an era and tournament where 300 plus scores have become routine. In fact, the Black Caps conceded a meager average of 178 runs per World Cup pool match.
Combined with blazing second innings batting by battering-ram Brendon – 65 runs from 49 balls vs Sri Lanka, 77 runs from 25 balls vs England, 50 runs from 24 balls vs Australia, 42 runs from 19 balls vs Afghanistan – New Zealand has made a mockery of their opponents (not to mention the available 50 overs).
These figures suggest that, if batting second at home, New Zealand can extend their brilliant 2015 Cricket World Cup campaign.
But…
New Zealand's ODI record at Eden Park
There are four teams that could theoretically progress to the New Zealand-based semi-final, scheduled to be held at Eden Park, Auckland.

What's interesting is that, of these four teams, New Zealand actually has the second worst win rate at Eden Park (46.96%). But, luckily for the home team, they have to face the West Indies (who boast a win rate of 66.66% at Eden Park) in their sudden-death quarter-final in Wellington beforehand.
That's stumps
If New Zealand can overcome an unpredictable West Indies outfit in the quarters, they'll be hoping that South African skipper, AB de Villiers, continues his hot run of form and dispatches Sangakkara's Sri Lanka in the other quarter-final match-up on their side of the draw.
Can de Villiers beat Proteas' Cricket World Cup choking tag? Find out
HERE >
If fate falls New Zealand's way, we think they can make it to the 2015 Cricket World Cup final at Australia's Melbourne Cricket Ground (MCG). But, can they go all the way?
Stay tuned for our next Cricket World Cup data blog, as we assess the ODI record of fellow cohosts and tournament favorites, Australia, at the iconic MCG.
Recommended
Data visualization sets the scene for 2015 Cricket World Cup >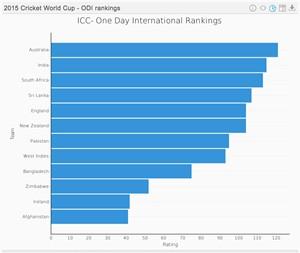 Data viz predicts 2015 Cricket World Cup high scoring games >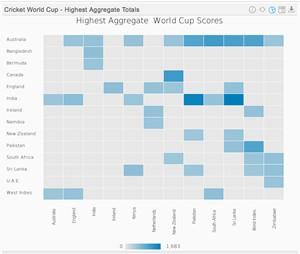 Cricket World Cup: Data Viz shows Windies reliance on Gayle >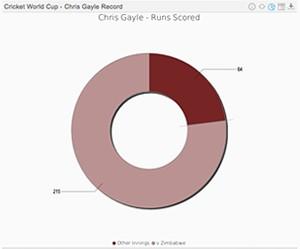 Can de Villiers beat Proteas' Cricket World Cup choking tag? >