What?s Cool in 5.2? The Yellowfin Wiki!
Ever been looking for a help on a particular Yellowfin function? Spent time searching through the User Guide, only to realise you should have been looking in the Admin guide? Your hunting days are over – enter Yellowfin 5.2's Documentation Wiki.
In the Yellowfin Wiki you will find all of the Guide and Tutorial content in one slick package. Simply search for the function you're after and all the information you need will be at your fingertips. Interlinked for ease of use you will be directed through the pages, moving from the main article to related content without the need for additional searches.
Want to read more about the simplified Analytic Dashboard setup you read about in the blog 2 weeks ago? Search for 'Analytic'. By clicking on the Analytic Tabs link you will be walked through a functional overview and directed to a tutorial for step-by-step instructions.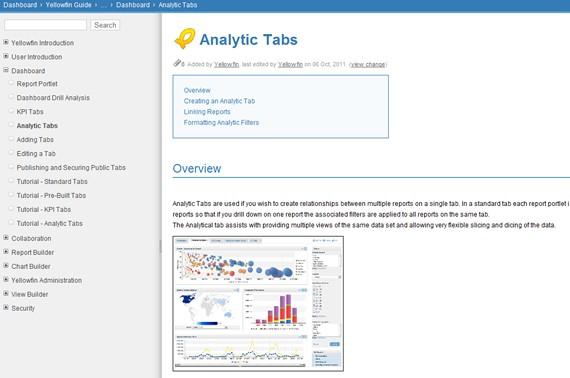 So the next time you need to know more about a feature, or are looking for some tips on how best to create that troublesome report, click on over to the Yellowfin Wiki.