Mobile BI needs to be more than just cool
Mobile BI is like The Fonz
Mobile Business Intelligence (BI) is a little bit like The Fonz – it's the nonchalant leather-clad greaser of the analytics world.
But, unlike Henry Winkler's fictional character, made popular on the American sitcom Happy Days, Mobile BI needs to be more than just cool for its audience to derive true value.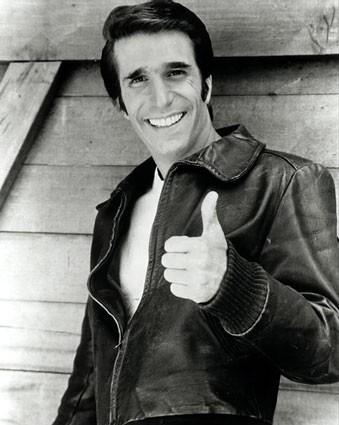 Mobile BI: Is the cool factor enough?
Mobile BI – specifically iPad-oriented Mobile BI – makes a prominent appearance on renowned BI analyst Cindi Howson's annual "Cool BI" list in 2012. In a TDWI Q and A regarding her 2012 cool list, Howson stated that mobile reporting and analytics is perceived as cool "because the iPad is cool. Business intelligence has not been cool, it's been boring, and I think the iPad helps reinvigorate it."
Whilst there's no doubt that the increasingly popular iPad has added an inescapable cool factor to enterprise mobility and BI – Apple claim that almost all of The Fortune 500 will deploy iPads as part of their corporate information strategy during 2012 and Howard Dresner's latest Mobile BI market study found that 80 percent of the globe's Mobile BI programs will feature the iPad by the end of 2012 – implementers must beware. Rushing starry-eyed and headlong into a Mobile BI deployment will end in disappointment and potential project derailment – see our recent blog post 10 don'ts for delivering Mobile Business Intelligence for the details.
Computerworld UK: Only fools rush in (to Mobile BI)
There's no point whooshing into a mobile analytics implementation just to 'keep up' with competitors, or purely for the sake of mobility itself. Steadfast objectives and expected benefits should be outlined, and mobile user groups carefully identified. Computerworld UK echoes this sentiment, stating that the managers and end-users of prospective organizations need to carefully analyse how Mobile BI could benefit their particular business and business model.
"The most potent advantage that organizations can gain from mobile BI is in-the-moment transformation of their business processes," the report said. "All this creates game-changing operational efficiencies as well as faster and higher quality customer service."
The media organization suggested that those looking to deliver BI to mobile devices should educate themselves on the potential pitfalls, in conjunction with the desired paybacks. Assessing its strengths – namely faster information delivery and fact-based decision-making ability – in comparison the associated challenges – including security and manageability issues – will help establish realistic expectations, target user groups and achievable Return On Investment.
TDWI's Stodder: Mobile BI excites IT, but not necessarily in a good way
David Stodder, TDWI Director of Research and author of the recent TDWI report, Mobile Business Intelligence and Analytics: Extending Insight to a Mobile Workforce, backs Computerworld's call for caution.
Read the highlights of Stodder's report here >

Download the 36-page report here >
"The prospect of rolling out enterprise-class BI and analytics on mobile consumer devices gets IT managers excited – but not necessarily in a good way," wrote Stodder in the report.
Stodder noted that this excitement had the potential to overshadow careful and necessary planning around sensitive issues pertaining to data privacy and security.
"What's critical … is to enable BI and analytics to thrive by making best use of what is 'insanely great' about mobile devices. Many of the touch, content-interaction, and collaboration features that make tablets and smart phones so appealing for consumer use could also revolutionize the experience of BI, particularly for nontechnical users."
According to the report, Mobile BI remains in something of an exploratory state, with 53 percent of participants stating that under 10 percent of their organization's current BI users were receiving reporting and analytics via mobile devices. Sixteen percent indicated that between ten and 25 percent of users had access to Mobile BI.
"While this number appears to reinforce the widely held impression that mobile BI still has not broken out in most organizations, the research results also show that in 22 percent of organizations, between one-quarter and one-half of users are implementing BI and analytics, and in 23 percent, more than half of users are doing so. Compared with the results of similar survey questions asked by TDWI and other research organizations just a few years ago, the results in this study suggest that the overall percentage of users implementing BI and analytics tools is growing," wrote Stodder. "Participants who said that more than 50 percent of users in their organizations are performing some or all of their BI and analytics on mobile devices rose from eight percent to 21 percent."
TDWI, Stodder: Success with BI = success with Mobile BI
Stodder said that the survey results indicated, perhaps unsurprisingly, that those organizations with widespread BI implementations – underpinned by a strong understanding of their organization's data-based goals and linked to clearly defined corporate strategy – had a greater likelihood of implementing larger, more successful, Mobile BI deployments.
"The bottom line is that expansion in the number of mobile BI and analytics users seems to go hand in hand with an overall expansion in the implementation of BI and analytics tools," wrote Stodder.
"These results support the hypothesis that, compared to 'green-field' implementations where users have never implemented BI, mobile BI and analytics are most successful in organizations where tool use is already widespread and where mobile deployment is part of a bigger strategy for 'democratizing' the data and expanding BI and analytics to a wider population of users."