Analyzing the greatest Olympians with data visualization
Today's data visualizations and infographics brought to you by Yellowfin; now making Business Intelligence even easier.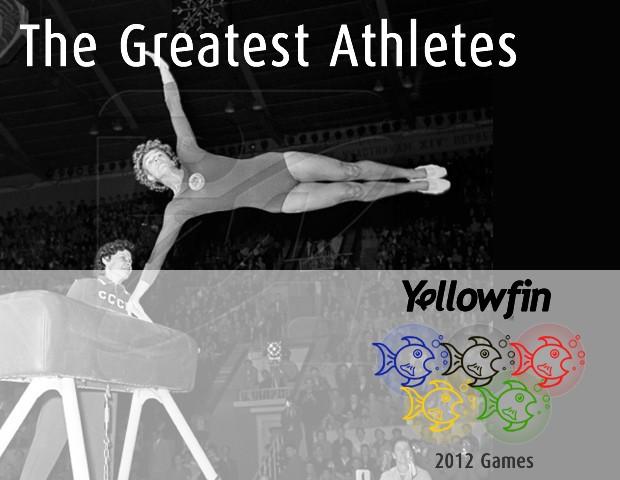 Will London 2012 be crowned the best Olympics ever? We'll soon find out with tonight's opening ceremony symbolizing the official commencement of the world's most infamous and idolized sporting spectacular.
We've already discovered – in our inaugural Olympic blog post entitled Dissecting female participation at the Olympic Games with infographics & data visualization – that the Games of the XXX Olympiad have already secured a Gold medal for gender equality.
And speaking of stellar performances, we thought that the eve of the 27th Olympics was an appropriate time to reflect on the Games' best ever performers. So who are the greatest Olympians of all time?

Best performing Olympic athletes over time (10 or more Olympic medals at the Summer Games)
Fittingly, given the record representation of female athletes at the 2012 Games, the best Olympian of all time – arguably – is a woman.
Larisa Semyonovna Latynina (say her name ten times fast!) of the Soviet Union has won the most number of Olympic medals ever – a staggering 18 in a truly remarkable Olympic gymnastics career! She also remains the only female athlete to have won nine Gold medals.
Overall, Latynina has won the equal second highest number of Olympic Gold medals. Mark Spitz, Carl Lewis and Paavo Nurmi have all also won nine Gold medals over their decorated Games careers. With the exception of the balance beam at the 1956 Olympics, Latynina won a medal in every Olympic event in which she competed.
American super fish – Michael Freddy Phelps – has taken home the most Gold medals by an individual athlete in Olympic history, winning six Gold at Athens in 2004 and a record-breaking eight Gold at Beijing in 2008, for a total of 14. The record for most number of Gold medals by an individual athlete at a single Games was previously held by another US swimming great, Mark Spitz, who claimed seven Gold at the 1972 Munich Olympics.
Phelps' current Olympic medal tally sits at 16 – second only to Latynina's 18, which she accumulated over three Olympics. Phelps has the opportunity to break that longstanding record in London over the next fortnight of tantalizing competition.
Rounding out the top three best Olympians at the Summer Games by total medals won, is Nikolai Andrianov of the Soviet Uniion. Andrianov clinched a total of 15 medals over an Olympic career spanning from 1972 – 1980. However, only seven of Andrianov's medals were Gold (five Silver and three Bronze), meaning that despite sitting third on the all-time medals list, he ranks equal 12th on the all-time individual Gold medal leaderboard.
Greatest Olympians dashboard
Note: We've only picked out a few tasty tidbits of data to discuss. But this dashboard is fully interactive, so apply your own filters and explore the data!


Which countries have produced the world's most elite Olympians (10 or more Olympic medals at the Summer Games)?
A total of 26 athletes have won 10 or more Olympic medals throughout the history of the modern Summer Games (1896 – 2008).
The sustained – although waning – economic might of the USA has seen it field a long succession of highly successful Olympic teams. As a result, nine of the 26 competitors who have secured 10 or more Olympic medals are American.
The former Soviet Union comes in second place, boasting six Olympic combatants that have secured 10 or more medals. Japan rounds out the podium in third place, with three Japanese athletes having won 10 or more medals at the Summer Games.
In which sports have the Games' most prolific medal winners tasted glory (10 or more Olympic medals at the Summer Games)?
It appears that certain sports lend themselves to large individual medal hauls. Of the 26 Olympic competitors that have won 10 or more medals at the Summer Games, half (13) did so in the gymnastics arena. Seven athletes have swam their way to a podium finish 10 or more times, two apiece in fencing and athletics, while only one Olympic combatant has won 10 or more medals in canoeing (Birgit Fischer of Germany) and shooting (Carl Osburn of the United States).
It seems curious that the sports of Gymnastics and Swimming appear to lend themselves to record medal hauls, as both events are widely regarded as having short 'life expectancies' – most athletes retire before their mid twenties.
Longevity at the Olympics
Speaking of longevity in sporting and, more particularly, Olympic careers, ever heard of Elisabeta Lipă? This former Romanian Olympic rower won five Gold, two Silver and one Bronze medal during her Games career. But that's not the impressive part. Lipă won her eight medals over a mind-blowing six Summer Games, winning at least one medal in each of her Olympic appearances.
So, not only are women competing across all Olympic events for the first time, with all countries fielding at least one female athlete for the first time, women also hold the record for most prolific Olympic career by total medal tally (Larisa Semyonovna Latynina) and for the greatest number of medal winning Olympic appearances (Elisabeta Lipă).
Where to next?
Keep your eyes peeled for our continuing series of Olympic data blogs, appearing daily until London's Closing Ceremony (12 August).