Analyzing Track and Field at the Olympics with data visualization
Today's data visualizations and infographics brought to you by Yellowfin; now making Business Intelligence even easier.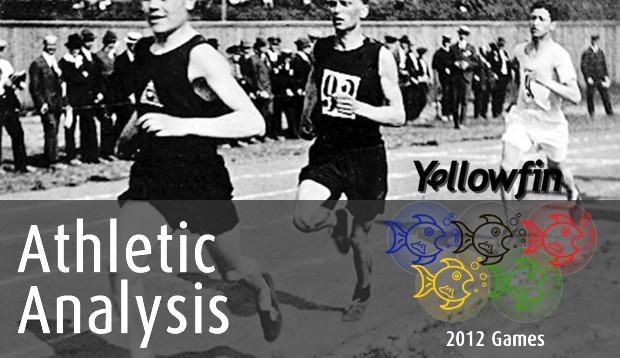 So apparently lightning does strike twice. Defending Olympic 100-meter sprint champ, and current world record holder Usain Bolt, overcame his doubters and injury speculation to take the London 2012 final in an Olympic Record (9.63 seconds) – the second fastest 100 in history.
However, unlike Beijing four years ago, Bolt saved the showboating for after the race, aware that every man involved in last night's blistering final had set sub 10-second times this year. It was the fastest final ever, with Bolt's training partner and reining world champion, Yohan Blake, claiming Silver in a sizzling 9.75 seconds, and America's Justin Gatlin grabbing Bronze in 9.79. To underscore the frenetic pace, American Tyson Gay finished fourth, in 9.80 – a time that would have seen him win Gold in every other Olympic 100-meter final aside from Beijing (2008) and London.
Bolt's victory makes him the second only man, after USA's Carl Lewis, to take back-to-back Gold medals in the Summer Games' premier track event.
But Bolt is just one legend of the Olympic track. So let's dive into some data to uncover other renowned Track and Filed performances at the modern Summer Games.
Dashboard: Uncovering and analyzing awesome athletic performances by individuals and nations at the Summer Games (1896 – 2008)
Like Swimming and Gymnastics, the sporting category 'Track and Field' (or 'Athletics') has featured at every Summer Games since the events' inception in 1896. Track and Field also comprises the largest number of events on the current Olympic program. Aside from the inclusion of women equivalent events, the Olympic Track and Field line-up has also remained relatively unchanged – certainly in comparison to other sporting disciplines. The Short Racewalk is the only event that has been added to the men's schedule since 1952, with the Long Racewalk the only omission since 1976.
Note: Again, the below dashboard is fully interactive. But we've only provided commentary on a minor selection of potential talking points. So start clicking, drilling and filtering to discover the greatest athletic accomplishments of Olympic Track and Field, and reveal which nations, events and individuals have dashed, leapt and thrown their way onto the dais and into Games immortality.
Track and Field: Medalists vs medal count by country at the Summer Games (1896 – 2008)
The USA has a long and decorated history in Track and Field at the Summer Olympics, and has sent athletes to represent it at every modern Games except the Soviet-hosted 1980 Games which it boycotted. For more on East – West rivalry at the Olympic Games, check out our blog Data visualization analyzes the East vs West rivalry at the Olympics.
America is the strongest performing nation in the event category 'Track and Field' at the modern Olympic Games. The USA has produced 630 medal-winning athletes (25% of all medalists in Track and Field over the course of the modern Games), winning a total of 755 medals in Track and Field (30% of all medals won in Track and Field at the Summer Olympics). In fact, the USA has won more overall Gold, and total medals, across all Olympic events than any other country throughout the history of the Summer Games.
Track and Field: Country by event medal count at the Summer Games (1896 – 2008)
Unsurprisingly, when assessing the strength of each nation over individual Track and Field events, the United States stands out as a dominant performer across most disciplines. Its strongest events include the 110-meter Men's Hurdles (54 medals), Men's Shot Put (47 medals) and Men's 200-meter (46 medals).
Curiously, The United Kingdom has medalled across many Track and Field events, but has never controlled individual events to the same degree as America. The UK has experience the most success across the Men's 1500-meter (14 medals), 4 X 400 Men's Relay (11 medals) and Men's 800-meter (10 medals).
Germany has also produced a succession of successful Olympic Track and Field teams, medalling in all but six events. Historically, its best events include Women's Javelin Throw (15 medals), Women's Shot Put (15 medals) and Men's Decathlon (11 medals). Interestingly, Germany's next best medal earning Track and Field events include the Women's Discus Throw (10 medals), Women's 100-meter (9 medals) and the 4 X 100 Women's Relay (9 medals). Is there a potential reason for the strong performance of Germany's female athletes? We might have a controversial answer; but you'll have to check out tomorrow's blog to discover what it is…
Top individual medal winners in Olympic Track and Field competition (1896 – 2008 Summer Games)
Paavo Nurmi – as mentioned in our Analyzing the greatest Olympians with data visualization data blog – won a record 12 Olympic medals, nine of them Gold, in his decorated running career. The Finish runner was a champion middle and long distance athlete during the 1920s, setting 22 world records in distances ranging from 1500 meters to 20 kilometers. Nurmi won five of his Gold medals in a single appearance at the 1924 Paris Olympics.
American Ray Ewry won 10 medals – all of which were Gold – in several remarkable Olympic appearances in the early 1900s. Ewry still holds the record the number of Gold medals won by a single Track and Field athlete. Additionally, his eight individual Gold medals (those not won as a member of a team event) make him second only to American swimming machine, Michael Phelps.
Another American, Carl Lewis, rounds out the top three. Lewis won nine Gold and one Silver medal across the 100-meter, 200-meter and Long Jump events. The International Olympic Committee voted Lewis the "Sportsman of the Century".
Track and Field: Medal count by country over time at the Summer Games (1896 – 2008)
Again, the historical supremacy of The UK and USA is made obvious when analyzing Track and Field success over time. The UK has won at least one medal at all Olympic Track and Field meets. The same goes for the US, with the exception of its 1980 boycott.
And, thanks in part to the "Flying Finns" Paavo Nurmi, Hannes Kolehmainen and Ville Ritola, Finland is the next most consistent nation at Summer Games Track and Field events, taking home medals in all but three Olympics.
Where to next?
Be prepared for some controversy when tomorrow's post reflects on doping at the Olympics. Yellowfin's series of Olympic data blogs will continue to appear daily until London's Closing Ceremony (12 August).