Improving Series Selection in Yellowfin 6.3
As usual, we've been hard at work improving old features, and developing great new ones, of Yellowfin's Business Intelligence solution. One of the new improvements that I've been developing personally – due out in May's release of Yellowfin 6.3 – relates to Series Selection. Specifically, the way in which you're able to set colors, and how they're shown within a chart.
Current color settings functionality for Series Selection in Yellowfin works like this: You create a Series Selection chart, and are then able to set the colors for each series. So, you're able to set the color for a series ("Cost of Camp" in the instance below) to a shade of pink, for example. When selected, the chart color will be displayed as pink. However, in the Series Selection list, it will appear blue – which can be a bit deceiving.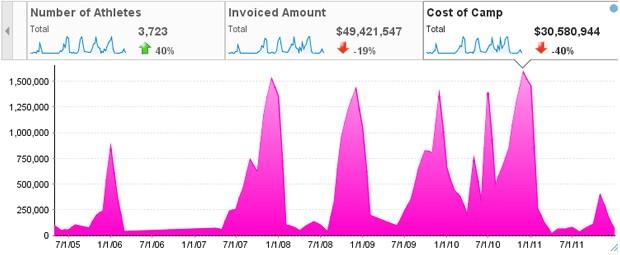 However, in Yellowfin 6.3, this deception will be no more!

As you can see, the "Cost of Camp" Series Select will now also be a lovely matching shade of pink!
This change will bring more consistency to the creation process whenever you're building a Series Selection chart.
In addition to this colorful update, there are many more enhancements and new features to be included in Yellowfin 6.3 – especially relating to Collaborative BI. So keep you ears tuned, or eyes peeled (although seriously now, why would anyone peel their eyes – it sounds painful), for more info in the coming months.