Webinar: Discover the "real-world state of the BI market" – the knowledge you need to succeed

Discover the "real-world state of the BI market" – the knowledge you need to ensure Business Intelligence (BI) and analytics success – from the world's No.1 BI solution >
Join Yellowfin as we dissect the results of 2013's Wisdom of Crowds Business Intelligence Market Study – the BI industry's most in-depth research report into major global implementation, usage and technology trends and developments.
But seats are limited, so reserve your free spot today. Register Now!
If you're thinking of deploying BI, you need to see beyond the hype. Take advantage of our expert analysis and explanation of the industry's most prevalent, tangible and relevant trends.
When and How
There are three concise 40-minute Webinars scheduled throughout Monday 15th and Tuesday 16th July for your convenience.
Register for a session now by clicking on a link below:
Webinar 1 (Best time for Americas)
Mon, July 15, 2013, 5:00PM – 5:40PM, New York EDT
Webinar 2 (Best time for Asia-Pacific)
Tues, July 16, 2013, 2:00PM – 2:40PM, Australian EST
Webinar 3 (Best time for Europe)
Tues, July 16, 2013, 10:00AM – 10:40AM, London BST (British Summer Time)
Move beyond the pomp and fanfare. Let Yellowfin help you understand how to harness the industry knowledge you need to safeguard your own BI success.
Attendees will receive a free copy of Dresner Advisory Services' (DAS) 2013 Wisdom of Crowds BI Market Study.
"If understanding how to capitalize on market trends and the consumerization of BI – to empower more people with understandable and actionable information – is important to you and your business, then this Webinar is a must."
– Yellowfin CEO, Glen Rabie
What will you learn?
Join us to discover:
Why Yellowfin was rated No.1 in DAS' competitive ranking of the world's foremost BI vendors
Why new generation consumer-oriented BI is set to dominate at the expensive of 'traditional' BI
How to take advantage of the latest trends shaping the BI landscape
Find out why the BI industry's preeminent state of BI report ranked Yellowfin first compared to 23 of the world's leading BI vendors. FIND OUT MORE >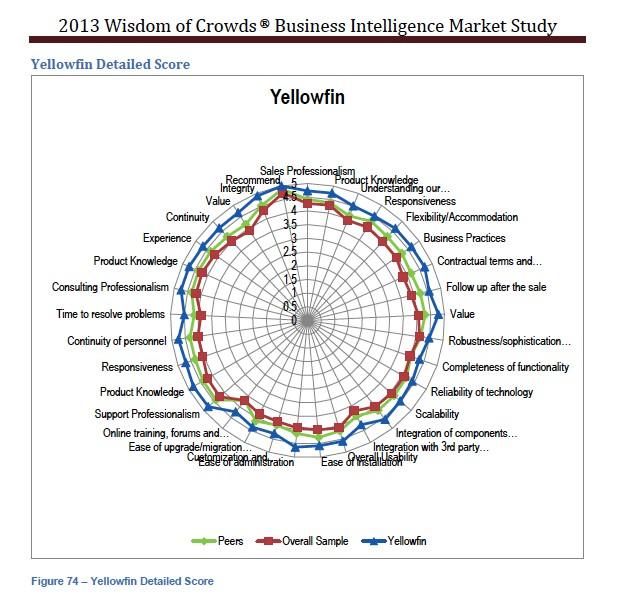 "Our annual BI study goes far more in depth than other market reports, thus enabling readers to understand the nature and rate of change in the market and to better determine what is real and what is hype.
"I've been focused on Business Intelligence for nearly a quarter of a century and I've never been more excited about the industry than today… Enter mobility, collaboration, cloud, visualization, big data and social – It's nothing short of a Business Intelligence Renaissance!"
– report author, former Gartner Research Fellow and head of BI, and founder of DAS, Howard Dresner
Please note: After registering, you will receive a confirmation email explaining how to join your chosen Webinar.
Following the Webinar, attendees will receive a copy of the presentation slides and a recording for on-demand viewing.
We look forward to seeing you there.
Best regards,
The team at Yellowfin