Download Dresner's 2013 Wisdom of Crowds Business Intelligence Market Study
Dresner Advisory Services' (DAS) annual Wisdom of Crowds Business Intelligence Market Study offers detailed insights into the Business Intelligence (BI) landscape, assessing major trends and the foremost BI vendors capable of meeting ever-changing market demand.
Yellowfin ranks No.1
Yellowfin achieved the highest overall ranking in DAS' 2013 wisdom of crowds BI study (4.74 out of five). Yellowfin also achieved the highest score in the study's "Emerging Business Intelligence Vendors" category for the second year in a row.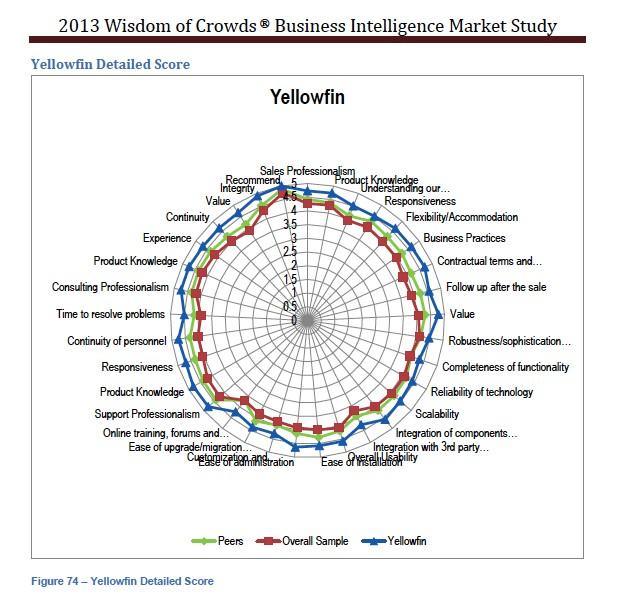 "A member of the 'Emerging' market segment, Yellowfin was its leader again for 2013, improving scores in virtually all categories vs. 2012. It was 'best in class' for all measures in all categories and had a perfect Recommend score."
– report author, former Gartner Research Fellow, and President, Founder and Chief Research Officer of DAS, Howard Dresner
Download your free copy today
(Sorry, this paper is no longer available)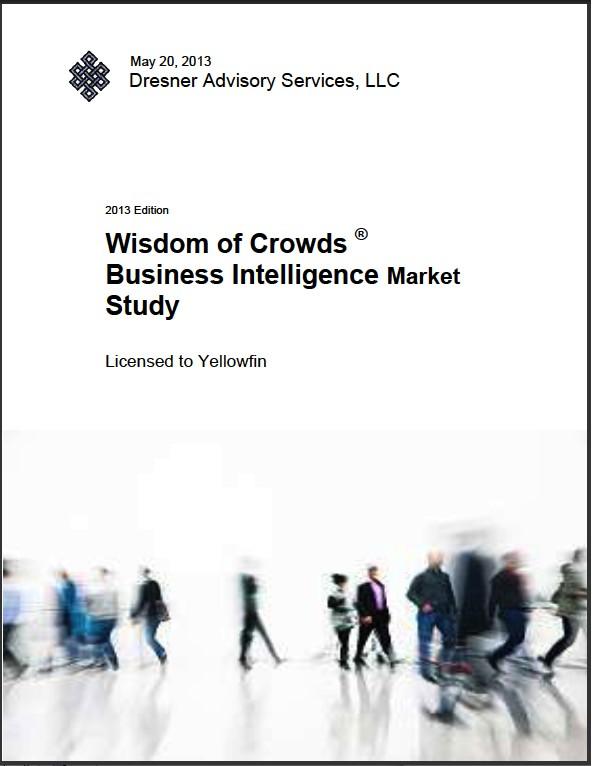 Ranking system
Aside from analyzing impactful marketplace developments, as well as usage and deployment trends, the study also compares and ranks 23 of the world's leading BI vendors, their solution and associated services.
Yellowfin outscored all-comers, including traditional big name vendors Microsoft, IBM, Oracle, SAP Business Objects, SAS Institute and MicroStrategy. Yellowfin also outperformed other high profile vendors, including Information Builders, Actuate, QlikTech, Tableau, Tibco Spotfire, Pentaho, Dimensional Insight, Birst and Jaspersoft.
The global study ranks vendors on a five-point scale, across 33 different criteria, based on seven categories, including: Sales experience, value, quality and usefulness of product, quality of technical support, quality and value of consulting services, integrity and whether existing clients would recommend the vendor and its product to others.
Shift away from traditional Business Intelligence
The latest edition – based on a total of 1182 completed surveys from professionals with first-hand experience using vendor products and services – analyzes market place trends throughout 2012 and assesses user perceptions towards BI for the coming year.
Significantly, like the 2012 Wisdom of Crowds Business Intelligence Market Study report, the 2013 version also appears to reveal an interesting shift away from more traditional BI vendors. This year, the study divided vendors into six sub-categories:
"Titans" – the largest and long-established BI players (IBM Cognos, Microsoft, Oracle, Infor and SAP Business Objects)
"Large Established Pure-Play" – BI vendors predominately focused on BI software and services, with business backgrounds in BI of 15 or more years (Actuate, Information Builders, MicroStrategy, QlikTech and SAS Institute)
"Specialized" – BI vendors, typically in existence for 10 or more years, which focus on specific market segments and / or industries (Dimensional Insight, Dundas, Panopticon and Phocus)
"High Growth" – BI vendors that have achieved critical mass in the market and are growing at an extremely high rate (Tableau, Tibco Spotfire, Pentaho and LogiAnalytics)
"Emerging" – BI vendors that are typically younger than other categories and offer unique and often innovative business models, technologies and / or services (Jedox, Jaspersoft, Birst, iDashboards and Yellowfin)
"Early Stage" – the youngest and / or smallest BI software companies included in the study (Vendors in this 'segment' are not ranked, but are given "honorable mention")
Five out of the six lowest overall scores came from the "Titan" vendor segment – a group made-up of what many industry experts often refer to as 'traditional' BI vendors. This was also the only vendor segment included in the 2013 study that did not receive at least one overall vendor score above four. The average overall score for this vendor segment was just 3.66.
Conversely, the two groups associated with modern and innovative approaches to contemporary BI challenges – the "Specialized" and "Emerging" vendor segments, achieved the two highest average overall scores (4.43 and 4.36 respectively).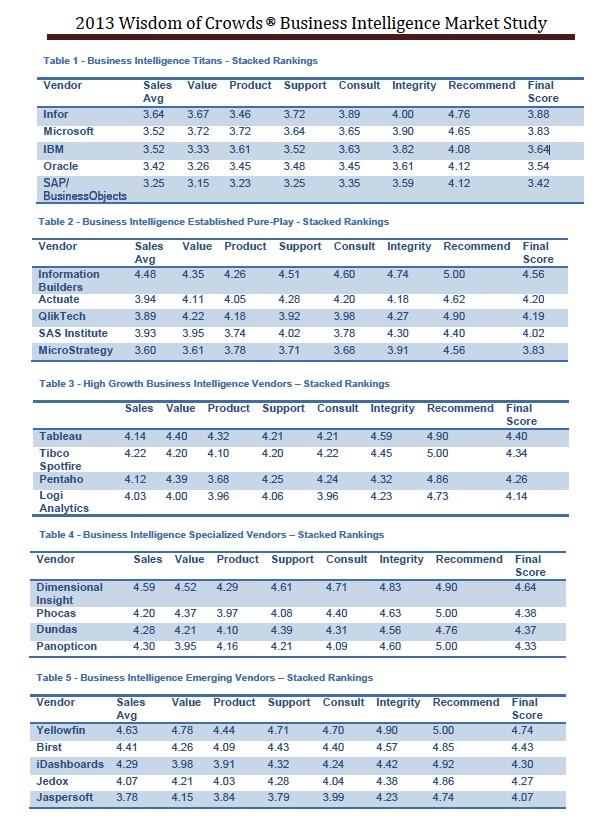 2013 wisdom of crowds BI market study: Key findings
The report uncovered a number of new and continuing trends in the BI industry. The study revealed that:
Executive Management remain the primary group driving interest in, and development of, corporate BI initiatives
Executive Management remain the primary user group / benefactors of BI deployments, regardless of industry, organizational size or geography
The need for "better decision making" is the primary outcome sought from those implementing a BI program, regardless of industry, organizational size or geography
BI user penetration – as a percentage of an organizations' total number of employees – has grown modestly, with 64% of respondents reporting that at least 11% of employees have access to BI today
Aggressive BI expansion plans are in the pipeline, with 72% of respondent organizations aiming to deliver BI to at least 41% of employees by 2016
The vast majority (88%) of respondents either "completely agree" or "somewhat agree" that their BI initiative has been a success
Those organizations reporting greater success were likely to have more ambitious deployment plans and fewer redundant tools
More organizations are using more BI solutions, with the number of products in use within a single organization increasing in accordance with the proliferation of available BI tools
As business-user-oriented BI solutions become more popular, BI budgets continue to shift away from IT and towards end-user departments
The top BI technology priorities for 2013 include dashboards, end-user 'self-service' and advanced data visualization
The top BI technology priorities for 2013, that proportionally increased from the 2012 version of the report, were cloud BI, dashboards and Mobile BI