Data visualization & Business Intelligence dissects doping in the Tour de France
22 July, 2013
Former team Festina coach, Antoine Vayer, has caused a storm in the cycling world since he controversially postulated that utilizing the power of statistics could catch out dopers. Chris Froome's dominance throughout the Tour de France's centenary year will continue to fuel the debate on doping's place in professional cycling.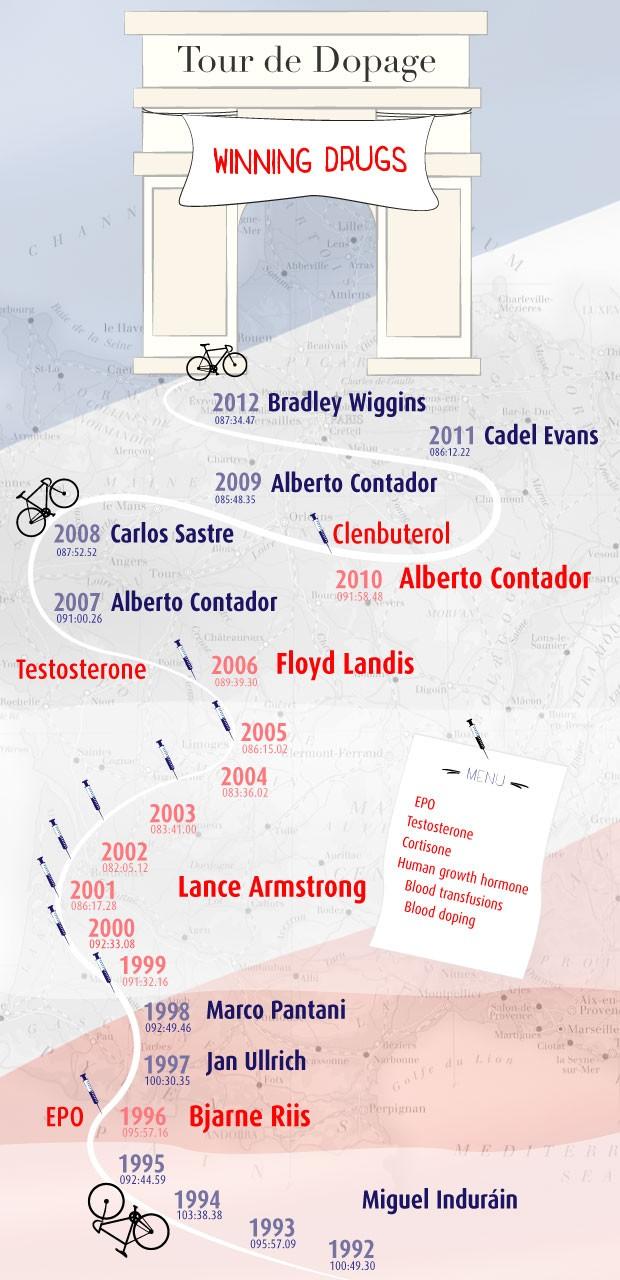 Vayer's formula is essentially a conventional power-to-weight comparison, factoring in other variables such as air resistance, gravity and air density. From this, he has developed critical benchmarks where an output of 410 watts is deemed "suspicious", 430 watts "miraculous" and at 450 watts classified as "mutant".
In theory, using power-to-weight ratios to measure athletes' performance is a sound technique for identifying performance outliers. However, the benchmarks that Vayer has set, which are supposedly capable of identifying dopers, are by no means proven – nor are they calculated using independently vetted data and data collection methodologies.
Despite his hot form being carefully scrutinized, Froome has recently surrendered his data output for independent analysis, which was found to be consistent with clean riding.
Given more accurate figures, the potential for data analysis to be used to flag suspect riders is worthy of further inspection. Besides, in a climate where every significant feat is overshadowed by suspicion, who wouldn't be in favor of further analysis to return the event to its rightful perch at the top of the sporting world?
After all, the Tour remains a sporting event of true iconic proportions, steeped in history, held among sprawling countryside and across the romanticized cobblestones of idyllic French hamlets. It's an event that, in most ways, remains worthy of our attention, admiration, and of course, our analysis.
So let's turn to data visualization and Business Intelligence to delve into Tour de France 2013, and explore how the hopefully human efforts of Froome compare.
2013 Tour de France
The 2013 Tour de France marks the landmark event's centenary year. For the first time since 2003, the tour will be held completely on French soil, avoiding bordering countries. Covering a total of 3,403 kilometers, the 2013 Tour has been dubbed one of the most physically challenging in recent memory, with the final hill stages set to separate the contenders from the rest of the peloton.
Chris Froome has proven to be the most rounded cyclist over the first two weeks of the Tour, establishing a five-minute lead and defending it vigorously. Impressive Colombian youngster Nairo Quintana closed the gap with a final mountain assault on stage 18 of the Tour. Froome showed his first signs of weakness in stage 18 as he was dragged up the mountain by teammate Ritchie Porte. This image was starkly different from Froome's dominant display at AX-3 Domaines – an effort that saw him claim top spot in the general classifications.
Top 20 times for AX-3 Domaines
The AX-3 Domaines is a ski sports resort located in the famous Pyrenees. Since the climb to the ski station was introduced in 2001, the peak has been used as a stage in the Tour de France five times. In 2013, the eighth stage of the tour de France took place at the resort, during which Chris Froome asserted himself as the dominant rider on the Tour. Eight seconds off the pace going into the stage, Froome managed to turn the deficit into a 51 second lead – a feat that all but secured the Kenyan-born Britain the Yellow Jersey. But just how impressive was this performance?
The 20 best times for the AX-3 Domaines climb show that Chris Froome's assent was the third best for the mountain. Controversially, the top 13 times are comprised of riders who've now been identified as dopers or who competed at a time when cycling was notorious for being a 'dirty' sport.

Lance Armstrong and Alberto Contador are the only times to be officially made void, after it was determined they took banned substances during the actual race. Other instances are not as clear-cut, with many being banned in later years for doping, or implicated in subsequent doping investigations.
Though very tricky to compare – given differences in weather, previous stages of the tour, accompanying riders and many other factors – Froome's time sits among the best in an era marred by doping and doping allegations. To legitimately be placed amongst cyclists who were known to artificially enhance their performance speaks tremendously about Froome's pedigree.
Winning margins
Over the past 20 years, the Tour has endured some captivating battles that make for great viewing. Despite losing almost 10 years to doping controversies, recent tours have been as enthralling as ever. If the final winning margins are anything to go by, the Tour is becoming a closer, more engaging spectacle.

As shown in the above figure, the 1990s and early 2000s that tarnished the Tour's reputation produced the biggest winning margins in comparison to the modern 'clean' era. The largest winning margin from the last 20 years came in 1997, where Jans Ullrich put 9minutes and 9seconds between himself and second placed Richard Virenque. The closest race in over that same period was produced in 2007. A margin of 23 seconds was all that separated the Yellow Jersey winner, Alberto Contador, from second place getter, Cadel Evans.
The races we have seen over the past few years are said to be lackluster in comparison to the doping days of the late 1990s and early 2000s. The rationale? Riders, competing as mere humans, may be to exhausted to mount as many challenges, respond to a breakaways and launch attacks. Instead, they must conserve energy for critical stages. So whilst finishing times may be getting closer as the Tour gets cleaner, this doesn't necessarily mean that its becoming a more enthralling spectacle. Or that its becoming slower. Or does it?
Winning times last 20 years
The Tour de France is a constantly evolving race. The course, riders and technologies are continually changing, creating a unique experience every year. However, the dynamic nature of the Tour makes it particularly troublesome to compare the caliber of riders from different eras, the difficulty of various tours years apart, and the effects of new rules and regulations. In order to better compare year-to-year, we will narrow our scope, comparing winning margins over only the past 20 years.

Over this time, the tour has reduced in length, subsequently lessening the amount of time taken to complete the race. Peaking at 103.6 hours in 1994 (in an event almost 4,00km long), the 2013 event is just 3,403km. Now, we're not implying that recent tours have been a proverbial walk in the park. In fact, the final climbs of the 2013 campaign are said to make this year's tour one of the most grueling weeks in history. With a repeat of the Alpe – D'Huez, followed by two Hors catégorie (beyond categorization) climbs, tours are indeed becoming more challenging.
The shortest tour in recent memory was completed in 2002. Lance Armstrong, 2002's 'winner', finished the 3,282km course in 82.1 hours. Armstrong was later stripped of the title following a USADA investigation.
Future of le Tour de France
Being an elite rider has been exceptional difficult following the ousting of household names, such as Lance Armstrong. Having to constantly defend every performance, instead of celebrating a victory, must agitate professionals – such as Froome – who have dedicated their lives to the sport. How much time will have to pass before we can accept an exceptional feat of human endurance at the Tour de France without questioning its validity?
Statistics are by no means a definitive way of catching dopers, rather an indication of where we should be looking.
But who knows. The power of data analysis may be the key to shortening the gap between skepticism and admiration.