Analyzing BI & Analytics by job function: Drivers, users, penetration rates and plans
By James Polasek and Lachlan James
Business Intelligence (BI) penetration rates have been heatedly debated, discussed and contested for a long time – from a number of different perspectives. Where do BI penetration rates currently sit? What is the level of BI penetration required – throughout a department or organization – to instill an analytic culture and underpin BI success? And, for all the talk, hype and technological development, have we as an industry actually made any sizeable inroads? BI is undoubtedly more accessible than ever before (think self-service BI), but is that increased accessibility actually resulting in more, and more satisfied users?
Industry figurehead, Wayne Eckerson's, latest foray into "business-driven BI" – Using New Technologies to Foster Self-Service Access to Insights – suggests that we've still got plenty to learn. His research found that 64% of BI professionals rated the success of their self-service BI initiatives as "average" or worse. Only five percent considered their self-service implementations to be "excellent".
But, the study does provide us with some positive clues. Eckerson suggests that although the industry as a whole is moving towards increasingly 'consumerized' BI, implementers still need to carefully consider each target user groups on its own merits. This is a crucial point because, as Eckerson states: "BI users come in many different shapes and sizes, each with unique information requirements."
But, before you can devise a tailored training, implementation and management plan for all your different user groups; you need to identify them…
So, who are the priority user groups you should look to target, in order to make your BI project a success?
Dresner Advisory Services (DAS) has examined the role of various job functions within the BI market through its flagship Wisdom of Crowds Business Intelligence Market Study.
As BI has become more prevalent within many organizations, the key departments driving and benefiting from its increasing implementation have become more apparent.
Departments / functions driving BI
Dresner's 2013 study asked its 1182 participants to rate whether each major business unit within its organization "always", "often", "sometimes", "rarely" or "never" drove BI initiatives. Responses were then used to create a weighted mean on a five-point scale.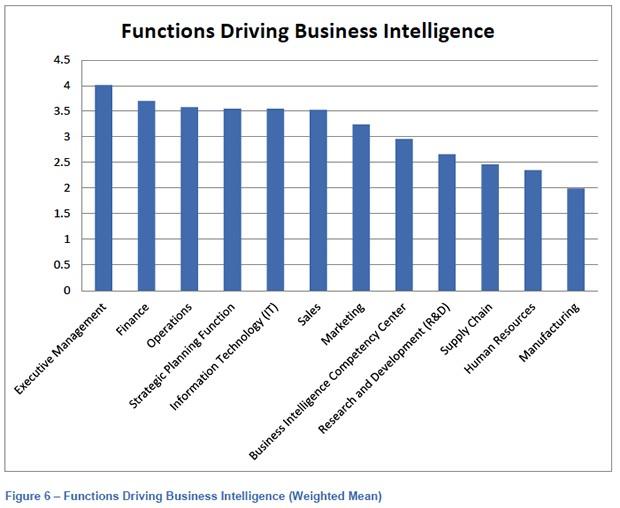 Improved decision-making is the primary objective sought from BI implementation. On that basis, it's somewhat predictable that DAS' 2013 study identified Executive Management – with a weighted mean of 4.03 – as the top function driving demand for BI. Securing executive sponsorship for BI projects, and closely considering their specific needs as a unique user group, is critical for achieving BI success.
Finance was revealed as the functional group wielding the second biggest influence over organizational BI developments, ranking 3.7 out of five. This focus is likely to begin with the CFO, and trickle down throughout the finance department to provide a level of control over costings and revenues – BI is often implemented as a mechanism to improve financially impactful business processes.
Manufacturing was reported as the department least likely to steer an organizations' BI program, scoring a weighted mean of less than two out of five.
But, it's not just good enough to understand which business units are perennial BI pushers. You also need to understand which departments are most often targeted as the recipients of BI technology, so that you can assess their particular needs as BI end-users.
User roles targeted for BI deployment
Contributors to DAS' latest BI market study were asked to indicate which functional business roles, within their organizations, had been targeted for BI deployment. Participants responded by designating each role as "Primary", "Secondary" or "Not Applicable".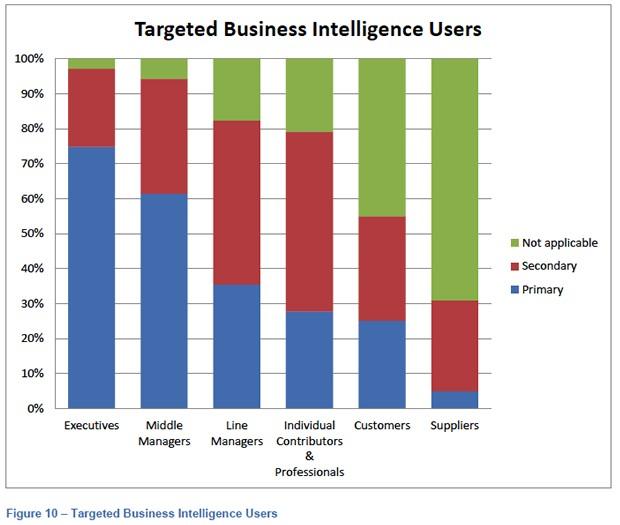 Again, chief organizational decision-makers – Executives and Middle Managers – stood out, labeled as primary targets of BI technology by 75% and 61% of respondents respectively.
Interestingly, external stakeholders were far less likely to be considered as potential primary or secondary user groups, with only 55% of respondents even considering offering Customers access to reporting and analytics functionality. Likewise, almost 70% regarded Suppliers as "not applicable".
So, are actual BI penetration rates, when assessed by job function, reflective of this mentality?
Current BI penetration rates by job function
Essentially, BI perception does meet reality – when assessing BI deployment by job function, anyway.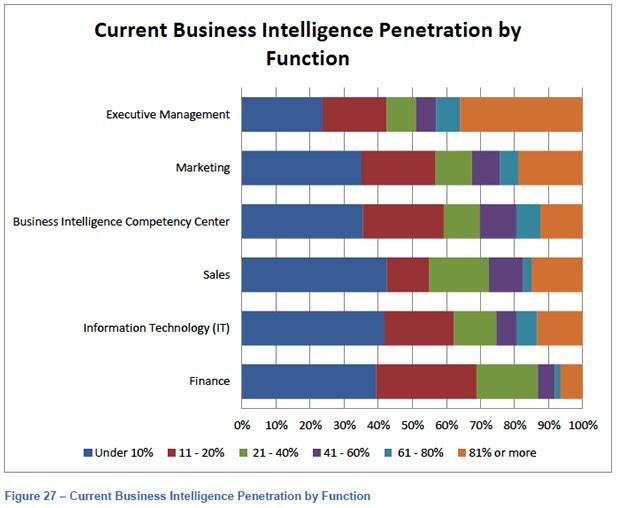 The executive function has the most extensive BI saturation, with 37% of survey participants indicating that 81% or more of the Executive Management team currently have access to BI.
Curiously, Finance has the lowest BI penetration of all job functions listed; with close to 40% of respondents reporting that less than 10% of their finance department has access to BI. This is despite the fact that the same study identified the finance department as a key driver of BI projects. How can this be? Are these two findings contradictory?
It seems reasonable to suggest that while people within finance-centric roles are keen to explore the ability of analytics to help streamline business processes, minimize wastage and boost revenues, they also realize that that analytical insight is best placed in the hands of those operating within those processes they wish to improve. Additionally, most organizations have to secure the backing of key financial personnel in order to access the finances required to pursue BI initiatives. Once their commitment is procured, the finance department often plays a pivotal role in shaping the scope and scale of the project.
An understanding of today's functional BI drivers and users is important to help you recognize which departmental user groups are vital to engage with to underpin the success of your own analytics program.
Nevertheless, understanding the future penetration plans – by function – of today's implementers may be even more valuable in helping you identify your own primary user groups. In a way, analyzing the future ambitions of organizations that already have BI programs in place, offers you the benefit of their hindsight. You can see who they'd target the most strongly – based on learned knowledge through actual deployment – if they had their time again.
Planned BI penetration by function: 2014
Unsurprisingly, all respondents indicated that they planned to increase BI penetration rates for all functional areas.
Again, we see Executive Management lead the way with the most aggressive plans. A further 16% of respondents plan to deliver BI to 81% or more of their senior organizational decision-makers by 2014.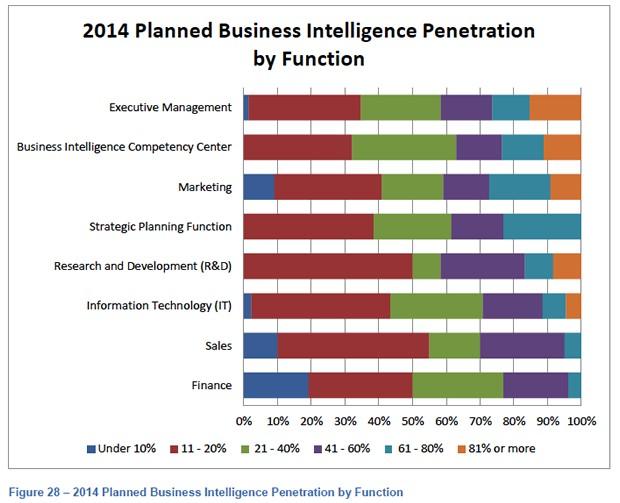 BI penetration plans are lacking for sales and financial functions, despite being key departmental drivers. In fact, almost 20% of respondents said that they planned to deliver reporting and analytics capabilities to less than 10% of their financial team in 2014.
Interestingly, 'Research and Development' – which didn't rate a mention in organizations' current BI penetration rates by function – was singled out for significant growth. Almost nine percent of respondents said that they planned to deliver BI to 81% or more of their R&D department in 2014.
Where to next?
A strong correlation exists throughout the report, in relation to the dominant role Executive Management plays across the BI implementation, usage and planning stages. Survey respondents identified senior organisational decision-makers as the dominant business function driving BI implementation, targeted for BI deployment, as well as current and planned usage.
Aside from Executive Management, the Marketing department and BI Competency Centers were identified as common current and future BI recipients. Similarly, both Finance and IT had low current and planned BI penetration rates, while simultaneously being pinpointed as strong BI advocates (drivers) – BI projects almost always require the commitment of financial and technical resources.
Stay tuned for the last installment of our DAS blog series, as we explore and analyze technology priorities within the BI industry.
Like to check out our other DAS blogs? Simply go here: