The secret to Business Intelligence success: Less is more?
By James Polasek and Lachlan James
You've heard the old adage 'less is more', but we frequently bite off more than we can chew – in a multiplicity of ways throughout life.
But is this proverb also true in relation to Business Intelligence (BI) success? What does the number of BI tools within your organization say about your chances of BI actualization?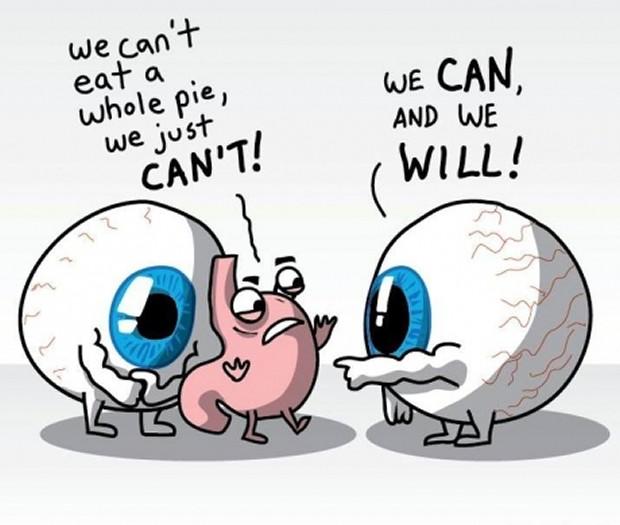 Source: http://theawkwardyeti.com/
Dresner Advisory Services' (DAS) 2013 Wisdom of Crowds Business Intelligence Market Study attempts to answer this question, analyzing the average number of BI tools in place across an organization, and comparing those figures to the perceived success of an organizations' BI program, in order to determine a correlation.
To gain further insight into the rapidly evolving BI landscape, simply download your free copy of the
2013 Wisdom of Crowds BI Market Study
now. Understand the critical industry trends capable of underpinning your own BI success. Download your copy
HERE >
Number of BI tools in use within a single organization
When we analyze BI initiatives by the number of tools in place, some interesting patterns emerge. The study found that of those businesses with current BI programs, close to 70% have incorporated between one and three tools, with the total number of tools implemented increasing in direct relation to the size of the organization.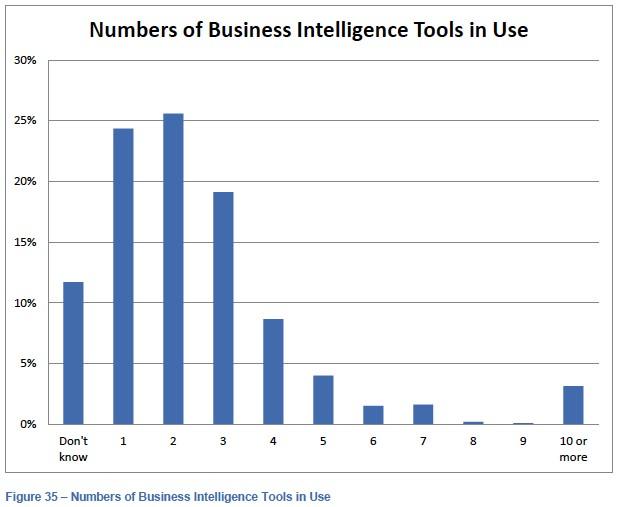 It's likely that this correlation is a reflection of the capability of larger organizations – in terms of resourcing, expertise and finance – to implement a variety of BI solutions. This association also demonstrates the potential for BI programs to become uncoordinated and disassociated from one another within large, more complex, organizations comprised of many separate business units and functions.
Number of BI tools implemented within a single organization: Shifts from 2012
The average number of tools in place within a single organization has increased over the past 12 months, as shown in figure 36 (below). An additional 3.3% of respondents said that their organization utilized two BI tools, with a further 2.4% stating that their business now employed four reporting products compared to 2012. Conversely, this partiality for multiple BI tools is also demonstrated via the simultaneous reduction in the number of organizations reporting the use of just one BI solution (down 5.2% from 2012).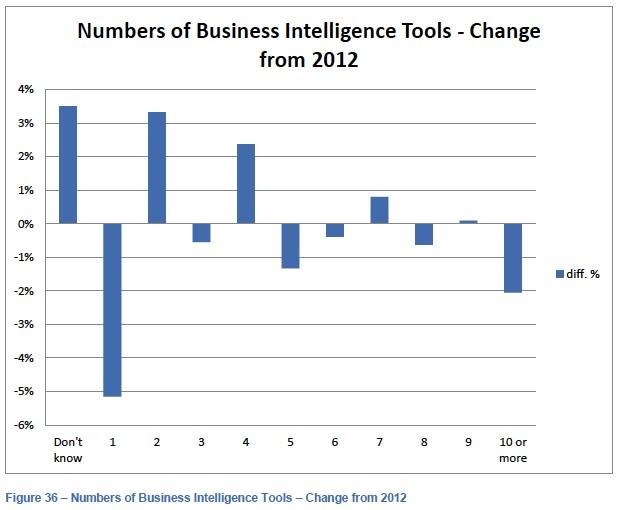 This trend is likely to accelerate in the near future, with an ever-increasing number of BI solutions being tailored and pitched to specific business needs and functions. This inclination can also be explained by a proliferation in the number of BI tools marketing themselves towards non-technical business users. Many organizations are implementing additional 'self-service' or 'visual data discovery' reporting and analytics solutions to aid independent business user data access, exploration and fact-based decision-making. Numerous organizations have demonstrated a propensity to treat these business-user-oriented tools as supplementary technology, opting to also continue maintaining their existing 'traditional' BI deployments.
This rising prevalence of consumer-oriented BI tools is also illustrated by a 3.6% increase in the number of respondents who were unsure of how many solutions were in place within their organization. How have we drawn this conclusion? The rationale here is that business users are less likely to be directly involved in the technical implementation of BI technology, and therefore also less likely to be aware of the number of BI tools in place.
The optimal number of BI tools: Analyzing perceived BI success by the number of BI tools implemented
So, does this rise in the average number of BI tools implemented within a single organization equate to more successful BI programs? It seems doubtful. This year's Wisdom of Crowds study identified organizations that deployed fewer BI tools as more likely to report greater BI success. In fact, nearly 60% of respondents who 'completely agreed' that their BI initiative was a success reported using just one or two tools. In terms of absolute numbers, the study stated, crucially, that "those with fewer tools tended to report greater success with Business Intelligence".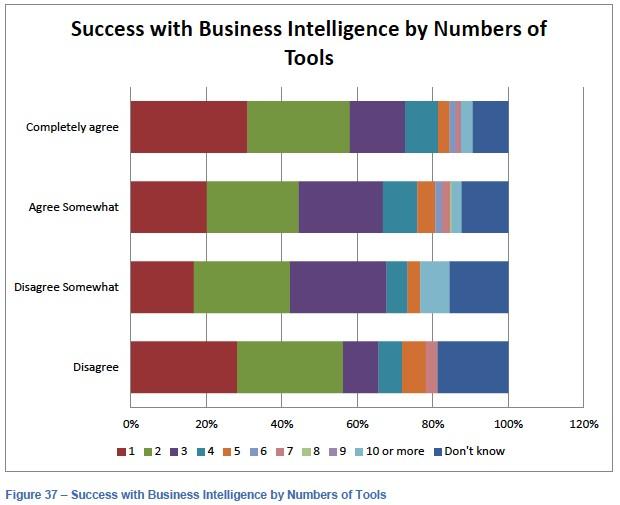 This association suggests that organizations with a more unified BI strategy, incorporating BI tools capable of scaling across business functions and user types, generally experience greater levels of satisfaction and success.
Interestingly, organizations that disagreed with the statement 'Has your BI initiative been a success?' were also most likely to not know how many tools were active within the business. This may be indicative of a lack of coordination across the enterprise in regards to BI.
So what?
Without a clear rationale behind implementing tools, a BI project can never be successful. The traditional ethos 'the more the merrier' does not hold true for BI. Solutions must be implemented on a needs basis – you need to ask questions of the proposed initiative.
What value will I obtain by introducing a particular tool? Does it have a specific purpose? How will it address the needs of defined user groups and help them better achieve desired business benefits?