If the benefits of Big Data Analytics are indisputable, why are many struggling to find value?
Despite irritation over unhelpful industry hype and whoopla, few would argue against the potential benefits of effectively executed Big Data Analytics.
General Electric (GE) gained around $45bn in additional revenue in 2012 by using Big Data Analytics, according to CEO Jeff Immelt. The business benefits of Big Data Analytics are now undeniable.
Consequently, heavy investment in Big Data Analytics is underway, as the substantial paybacks continue to be proven. ABI Research forecast global spending on Big Data to exceed $31bn in 2013. They expect that figure to reach $114bn in 2018.
Backing that prognosis, New Vantage Partners' 2013 Big Data Executive Survey revealed that 91% of its respondents, from Fortune 1000 companies, already had a Big Data initiative planned or in progress. In a global survey of some 720 of its Gartner Research Circle members, Gartner found that 64% were investing or planning to invest in Big Data technologies, up from 58% in 2012.
Further, Wikibon's Big Data Vendor and Market Forecast 2012 – 2017 research report attributed much of the explosive growth in Big Data investment to the maturation of a range of Big Data specific products – citing Hadoop in particular, combined with a better understanding of Big Data use cases leading to definitive Return on Investment (ROI).
So what are the benefits of investing in Big Data Analytics?
While different industries will invest in Big Data Analytics initiatives for widely varying reasons, some common 'general' benefits have begun to emerge.
Tom Davenport and Jill Dyche's investigative study Big Data in Big Companies, as well as research from Harris Interactive, has found the top benefits of Big Data Analytics – in general terms – to be:
Increasing sales of existing products or services
Boosting revenue by using new information to create new products or services
Attracting and retaining more customers
Increasing business agility and responsiveness
Achieving more efficient business operations
Better internal decision-making
These findings also align with recent research conduct by Avanade, which found that 84% of organizations actively leveraging Big Data claim they can now make better decisions as a direct result. In isolation, these findings would be susceptible to ridicule. However, many comparable reports tell a similar story.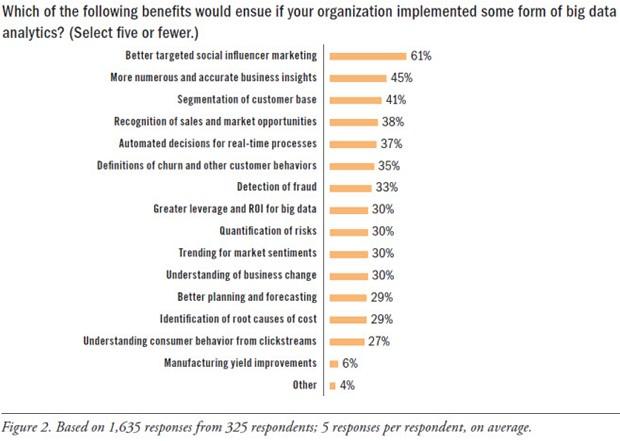 Source: tdwi.org – The State of Big Data Analytics
A global report compiled by Tech Pro Research – titled Big Data Trends: Costs, Payoffs, Outcomes, Staffing – surveyed 144 organizations that had implemented Big Data projects about the benefits realized. Eighty-two percent reported having achieved at least some form or Return On Investment. Likewise, a survey of 500 business and IT executives, conducted by IT industry association CompTIA, found that 42% were engaged in some kind of Big Data initiative, up from 19% in the 2012 version of the survey. Additionally, 93% of those survey agreed that their effective exploitation of data was "critically important" to the ongoing success of their business. And, a 2013 TEKsystems survey of over 2,000 IT professionals and more than 1,500 IT leaders found that 84% and 90% respectively agreed that investments of time, money and resources into Big Data initiatives were worthwhile.
With results like these, it's no wonder that TDWI research found that 89% of organizations see Big Data as a "significant business opportunity". For example, Forbes Insights conducted a survey of 211 senior marketing executives – who commanded budgets of $10 million or more – about the usefulness of Big Data. The subsequent report – The Big Potential of Big Data: A Field Guide for CMOs – found that 92% of respondents who had utilized insights gleaned from Big Data to underpin marketing campaigns met or exceeded their goals. Conversely, only 30% of participants who used Big Data in less than half of their marketing campaigns reported exceeding their goals.
But, it's not just the scale of the benefits attained through successfully leveraging mushrooming data stores that's worth noting. It's the rate at which those paybacks can be achieved. According to an investigative study by Harris Interactive, 70% of organizations investing in Big Data initiatives expect ROI within one year.
So what are we waiting for?
Despite the potential benefits, it seems that many organizations feel overwhelmed – unsure of how to initiate a Big Data agenda and exploit the usefulness of growing enterprise data assets.
A recent MIT Sloan Management Review survey found that 60% of organizations collect more data than they can effectively use. When attempting to move from data management to data analysis, the ability to identify data-based objectives and link them to clearly defined business goals is paramount. Gartner's research report – Big Data Adoption in 2013 Shows Substance Behind the Hype – found that 57% of those organizations with Big Data investment plans are still grappling with "how to get value from Big Data". A recent Bain & Company study, examining more than 400 large organizations with Big Data aspirations, found that only 23% had a clear strategy for effectively using Big Data Analytics. Only 18% of respondents to the abovementioned CompTIA survey agreed that they were "exactly where they wanted to be in managing and using data".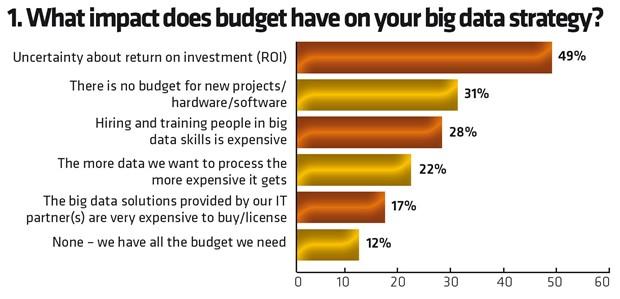 Source: computerweekly.com
But Big Data hesitation isn't just a problem of translating theory into action, and applying emergent technologies to actual business challenges. The perceived cost and complexity of Big Data technologies is another significant barrier to entry. Strikingly, 81% of IT leaders in the aforementioned TEKsystems survey believed that their organization lacked the specialized staff needed to plan, build and run Big Data initiatives.
So, how do you exploit data growth, to develop a deeper understanding of your business and your customers? And, how can you do it without committing unjustifiable amounts of time, money and resources?
Discover the real-world benefits of Big Data Analytics
Looking to analyze your Big Data assets to unlock real business benefits today? Thought that taking action from Big Data was too costly and complex? Sick of all the theories, hype and whoopla?
Register for Actian and Yellowfin's Big Data Analytics with Hadoop Webinar series to find out how to get from data in Hadoop to dashboard in just 40-minutes, using a genuine case study example from the telecommunications industry.
For more information and to register, GO HERE >
Discover how to combine CDR data stored in Hadoop with the most advanced Big Data technologies, and world's easiest Business Intelligence solution, to quickly generate real business value from Big Data Analytics.
Actian and Yellowfin: Making Big Data Analytics fast and easy.