Webinar: Data Warehouse Automation
Report Creation Taking Too Long?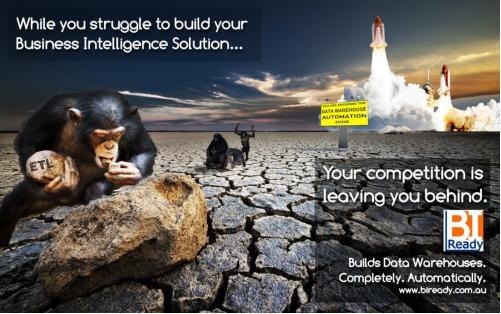 Discover how to generate enterprise-quality data warehouses and data marts in hours or days, not months or years.
To find out how, register for BIReady's free Data Warehouse Automation Webinar now. REGISTER HERE >
ETL poses the biggest risk for any Business Intelligence project. In fact, Gartner has identified that 76% of your BI budget will be spent getting your data ready for reporting and analysis. Meanwhile, your business suffers from the lack of actionable information it needs to make better decisions.
Stop playing the waiting game. Register for BIReady's Data Warehouse Automation Webinar today.
When and How
Join Yellowfin partner, BIReady, for an online Webinar, Thursday 13th March 2014 at 3pm AEDT.
In just one hour, you will learn how BIReady dramatically cuts development time and costs associated with creating the actionable information you need to feed your BI deployment. Make the right decisions at the right time.
But seats are limited, so reserve yours now!
Why Attend?
While you wait months for the information you need, your competitors are racing ahead.
BIReady automatically designs and builds information solutions fast, giving you the insights you need to act today.
By automating the teachings of Inmon, Linstedt, and Kimball, BIReady generates enterprise-quality data warehouses and data marts in hours or days, not months or years.
What will you learn?
In this short, one-hour presentation, BIReady will explain the value of Data Warehouse Automation software over traditional ETL tools for the development of data warehouses.
Discover how BIReady gets your data ready for Business Intelligence – in a fraction of the time and cost compared to using traditional ETL tools and methods.
Like to talk?
If you're keen to find out more, simply contact Director of BIReady Australia, Ian Nicholson:
Phone: 0418 230069
Email: ian.nicholson@biready.com.au