Data visualization predicts Uruguay vs England at the 2014 World Cup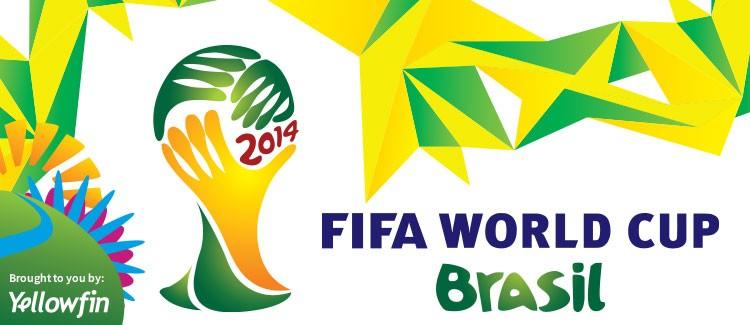 Data Source: Data visualizations in this post are based on data sourced from www.theguardian.co.uk
Source: Commentary, data analysis as well as Business Intelligence and analytics software brought to you by Yellowfin
Slay, or be slain
One of the most hotly awaited – and as fate would have it, influential – Group stage contests of the 2014 World Cup will get underway shortly in Sao Paulo. Having lost their opening Group D encounters to Costa Rica and Italy; Uruguay and England both enter this match with the discernable weight of history, not to mention palpable expectation, sitting hard atop their respective shoulders.
The victor will keep their 2014 World Cup dream precariously alive. The loser will make an embarrassingly, and unexpectedly, early exit. And we all know how much the English tabloids love attacking an underperforming, well, anything with disproportionate venom and scorn. To give you an indication of how high the stakes truly are, Uruguay's coach Oscar Tabarez has declared that his team will be treating it as if it were The Final.
While Group D hasn't been given the official kiss of 'death' at FIFA 2014, it's a group that remains stacked with talent and attacking flair, leaving both Uruguay and England with an unenviable task to keep their nation's hopes afloat in Brazil.
How did it come to this?
Despite Uruguay's fast start against its far-less-fancied opponent – with Edinson Cavani handing the South Americans an early 1-0 lead from the spot, Costa Rica fought back with three second-half goals. Joel Campbell (54') and Oliver Duarte (57') struck in quick succession, to draw level and then pull away from Tabarez's men, with Marco Urena sealing the deal in 84th minute. The tenacious 3-1 win leaves Costa Rica sitting in first place in Group D, ahead of Italy on goal difference.
England was left to curse missed opportunities in an engaging 1-2 defeat to European powerhouse, and Germany 2006 champions, Italy. While Claudio Marchisio opened the Italian's account in the 35th minute, England's Sturridge scored just two minutes later to restore the balance. In a tight and entertaining tussle, in which the heat also played its part, Mario Balotelli put Italy in the box seat in the 50th minute. From there, Cesare Prandelli's team was able to maintain their second lead of the match, running out slender winners.
The road to the World Cup: A continuation of apathetic form?
But perhaps it's no surprise that Roy Hodgson's Lions have begun their Brazil 2014 campaign in relatively lackluster fashion. While moving through its 10 qualification matches undefeated, England played four uninspiring draws and failed to stamp their authority on, or go for the jugular against, mediocre opposition. What will please the British faithful is that England's defensive game appeared on song, conceding just four goals across its 10 qualification meets.
Uruguay's fight to reach Brazil 2014 wasn't just undistinguished, it was haphazard and fortunate. The Copa America holders remained unbeaten in their 8 home group matches, but suffered heavy away defeats to Colombia (0-4), Argentina (0-3) and Bolivia (1-4). While the top four teams in the CONMEBOL qualification tournament automatically qualified for the FIFA 2014 World Cup, Uruguay finished fifth, forcing it into an ultimately successful playoff with Jordan – the fifth-placed team from the Asian Football Confederation (AFC). This was a poor results for one of the world's most successful football teams, which holds 19 official titles, including two Olympic Games and 15 Copa America championships.
Who to watch: Controversy before kick-off
And, things aren't about to get easier for the embattled Uruguayans, with key playmaker and goal-scoring juggernaut Luis Suarez suffering from a lingering knee injury. While Suarez is expected to take his place on the pitch, it's no secret that Uruguay's hopes are firmly pinned to the back of this man's guernsey. Suarez ended Liverpool's Premier League campaign with 31 goals, tying for leading goal scorer – across Europe's top five leagues – with Portugal's Cristiano Ronaldo. He was also instrumental in orchestrating the realization of Uruguay's 2014 qualification, putting 11 goals past the opposition keeper. No player scored more goals for their country during World Cup qualification.
To compound matters, Uruguay captain Diego Lugano has been ruled out of Thursday's clash against England with a knee injury of his own. This announcement adds more pain to coach Tabarez's preparation, with right-back Maxi Pereira already unavailable due to suspension following his send-off during Uruguay's 1-3 loss to Costa Rica.
But, it's not just the South American's having to manage a little pre-game controversy. England's Wayne Rooney has been firmly placed under the microscope following several lifeless performances and an indifferent display against Italy, with former teammate Paul Scholes suggesting that Rooney's best is behind him.
However, Hodgson was quick to back the form of his front man, citing Rooney's seven goal haul in qualifying, including that header against Poland: "He's been the top assist player in my two years [as England manager], and he has more goals than everyone else," said Hodgson. "Were it not for his wonderful header against Poland, we might not even be here." Supporting this position, is the fact that Rooney is the only Premier League player to notch double digits for goals and assists in each of the last two seasons.
Aside from Rooney and General Gerrard – who scored the most penalties (10) last season of any player in Europe's top five leagues, Raheem Sterling is a young gun to watch. Able to play on either flank, Sterling ended the Premier League season with nine goals and five assists, completing more dribbles (92) than all except Hazard and Suarez.
The outlook
So here's the deal: A win to England see's them keep their fate in their own hands. A draw would mean the red and white army would have to clinch their final Group game, and then rely on Italy to down Costa Rica. With a loss, England could theoretically survive, assuming a big third-up win, with other results going their way.
With goal difference against them, the outlook for Uruguay is pretty simple: This really is a 'do or die' contest.
Now, let's pick a winner.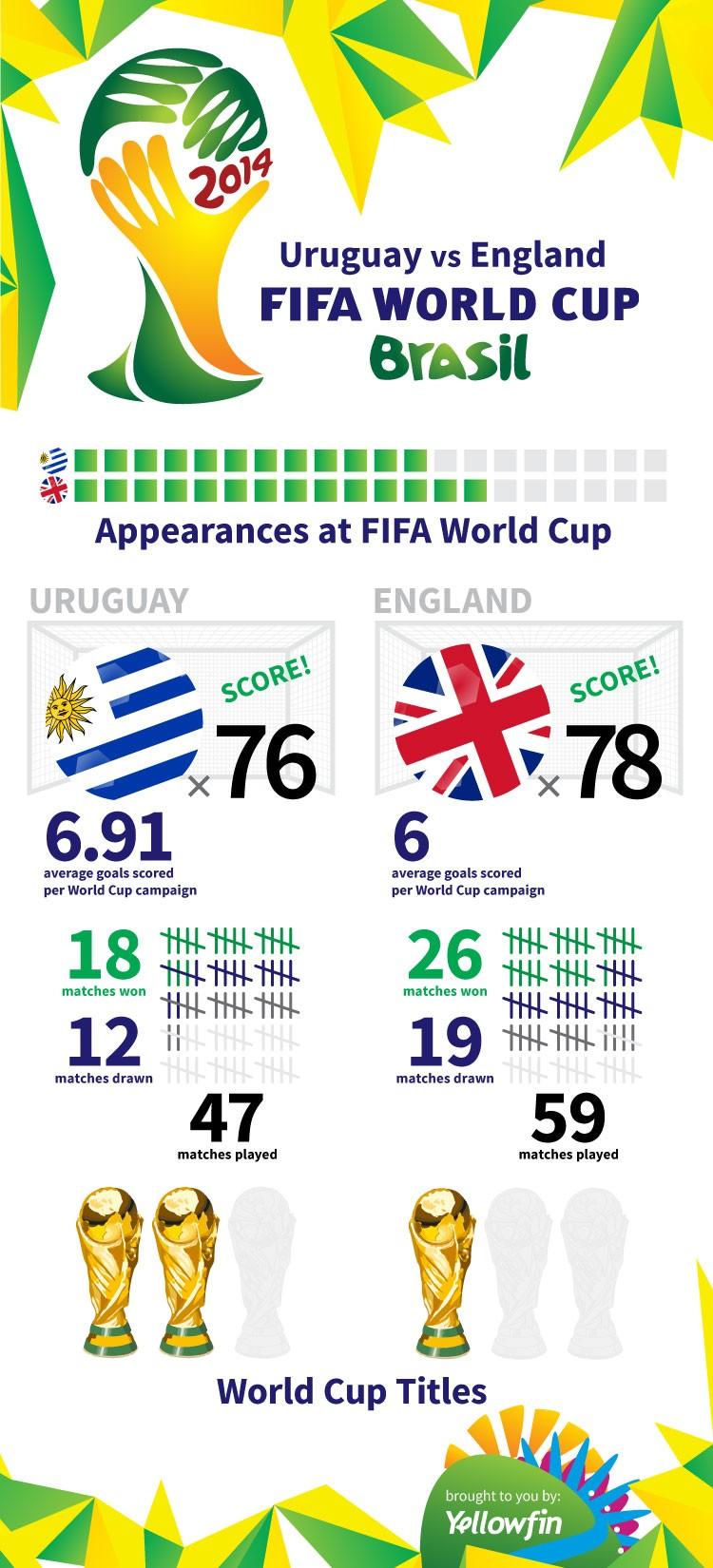 Total World Cup matches and total World Cup wins (1930 – 2010): Uruguay vs England
It's fair to say that experience counts for something. Attempting to perform in rarified air needlessly adds to a tasks degree of difficulty. By the same token, past success can also raise current expectations and hopes of evoking former glory. Either way, both England and Uruguay have a sizeable amount of World Cup experience.
England have participated in 14 of 20 (UK 16 out of 20) World Cup campaigns, and Uruguay 12.

They've both also taken their swathes of respective fans to ultimate victory, with Uruguay winning the inaugural 1930 title as hosts, overcoming Argentina 4-2. The South American's won their second World Cup tournament by upsetting hosts Brazil in the 1950 Final, 2-1 (a sign of things to come?).
England too have tasted football's ultimate triumph, also claiming the silverware as hosts of the 1966 World Cup.
However, those victories were long ago. And, it also seems more reasonable to judge a nations' footballing pedigree over the long-haul. So how have Uruguay and England faired at the World Cup over the journey?

The Barmy Army have cheered and chanted England through a total of 59 World Cup matches since their first in 1950, reciting lyrics of victory on 26 occasions.
Comparatively, Uruguayans have had a little less to celebrate, with sporadic World Cup appearances since the tournament's debut in 1930, notching 47 games and 18 wins.
Win, draw and loss ratios at the World Cup (1930 – 2010): Uruguay vs England
For two indisputably proud footballing countries, their national teams have only experienced moderate (overall) levels of World Cup success.
England have claimed 44.1% of matches played between 1930 and 2010, with Uruguay only able to overpower its opponent in 38.3% of its games. Is it possible that this bashful win-rate is symptomatic of a broader inability to produce top-shelf football away from home? Remember Uruguay's qualification struggles during away games in the lead-up to Brazil 2014? And, its first World Cup title was won on home soil. Well, at least this year's FIFA World Cup is being contested on the right continent – if you're a Uruguayan football fan anyway.

What will be encouraging for England – which is also inline with recent defensive performances – is that they seem to be able to salvage a draw even when they're not at the top of their game, drawing 32.2% of their World Cup matches (19). In fact, England have only conceded four goals in their past 12 internationals. Maybe some things don't change? At the very least, it's extremely true that playing styles and cultures are ingrained throughout generations. Whatever the case, English fans might be bolstered most by their national team's loss-rate – a low (that's good) 23.73% (that's just 14 matches).
Conversely, the Uruguayan style of play seems to be a little 'all or nothing', losing almost as many World Cup games as they've won (lost 17, won 18), being outdone in 36.17% of matches. The fact that Uruguay has only drawn 25.53% of its World Cup outings (12 games) is also uncannily similar to the South American's travails through its 2014 qualifying campaign. Despite these unflattering statistics, it's worth remembering that Uruguay has reached the Second Round in all but three of its World Cup campaigns, including five appearances in the Semi Finals and two in The Final.
Total number of goals scored by country at the World Cup (1930 – 2010): Uruguay vs England
Speaking of finals, it's well documented that progressing to the latter stages of the World Cup requires the type of attacking flair capable of picking apart the guile of ultra-fit defenders and highly strategic defensive formations.
Throughout their respective encounters at the FIFA World Cup, England and Uruguay have experienced strikingly similar results in terms of total goals scored.

Uruguay have placed the ball into the back of their combatants net 74 time, while England have edged, swung and sizzled it past the keeper on 78 occasions (UK 119).
However, as England have participated in 13 World Cup tournaments prior to Brazil 2014, and Uruguay only 11, the South American's have a better goal average per campaign (England 6, Uruguay 6.73).
But surely the best indicator of a teams' World Cup firepower is average goals per match – therefore removing the impact of a minute number of drastically out-of-character performances.
Average number of goals scored and conceded per match by country at the World Cup (1930 – 2010): Uruguay vs England
As we know, England and Uruguay have rich history at the World Game's pinnacle event, with England playing in 59 World Cup matches, and Uruguay 47.

Again, it's a tight historical contest, with Uruguay scoring an average of 1.57 goals per World Cup encounter. England has landed slightly fewer blows per match, averaging 1.31 scores per game.

But, it's not all about scoring ability. If your defensive efforts aren't up to scratch, you'll quickly become undone by precision passing, fleet-footed runs, devastating strikes and aeronautical excellence.
Luckily for both teams, they manage to stay ahead of the ledger, with Uruguay conceding an average of 1.36 goals per game, and England 0.88.
At the end of the day, it's probably reasonable to suggest that it's the average goal difference per match that matters. Simply put, if you can't find an agreeable harmony between attack and defense, you'll either struggle to keep out, or keep up with, your opponent.
On average goal difference per World Cup match, England comes out ahead of Uruguay, bettering their opposition by an average of 0.43 goals per match, compared to Uruguay's 0.21.
Total number of penalties by country at the World Cup (1930 – 2010): Uruguay vs England
It's also interesting to consider how England and Uruguay might get their goals. The prominence of individual players, such as Rooney and Suarez, is well documented. But what types of play will prove goal inducing? A set piece? A daring run?
The 2014 FIFA World Cup has already produced several contentious penalties – not least of which was the first of the tournament, awarded by referee Yuichi Nishimura in the opening stanza between Brazil and Croatia.

If we are to see a penalty kick in this particular match, history says that it's far more likely to be Gerrard stepping up to the spot, with eight World Cup penalties going to England between 1930 and 2010, and only two to Uruguay.
But enough of the retrospectives. Let's assess the skillsets and experience of the current Uruguayan and English teams.
Total international goals scored by members of 2014 World Cup squads: Uruguay vs England
When looking inside Uruguay and England's current squad of World Cup players, there's a little more encouragement for the South American's.

Uruguay's squad has scored a collective 143 international goals – the fourth highest total of all countries FIFA 2014 squads. Conversely, England sits 11th on the list with a combined total of 113.
But, while Uruguay have Cavani and Ibrahimovic (the only player to score more Ligue 1 goals than Cavani last season), it seems that their destiny at this World Cup still rests, a little too squarely, on Suarez's shoulders.
And, despite Rooney's slight dip in form, he's still come-off a sensational Premier League season, and remains a constant threat. Combined with the old head (or foot) of Gerrard, as well as the form and exuberance of Sturridge and Sterling, England have multiple avenues to goal.
Speaking of youthful energy, age has already been pinpointed as a possible factor in the unexpected failings of Spain and Portugal at Brazil 2014. This topic has also been brought to the forefront due to the sapping weather conditions. So who, out of England and Uruguay, appears to have the exuberance of youth on their side?
Average age per team at the 2014 Word Cup: Uruguay vs England
Statistically, and based on the evidence of this tournament to date, it seems as if Hodgson's decision to inject the Lions outfit with some fresh faces may hold them in good stead.

The average member of the English team is 26-years-old, compared to Uruguay's average age of 28.
Although, whilst the athletic properties of youth may prove beneficial, experience on the world stage can often be the difference between seizing, or being overawed by, your decisive moment.
Total number of international matches (caps) per team at the 2014 World Cup: Uruguay vs England
On this measure, Uruguay appears to have a distinct advantage.

When assessing the total number of international caps per team at the 2014 World Cup, the Uruguayan team has an impressive total of 1,132 games of international experience (second highest at the championship behind Spain), while England has just 626 (sixth lowest total).
Percentage of players per 2014 World Cup squad who play club football within their home country: Uruguay vs England
All other influencers aside, it's often suggested that nationalistic zeal is the most powerful of all motivational factors. This almost innate sentiment is only amplified during moments of togetherness and devotion. And what else brings a country together, especially ones with the pedigree of England and Uruguay, like devotion to football?
So, if playing club football within a national, as opposed to overseas, league has any impact on players' sense of national pride, and therefore preparedness put it on-the-line for country and king (or Queen), who's better placed for Thursday's clash?

The answer is conclusive.
An astonishing 95.65% of England's 2014 World Cup squad play club football at home (second highest behind Russia), while a mere 4.35% of Uruguay's team earn-their-keep on home soil (lowest percentage of any squad).
Prediction
Both teams have to try to win. This should make for an aggressive contest. And, after assessing the evidence – combined with the fact that more goals are being scored per match at this year's World Cup compared to the average – we're going for England in an enthralling encounter.
Our prediction: England 3-1 Uruguay (including 1 converted penalty shot to England).
Where to next?
Missed our other 2014 World Cup data blogs? Then check them out here: