Group Stage Historical Data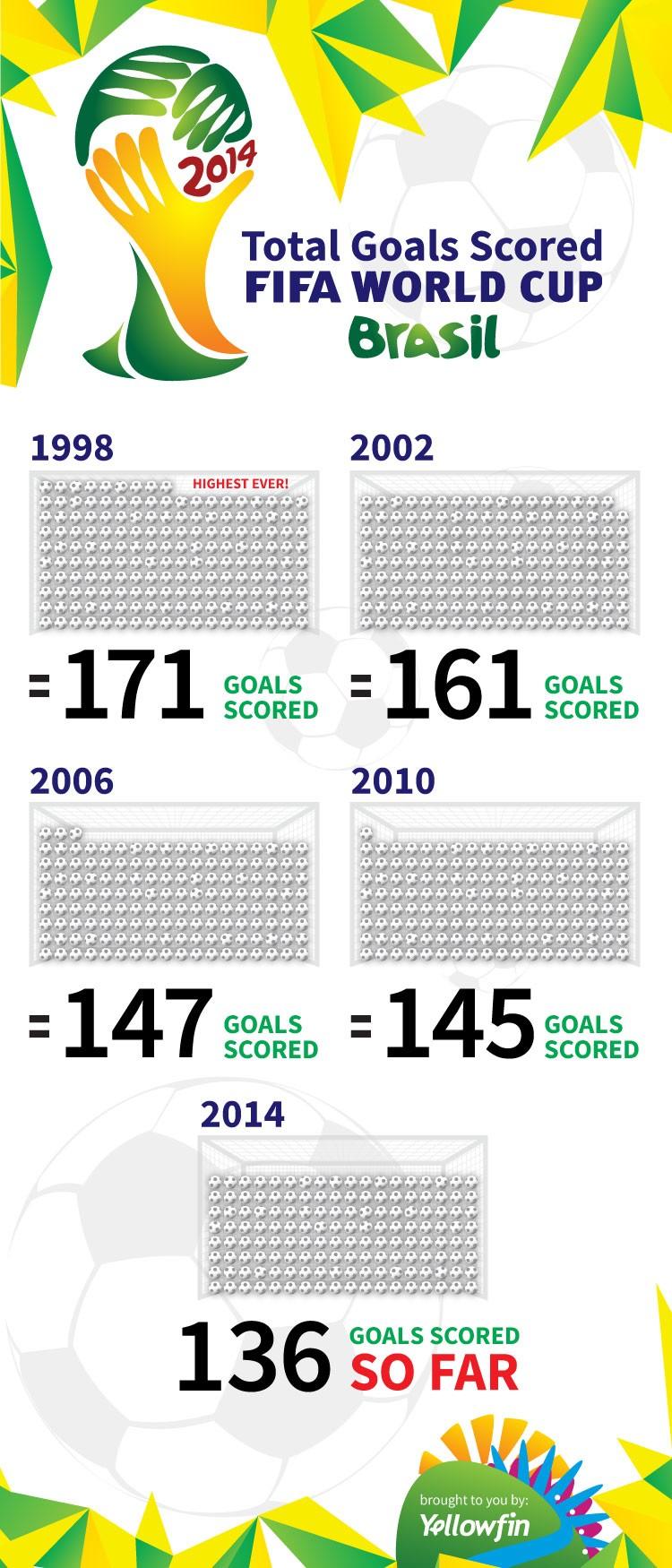 As group stage and round 16 results are finalized, soccer fans around the world are rejoicing, sulking, or perhaps jumping on the bandwagon to support another team. For the teams who have moved on to the quarter-finals, the anticipation is building up as the competition gets more intense.

The 2014 FIFA World Cup has been the most captivating tournament to occur, attracting billions around the globe. Not only has it been a massive hit on Twitter, Facebook, and other social media sites, but as of June 30th, 145 goals have been scored which is equivalent to the total number of goals that were scored in the entire 2010 competition. At this rate, the chances of surpassing the 1998 record of 171 total goals this year looks easily attainable.
The group stage has produced quite a few highs, lows, and surprises so let's take a deeper look into the success (or failure) and the historical data of the different groups using data visualization and Business Intelligence.
Group A: Brazil and Mexico
It's no surprise that Neymar led Brazil to the next round despite his injuries after their win over Chile. With home court advantage on their side, Brazil has fought their way to Round 16. Ending the group stage with 2-1-0 (W-D-L), Brazil is the favorite of group A with Mexico trailing right behind them. Brazil fans expect to see an improvement from their last World Cup appearance when their team shocked the world in 2010 by being eliminated before the semi-finals in South Africa, making it only the eighth time in their history to not advance to the semi-finals. 5 world cup champions already makes Brazil threat, but with talented players like Neymar and Julio Cesar, Brazil will be a difficult team to defeat.
We can't forget about our second place finisher, Mexico, with their 3-1 victory over Croatia. Mexico moves to round 16 to play the Netherlands with hopes of advancing towards the quarter-finals. Mexico has held their own ending the first round with a win over Cameroon and Croatia and a tie with Brazil. Although, did they have a chance against the Netherlands? Looking at the historical data of both teams, Mexico's chances weren't looking too good. Mexico's best performance in World Cup history was in 1986 when the team made it to the quarter-finals but failed to defeat West Germany.
Group B: The Netherlands and Chile
The Netherlands have certainly had success in this World Cup as they advance to the quarter-finals without a loss. In the group stage the Netherlands had an easy victory over Spain and defeated Australia and Chile to put them in a comfortable first place position in Group B. Historically the Netherlands have been a competitive team due to their 10 World Cup appearances and making it to the finals three times (2010, 1978, and 1974). The team is currently at 12 goals total before playing in the quarter-finals and historically have made it to a high of 15 goals after losing in the finals. The Netherlands have started out strong defeating Mexico in round 16, but we'll have to see if the Dutch have what it takes to get a World Cup win.
Chile clinched second place with their win over Australia and Spain. With 8 Appearances in the world cup, Chile fought to make it to the round 16. Their best performance was in 1962 when they reached 3rd place with a total of 10 goals scored. Alexis Sanchez and Eduardo Vargas led Chile to take on Brazil in round 16, but unfortunately fell short to Brazil who won on penalties 3-2.
Group C: Colombia and Greece
If you don't know the name James Rodriguez, you will by July 6th. Rodriguez has made this World Cup his when he scored 5 goals in just 4 games and is now leading Columbia into the quarter-finals to face Brazil. Columbia has only qualified for the World Cup 5 times and their last top performance was in 1990 when Coach Francisco Maturana led the team to round 16, but was defeated by Cameroon 2-1. To get an idea of how great Columbia has been playing in the 2014 World Cup, the 1990 World Cup team had a total of 4 goals scored, which is one less than James Rodriguez has scored alone. Looking at their current data, Columbia's match against Brazil will definitely be an exciting one.
Greece slide past Cote D'ivoire and made it into the second position, finishing with a 1-1-1 record. Greece is made history with their performance this year after making it to round 16. Greece was unable to make it past the group stage in 2010 and 1994, forcing them to pack up and leave early.
Group D: Costa Rica and Uruguay
Many were cheering for Costa Rica as they advanced to the quarter-finals for the first time after defeating Uruguay and Italy in the group stage. Keylor Navas was named hero of the intense penalty shootout against Greece in round 16 that lead them to make history. Their last best performance was in the 1990 World Cup in Italy where they lost to Czechoslovakia 4-1 in round 16, finishing 2-0-2. This truly a fairytale for Costa Rica and fans are excited to take on the Dutch July 6th.
Uruguay finishes in second for group D, ending the group stage with a 2-0-1 record. Uruguay were old World Cup favorites with their 2 World Cup championship titles in 1950 and 1930. They have made a total of 12 world cup appearances and have scored a total of 80 goals. Sounds like a team that can definitely be a threat in the World Cup right? Well their current stats have been average, which may have to do with the fact that their leading goal scorer, Luis Suarez, was banned for the next nine international games after he decided to bite Italian defender Giorgio Chiellini.
Group E: France and Switzerland
France and Switzerland dominated Group E and have moved onto the quarter-finals. France took the first place position as they finished with a win over Honduras and Switzerland, and a tie with Ecuador. France is certainly a favorite with their 14 World Cup Appearances and their blowout Champion game in 1998 where they defeated Brazil 3-0 to take the title. France scored a total of 15 goals that year and will already have a total of 8 for the 2014 World Cup as they lead to the highly anticipated quarter-finals match against Germany.
Switzerland trailed France as they headed into round 16 against Argentina, later leading them to a heartbreaking loss. Looking at the historical data for Switzerland, they've made 10 World Cup appearances and had their best performance in 1954, where they made it to the quarter-finals (losing to Austria 7-5) with a total of 11 goals scored. Switzerland midfielder, Xherdan Shaqiri, made sure the Swiss were a team to look out for, but their past data of world cup appearances and best performances are a bit too sporadic to make a favorable and confident prediction for this team.
Group F: Argentina and Nigeria
Argentina, a World Cup favorite. They graced through the group stage with wins over Bosnia and Herzegovina, Iran, and Nigeria, and fans were relieved when Di Maria and Messi lead them past round 16. Historically they've have always been a threat to other teams during the World Cup with their 16 World Cup appearances and 2 World Cup championships (1986 and 1978). Their mind-blowing amount of goals scored total in the World Cup (130!) definitely makes them a qualified contestant in this year's tournament.
Nigeria's record (1-1-1) landed them the number two spot for Group F, bringing them to play France in round 16. They lost 2-0, but left with their heads held high. With 5 World cup appearances (first in 1994), they have made it to round 16 in 1994, 1998, and now 2014. Ahmed Musa granted some hope for the country with his two goals against Argentina, but the team unfortunately showed signs of struggle when the pressure was laid on them.
Group G: Germany and USA
Germany has consistently proven that they are a strong competitor during the World Cup. With three championships and multiple runners-up and third place awards, Germany is definitely a team that other squads should fear. Historically Germany is known as a high scoring team. The 1954 squad scored 25 total goals (just behind Hungary who scored 27) and was able to clinch the title. Group G being a highly competitive group may be a factor as to why Germany didn't score more than 7 goals during the group stage. Either way, Germany has proven themselves from the start of the tournament and is expected to go far.
The youngins from America slide into the second place spot to finalize the round 16 position. With their 1-1-1 record, they go on to play Belgium. America hasn't surpassed their best performance, which was in 1930, when they made it to the semi-finals (losing to Argentina 0-6). Based on their past and current stats, many predicted that the U.S. wouldn't make it through the Group stage and would not be able to compete in round 16, but Tim Howard and the rest of the team kept fighting until their very last minute.
Group H: Belgium and Algeria
Belgium escaped Group H with 0 losses and only one goal scored against them. Midfielder De Bruyne has lead the country to the quarter-finals with hopes of defeating Argentina. While Belgium may not be considered the most favored team in the World Cup, they should definitely not be overlooked. Their fourth place finish in 1986 and 12 World Cup appearances still make them a fierce competitor.
Algeria was able to move past the group stage with only one win over the Korea Republic, a tie with Russia and a 2-1 loss to Belgium. Algeria made history this year as they played their best performance in World Cup history and made it to round 16, playing against the favorable Germany. Algeria has scored a total of 13 goals, with 7 of those being from this year's World Cup.
So far all first place teams have moved on to the quarter-finals. Although everyone loves a good upset, these matches are no doubt going to be nail biters. Have a prediction of who will make it all the way? See if your estimate matches up with our prediction of the World Cup winner.