Yellowfin's FIFA 2014 World Cup wrap: What has BI and data visualization taught us?
Yellowfin's FIFA 2014 World Cup wrap: What has BI and data visualization taught us?
Data Source: Data Visualizations in this post are based on data sourced from www.theguardian.co.uk
Source: Commentary, data analysis as well as Business Intelligence and analytics software brought to you by Yellowfin
History has been made: Germany became the first European team to clinch a World Cup title in South America in a thrilling conclusion to FIFA 2014. The jam-packed stands, dedicated fans, and shocking upsets have no doubt made the 2014 World Cup an extraordinary experience that will not be forgotten. Gӧtze's mind-blowing goal in the 113th minute was an exceptional shot that not only delivered a German victory, but was definitely worthy of a World Cup winning goal.
Lionel Messi led Argentina to the 2014 Final with their third World Cup championship almost in reach. Although with Messi missing his free kick, hope for Argentina seemed to vanish. Argentina may have fallen short of the title, but they certainly made Germany work for their victory. This match was intense, nerve-wrecking, and exhilarating – everything a World Cup Final should be.
In case you missed it, Yellowfin ran a series of data visualization blogs, utilizing reporting and analytics, to assess and predict the outcomes at FIFA 2014. So, let's do a quick recap of what BI taught us about the 2014 World Cup.

Getting excited for the World Cup (and helping the uninitiated)
An Introduction to the 2014 FIFA World Cup using Data Visualization
It seems like just yesterday everyone was pulling out their best soccer jerseys and planning which pub, bar or public place they'd celebrate (or sulk) at when their favorite team played in the 2014 World Cup championship.
At this point (June 19th), still early in the tournament, the possible World Cup champions varied. Looking at the map of the number of World Cup appearances by country, we can see who has experienced these intense matches in the past. It's no surprise Brazil overpowers other teams in this graph. With seven appearances in the Final and five titles (Sweden 1958, Chile 1962, Mexico 1970, USA 1994, Japan/South Korea 2002), Brazil is the most successful nation in World Cup history. Germany and Italy trail behind Brazil, but still boast an impressive soccer resume.


Predicting Portugal vs Germany
Data visualization predicts Portugal vs Germany at the 2014 World Cup
In the Group Stage, Portugal vs Germany was one of the most eagerly awaited contests of the FIFA 2014 World Cup. The match-up – the opening game of Group G – was certainly promising, with both teams holding top-five FIFA world rankings.
As any football fan knows, Portugal is always a threat with Cristiano Ronaldo at the helm. With his style of playmaking, being captain of the national team, while also becoming the most expensive footballer in history, he was clearly the man to watch during this match. While Germany may not possess a star player of Ronaldo's talents, they are dangerous across the pitch, making them a huge threat. The Germans remained undefeated throughout their World Cup qualifying campaign and were certainly ready to take on Portugal.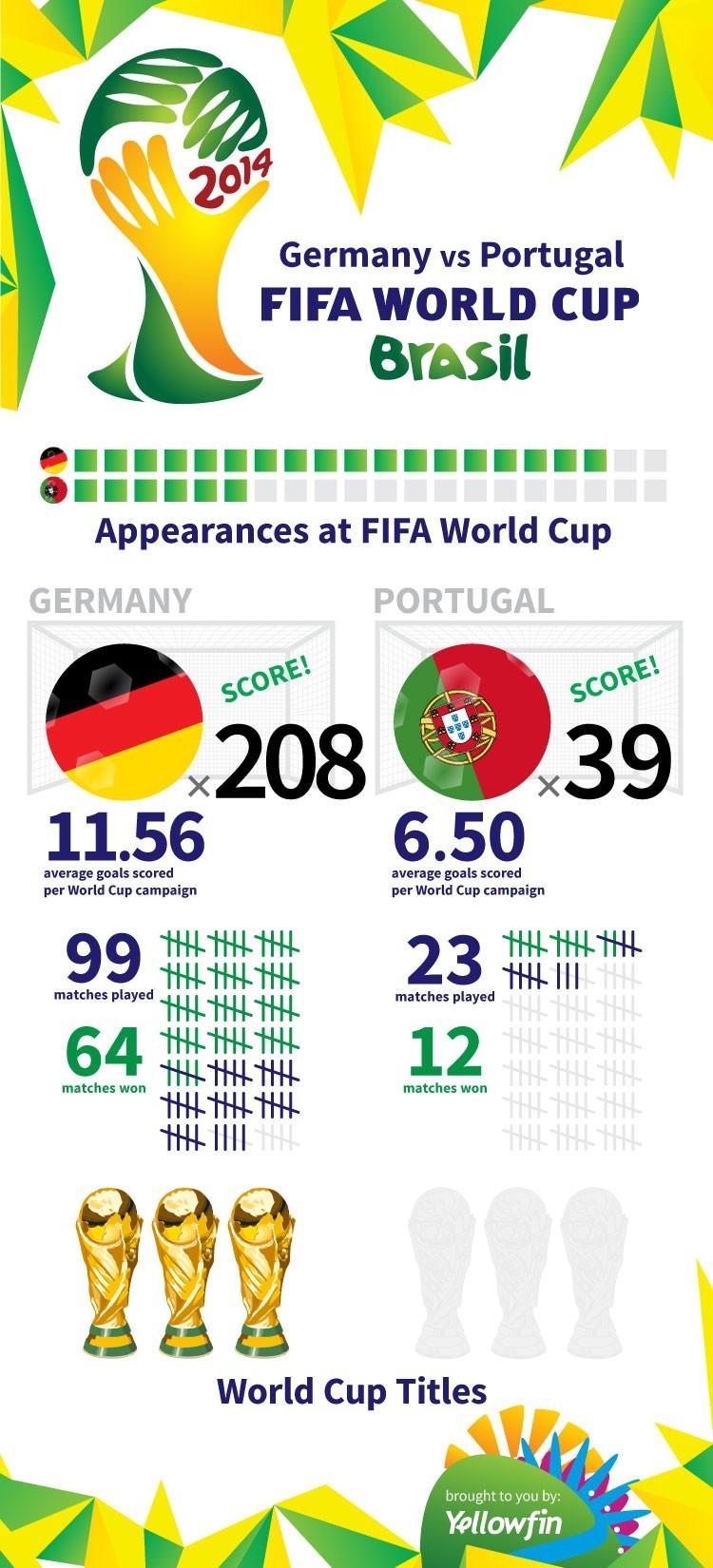 Predictions: Uruguay vs England
Data visualization predicts Uruguay vs England at the 2014 World Cup
Uruguay vs England was an anticipated clash, chiefly because the victor would march on to the round of 16, while the loser would make an unfortunate early exit. Historically, England may lead Uruguay with 59 World Cup matches and 26 wins, with Uruguay playing 47 World Cup games for just 18 wins, but there was certainly hope when looking inside Uruguay and England's current squads of World Cup players.

Uruguay's team had scored a collective 143 international goals leading into FIFA 2014, the fourth highest total of all World Cup FIFA 2014 squads. England landed in 11th spot, giving the South American team confidence. Was this the advantage that gave Uruguay the edge they needed to ultimately defeat England 2-1?
Can you predict the winner of the World Cup using BI and data visualization?
Predicting a Winner for the 2014 World Cup
With statistics, data visualization and a bit of luck, it may have been possible to predict a winner for the World Cup. At Yellowfin, we used data collected (before the quarter-finals) from the 2014 World Cup to compare and assess total wins, losses and draws as well as goals scored per team. Our data suggested the Netherlands as winners. But, if you've been keeping up with the World Cup or morning news, you'll know that our prediction was close, but not quite right.

But what about historical data? Our win, draw and loss percentages at the World Cup by country (1930 – 2010) graph pinpointed Brazil as the most likely to snatch the title, with Germany trailing close behind them. Both teams looked ominous towards the end of the World Cup, although Brazil was blown-out-of-the-water by the ultimately all-conquering Germans.
Let's take a look at what our historical data told us
Group Stage Historical Data
Historical data suggested that the top ranked teams, from each of the eight Groups following the Group Stage of the tournament, would triumph in the round of 16 and progress to the quarter-finals. In this instance, historical data proved a good predictor of future events. Brazil, the Netherlands, Colombia, France, Argentina, Germany and Belgium all successfully moved on to the next round. Although, with the early success Colombia had, a few of us at Yellowfin believed that James Rodriguez would help Colombia defeat tournament favorites Brazil or Germany.

Looking at the Group Leader Board for the 2014 World Cup (results taken after Group Stage) Germany actually scored the equal lowest number of goals out of all the teams that topped their respective groups in the Group Stage. However, history indicated that Germany is a strong, reliable team that does extremely well at the World Cup; despite its low-scoring start to its 2014 campaign. Judging the performance we witnessed throughout this tournament, history was right (again).
Things start to heat up
Quarter-Final Review
As the quarter-finals loomed, we looked at the goal differential of the top eight teams in the 2014 World Cup. The Yellowfin team took the number of goals scored and the number of goals conceded, creating a graph that displayed goal differential to give a sense of each team's offensive and defensive capabilities.

Using this graph we tried to predict the outcome of the quarter-final games. We tried predicting the Germany and France match by looking at their goal differential stats. Germany has always been a World Cup favorite, but we noted that France was a spot ahead of them with a goal differential of eight. These stats made it seem possible that France had the ability to shock viewers and pull-off the upset. But as fate would have it, Germany pressed on-defeating the French 1-0.
And the Golden Boot goes to…
Predicting the World Cup Golden Boot
When attempting to predict the winner of the FIFA 2014 Golden Boot, we assessed two metrics – total minutes of gameplay per goal as well as the number of goals scored as a percentage of total team goals. I think most would agree with our four 'most likely' candidates – James Rodriguez, Lionel Messi, Neymar and Thomas Muller – who had exceptional World Cup campaigns.
While we were leaning towards arguably the best play in the world, Lionel Messi, James Rodriguez received the Golden Boot. Although Columbia was knocked out by Brazil in the quarter-finals, Rodriguez was able to finish with a total of six goals. Scoring so many sensational goals, especially so early in the tournament, definitely made Rodriguez a worthy winner.

Based on minutes played per goal scored, Muller led our four Golden Boot favorites (with Neymar and Messi right behind him). Although, at the time, we saw his goal scoring slow a fraction, so we couldn't back Muller in that context.

At this point in the tournament (July 4th), Rodriguez had scored the most goals, but Messi's stats showed he had scored the highest percentage of his team's total goals. And, Argentina was expected to press onwards in the tournament, whereas Colombia was entering uncharted territory. At the time Colombia were getting ready to take on Brazil, and we wondered whether the 24-year-old could help defeat the hosts. We predicted that Brazil's journey wasn't over just yet, and so put our faith in the best player in the world over the last five years, Lionel Messi, to take home the Golden Boot. Reasonably sound logic, but we didn't have it quite right (again!).
Semi-finals preview
Now or never: Brazil vs Germany and Argentina vs Netherlands
Leading into the semi-finals, news of Neymar not playing hit Brazil fans hard, while Germany's faithful were breathing a sigh of relief after their close match with the French. Although they could only breathe easy for a little, since their next opponent was Brazil. Many speculated that Brazil was even hungrier for a win since their star player would not be joining them in the on the pitch.
The Dutch were nearly eliminated in the quarter-finals by Costa Rica, but continued to show that they were still contenders after winning the subsequent shootout. The Netherlands would now have to get past Lionel Messi in order to secure a spot in the final match.
Looking at the defensive angle of the game, the 'shots against vs saves made' graph provides an indication of the toughness of each teams' defense, and the prowess of their goalkeeper. Our data for the 2014 World Cup concluded that Germany and Argentina both had the highest number of shots against when compared to Brazil and the Netherlands. Germany and Argentina had the highest saves percentages, however, fundamentally allowing them to preserve their competitive edge.



A heartbreaking defeat for Brazil
Germany vs Brazil: Two opposing outlooks
So which view did you take in the aftermath of Germany and Brazil's extraordinary semi-final match? Did Brazil play with heart until the very last minute? Or were they completely annihilated by Germany, leaving their players and fans grief-stricken?
Commentators called this game "World Cup suicide". Whether you're a fan of Brazil or not, this was a loss you wouldn't wish on anyone, as the Germans trampled Brazil 7-1.

While Brazil had more goal attempts and attempts on target, it was crushed when it came to actual goals scored. This can largely be explained by the fact that Germany, with five goals on the board early in the first half, took their foot off the pedal for the remainder of the match, as Brazil took frantic 'pot shots' at the goal in a desperate attempt to get back into the match. You can take your pick on what went wrong: Neymar being out, weak defensive efforts, or terrible goal attempts. All are definite factors to this heartbreaking loss.

Argentina triumph in a nail-biting ending
Holland falls while Germany and Argentina move on to the Final
The momentum of the Dutch came to a halt as they exited their semi-final match-up with a loss to Argentina. It seemed as if the minutes dragged on during this match, with both teams failing to score until the penalty shootout phase. Argentina's goalkeeper, Romero, was named the shootout hero for his remarkable saves against Wesley Sneijder and Ron Vlaar.

Holland focused on stopping Argentina's main man, Lionel Messi, making it a total of 99 minutes before they rounded up their first shot on target. Nevertheless, Argentina moved forward and escaped the semi-final round with a 4-2 win on penalties.
Thanks for sticking with us during this year's World Cup. We hope you have enjoyed the games and our data blogs as much as we have!
The Yellowfin Team