Understanding the Business Intelligence (BI) Solutions Spectrum
Business intelligence (BI) and analytics solutions empower non-technical business people and experts to make better decisions and improve business performance, and its importance has been illustrated by the huge growth of the industry in the last few years.
Various sources estimate the BI market to reach over $40B in the next five years. According to Fortune Business Insights, the global BI market is projected to grow from $24.05 billion in 2021 to $43.03 billion in 2028, at a CAGR of 8.7% in forecast period.
This rapid growth has created a wide variety of solutions and tools in the BI and analytics market. Tableau and Power BI are two such ubiquitous examples, but there are scores of others that make navigating and selecting the space extremely difficult.
In this blog, we detail the spectrum of BI and analytics solutions on offer today, and why it's important to understand how each tool covers certain data needs better than others.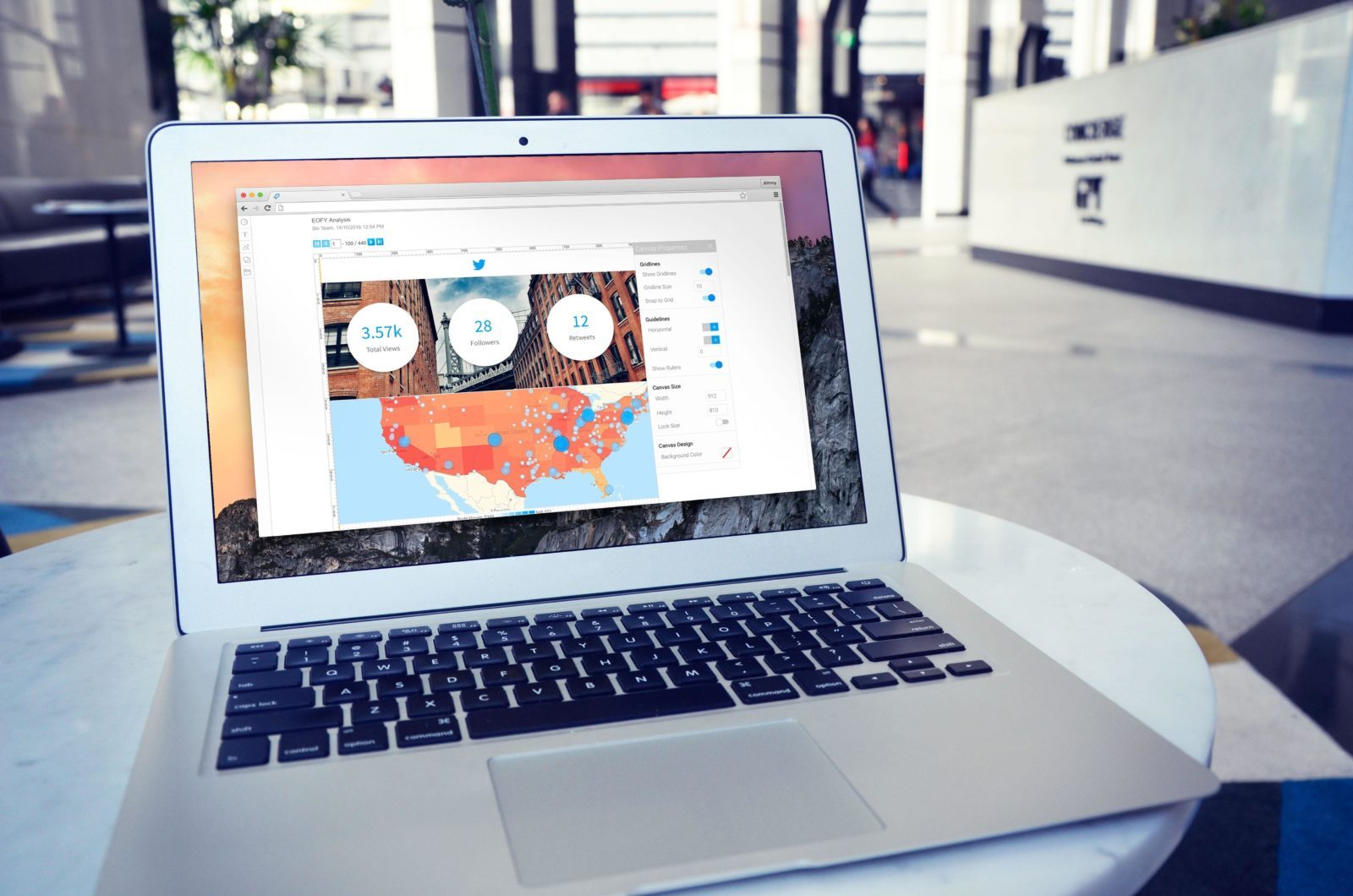 Aligning Data Challenges with the Right Analytics Solution
One way to classify the spectrum of BI and analytics tools is by understanding the problems that they solve. Each business and BI problem has different characteristics:
The state of the data in terms of its quality, and the degree to which it is structured (or not) for analytical analysis
The level of data literacy and skill of the users who undertake the work to identify the insights
The level of data literacy and skill of the users who will consume the insights
The degree to which the insights are repeatable and predictable, or whether each insight discovery is bespoke


Thus, care must be taken to match the right solution to the specific business need.
The left of the BI spectrum represents a problem space that is less structured and less predictable, where the skill levels of users are more sophisticated and specialized.
For example:
The business wants to know which customers might have a higher propensity to churn, but do not know the characteristics that predict churn. A raw data set such as a click-stream from a website has been obtained as well as customer subscription data from a customer relationship management (CRM) system. The data is in a raw form and has not been structured in any way to support analytics, for example dimensions are not standardized and denormalized, metrics have not been pre-calculated, data has not been summarized for high-speed query performance. This type of solution requires specialist tools and skills in order to extract the insights needed.


The right of the BI spectrum represents a problem space that is more structured, predictable and repeatable. and where the (data) skill level of the users is lower, but business knowledge is high.
For example:
A purchasing manager in a retailer receives a low-stock level warning from their stock control system. The manager wants to place an order to avoid a stock-out. The stock control system has embedded analytics that provide insights to the manager to help them place the best order, including comparative analysis of each vendor that supplies that product including historic order volumes, seasonal discounting patterns, levels of returns etc. The manager does not possess any specific data literacy skills, but the right analytics have been delivered in-context within the application and workflow.


So, how do you find the right analytics solution for your organization's specific need?
Below, we provide examples of where certain analytics solutions fall under the BI spectrum based on specific problem spaces (along with several high-level pros and cons related to each solution), to help you align your own unique business/data problem with the correct type of tool.
1. Contextual BI
Contextual BI, also commonly referred to as contextual analytics, is an evolution of the embedded analytics model that places analytics more directly into an application, with the intention of making data access and analysis synonymous with the app's core workflows.
This delivers data to line-of-business users right at the point of their daily work using the app (within the UI and transaction flow of the app), helping optimize efficiency, provide context behind the numbers, and guide everyday decision making. Only a few specialized commercial BI tools cater to this growing business need at this time.
Features
Highly structured databases optimized for analytics and performance - (Data Mart)
Mostly known and repeatable use-cases data needs
Structured delivery via reports and dashboards, embedded into workflows for optimal efficiency and context
Insights shared enterprise-wide
Typically sought after/used by high business SME, low data literacy
Example Commercial BI Tools for Contextual BI
Yellowfin BI - A pioneer in BI software focusing on embedded BI, now headquartered in Austin, TX, Yellowfin's suite of embedded BI capabilities focus on democratizing data for every type of analytics user (non-technical or expert) and providing deeper context behind the numbers for better business decisions. It archives this through its unique offering of contextual analytics.
ThoughtSpot - An ambitious vendor that started in 2012 with innovative technology focused on self-service analytics with significant technology investments. http://www.thoughtspot.com/
Looker - Acquired by Google in 2019, Looker is a developer-focused embedded tool now tied to the Google Cloud technology stack. Looker uses a proprietary scripting language LookerML for data design and management. It scales well with GoogleBIgQuery. http://www.looker.com/
Sisense - A privately held Israeli-founded company with a broad offering that uses a proprietary architecture to manage BI with a recent focus on SaaS-hosted embedded analytics. http://www.sisense.com/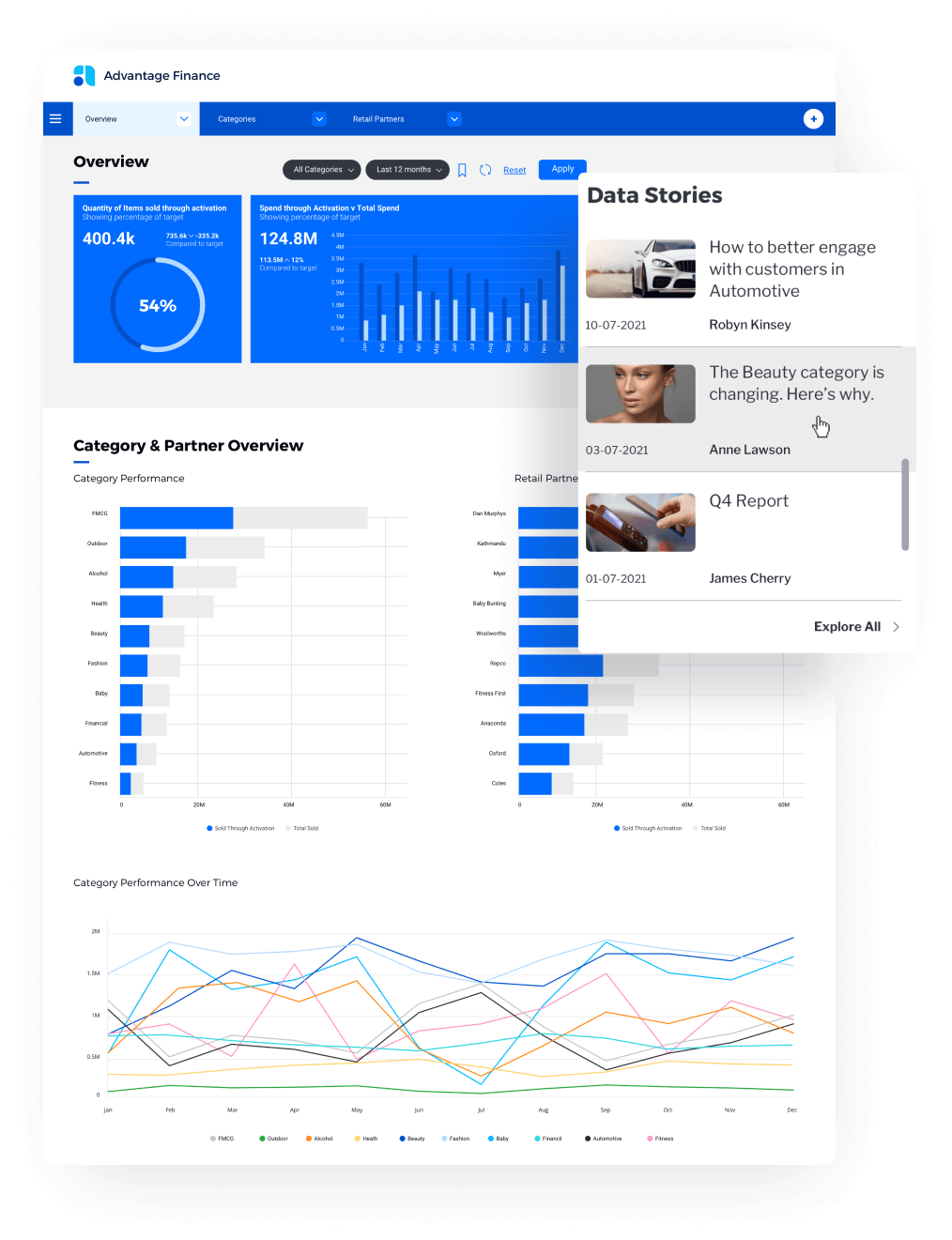 Example of Yellowfin Contextual Analytics Dashboard in action.
2. Custom BI Apps
The need for customized business intelligence applications for specific business use cases is growing rapidly each year, with a small but prominent number of commercial solutions available.
Features
Highly structured databases optimized for a specific use case
Narrow, well-defined use-cases (ie. instrumentation and telemetry of business processes)
Highly targeted delivery often via a single visualization, almost always embedded into a business process workflow
Insights consumed during the workflow process
Typically sought after/used by high business SME, low data literacy
Example Commercial BI Tools for Custom BI Apps:
FusionCharts - One of the first entrants in enterprise dashboarding specializing in embedded charts for JavaScript (JS) applications used by thousands of companies throughout the world. www.fusioncharts.com
HighCharts - An alternative to FusionCharts based in Norway that also provides a powerful library of commercial charting components. www.highcharts.com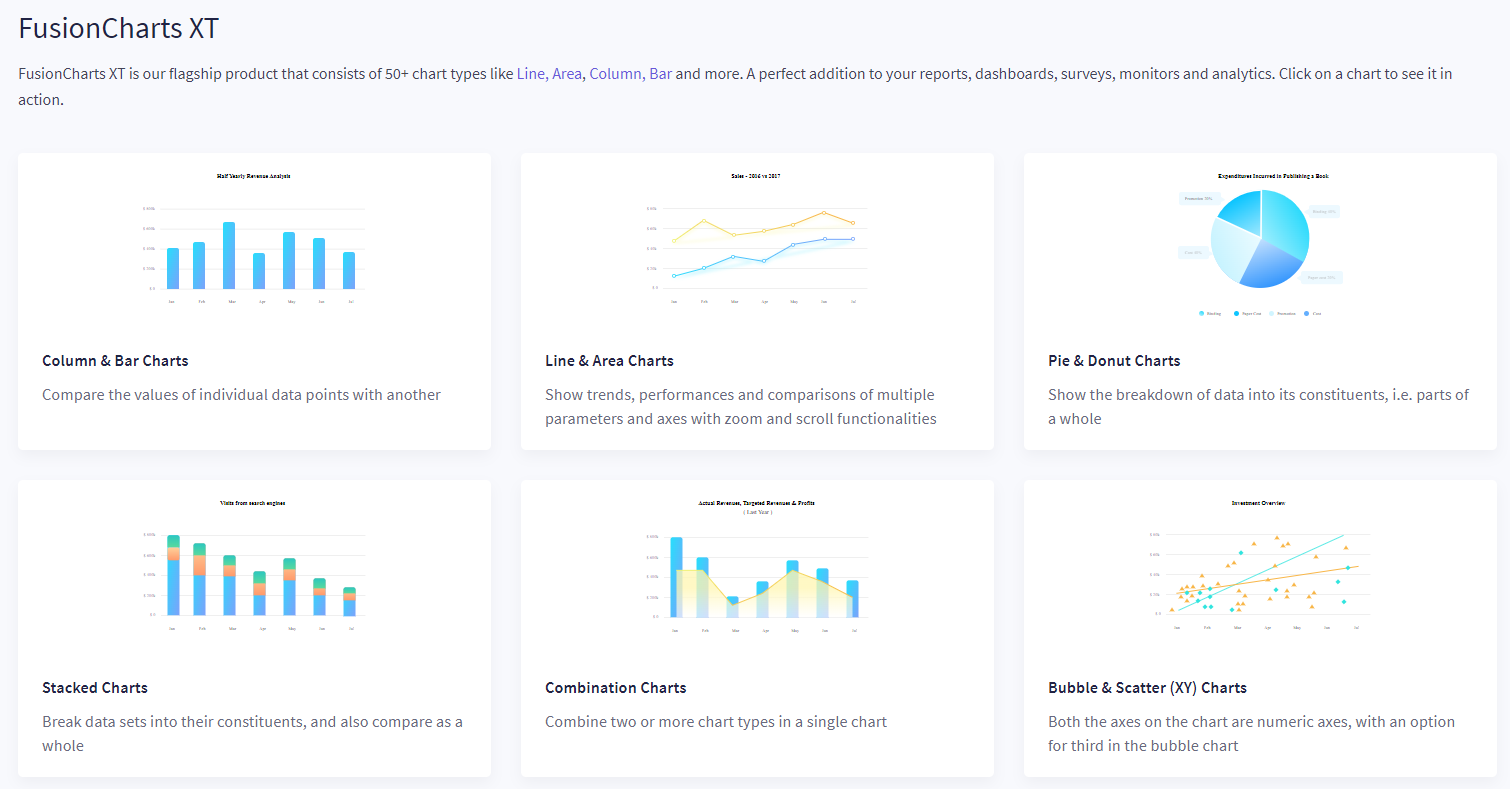 An example of FusionCharts embeddable charts into custom BI apps.
3. Data Discovery
Data discovery is the ability to collect data from relevant sources and explore it to identify insights. This is achieved through the use of visual-based tools and advanced analytical features, of which there are several commercial BI tools/options available.
Features
Standard BI methods, including data visualization drive data discovery
More structured data (data warehouse) or commonly personal data sets (xls, csv)
Broadly defined areas for insight discovery
Insights shared departmentally via collaboration tools, data sharing
Typically sought after/used by skilled data analysts / business SME
Example Commercial BI Tools for Data Discovery
Tableau - Originally focused on decentralized analytics and an alternative to Excel, today Tableau is a high-end enterprise tool, especially after the acquisition by Salesforce. https://www.tableau.com/
Power BI - Microsoft successfully has established the tool as one of the most popular alternatives to Tableau using its trademark freemium adoption model. Today it is ubiquitous, and like Tableau, it is going the enterprise route with more sophisticated and costly offerings. https://powerbi.microsoft.com/
Qlik - An independent player in the industry, Qlik offers a well-rounded analytics engine, sophisticated AI and cloud platform. https://www.qlik.com
Domo - One of the first only cloud-based, SaaS tools, Domo gained popularity with simplicity and appealing visualizations. As other tools modernized, Domo has struggled to define a clear differentiated positioning, but maintains a presence in searches for data discovery BI tools. http://www.domo.com/
4. Research and Exploration
Research and exploration refers to more technical analysis of business data (typically raw, unstructured data) by analysts or experts with technical knowledge. This is supported by a number of long-standing commercial solutions that cater to those with SQL and R-Language knowledge.
Features
Raw, unstructured data (data lake)
Ill-defined or one-off questions
Specialist algorithms needed to extract insight
Insights shared via custom reports
Typically sought after/used by specialist skill sets (data science, data engineer)
Example Commercial BI Tools for Research and Exploration
SAS - Well established tool founded in the 1970s, SAS is used by professional analysts rather than line-of-business users, and considered one of the more premium solutions in the industry. www.sas.com
R / RStudio - A "developer" alternative to SAS and widely adopted due to its open source model for the R-Language with commercial packaging as RStudio, now called Posit. http://www.posit.co
Conclusion
Understanding the BI and analytics solutions spectrum can be hard without a guide - we hope our article has provided you with a helpful summary of where the current spectrum of BI tools in the market fit according to the most prominent problem spaces and business requirements at this time. For more information on how Yellowfin can fit your use case needs, contact our team for more information.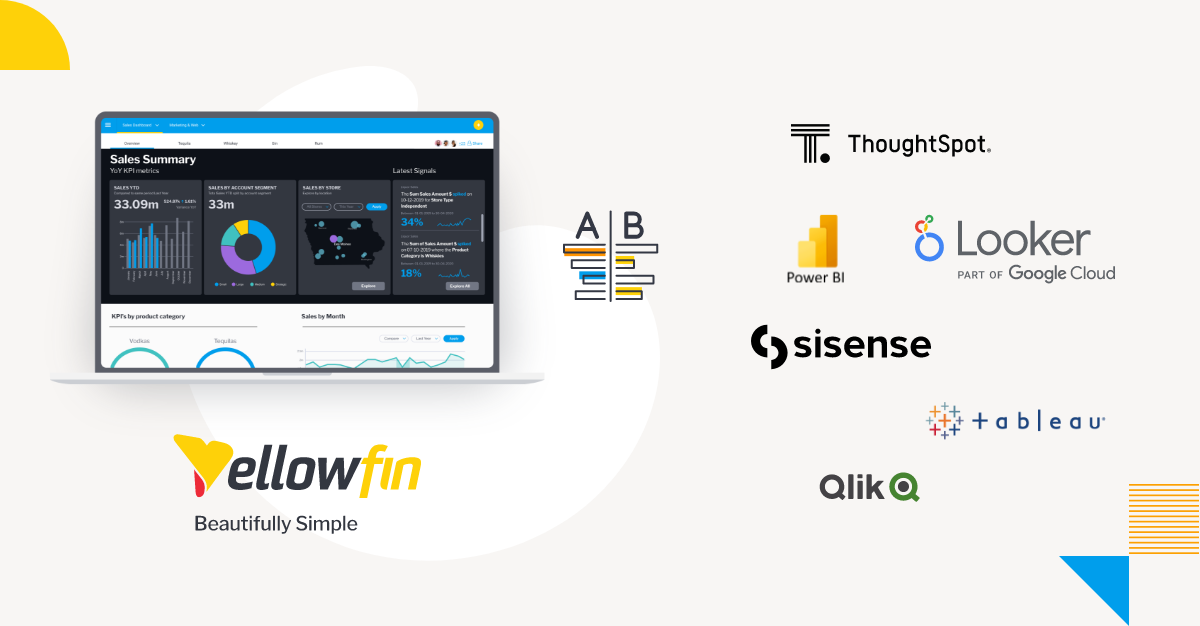 Next Steps: Explore Yellowfin
Enhance and evolve your existing software, and/or see how Yellowfin stacks up to other solutions with our free demo experience.