Download your free white paper on
The rise of automated analytics and the demise of dashboards
Why BI Dashboards are Failing to Provide
the Insight They Promised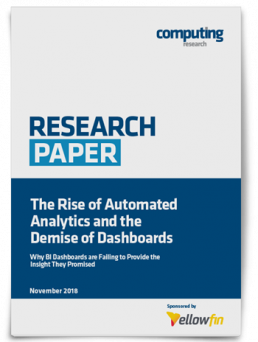 No matter how far organisations may have progressed in their journey from making decisions based on instinct and intuition to primarily using data, the one thing most businesses seem to agree on is that data-driven decision-making is key to their organisation's ability to compete in the market and meet its business goals.
At the heart of the transition from data to insight is the dashboard. And BI vendors continue to fall over each other with claims that their BI platform dashboard functionality is easier to use and more feature rich than ever before.
In order to try and establish whether BI dashboards are delivering the return they promised, Computing Magazine surveyed approximately 100 business decision-makers across a range of mid and large-scale enterprises in the UK, from multiple industry sectors, to establish how BI dashboards are helping – or hindering – UK businesses in making the switch from being data-driven to insight-driven.



Read this paper to:
Better understand the perceived value of BI dashboards today
Gain insight into how widely BI dashboards are used
Find out where dashboards are falling short
Learn how automated analytics and machine learning will deliver much smarter ways of working
Thank you
Here's the link to your white paper 'The Rise of Automated Analytics and the Demise of Dashboards'.
P.S. We've also sent a copy to your inbox so you have it for reference or for sharing with friends or colleagues.