Data limit by user
16 December, 2014
A user would login to yellowfin and a data source would filter down to data only relevant to that one user. You could essentially pick a field and specify values in that field that would be relevant to a select yellowfin users. This way they could login and immediately only data relevant to them would be available and they wouldn't be able to access others data.

Being able to automatically filter data based upon the user logged. Is there a way to do this in yellowfin currently?

Hello Cameron,
Thanks for posting your question on our forum.
If I understand your question it sounds like utilizing the
Source Access Filters option would get you what you are after.
Source Access Filters
I've also included a link to a Forum post that
may be helpful.
Forum Post
Please have a read through the links and let us know if
this helped.
Thanks,
Kyle
Yes this answers it.

Once I've made an access filter. It appears that if a user, such as an Admin, isn't included in the access filter then they can't see any data. Am I doing something wrong? Would still like users such at managers or admin's to still be able to access all the data.

Cameron,
Nice to hear that the Source Access Filter is something
that may help you get what you are after.
I've looked into your second query and have attached a short
video that I think, and hope, will assist you in setting
the Access Filters up and how they pertain to different
users.
YouTube
Once again, let us know how this works out.
Cheers,
Kyle
It looks like in order for an Admin to see the data, they will have to be added to the Access Filter for every value in the field. Is there a way to set the default to show everything instead of nothing?

Hello,
Not necessarily. As Admin you will always have the choice to
de-select the source filter on the report builder.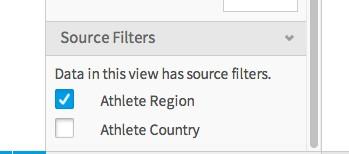 Thus seeing all the data.
So as long as your selecting the access filter to be a default in the
the view, you don't need to add the Admin to any of the Access Filter.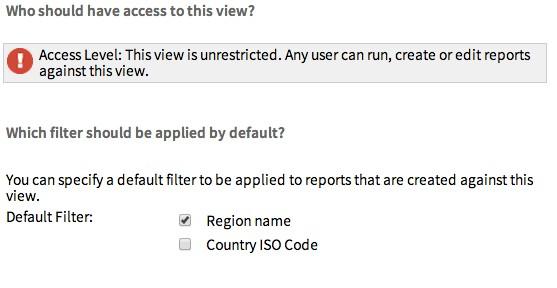 Please let me know how this goes.
Thank you.
So I have set the access filter to be enabled by default in the view as shown above. But so far, the only way an Admin can see the data in the report is by editing the report and deselecting the source filter in the report which then deselects the filter for all users. Is there a way to make this happen without editing a report and keep the access filter on for certain users?



Hi Cameron,
as well as the above option of turning off the source access filters, there is also an option of just setting one
wildcard
for the admin's access filter value, that way he/she will be able to see all rows.
I think that should meet your security requirements, please let us know how it goes.
regards,
Dave