Disable Data Preview option at the report level not working as expected
13 October, 2014
Hi Team ,

Currently the enable/disable of Data preview is at the Client Org level and not at the USER LEVEL... But when the Data preview is disabled at the Client org level , and if the user tries to create a report , it says "Data preview has been disabled.
When you are ready to view your data click Refresh Report.
You can enable data preview by changing your Profile Settings. "

But there is no option the Profile Settings to enable /disable Data Preview at the user level...


Please let us know the option to set it at the User level .

Second thing is , if we enable the HideSQL setting at the user Role and if the data preview is disabled , if a user clicks on the Refresh Report link in the above mentioned message (even attached the screenshot for the same) , in the data step only , option to VIEW SQL is displayed a, but the viewSQL option will be disabled in the Report Details link

We are using Yellowfin 7.1 September build


Regards,
Sanjay B S

Hi Sanjay,
Thank you for contacting us.
Data Preview at User Level
I have had a look into this for you and the user can access this via Profile>Settings>Display Preferences>Report Data Preview. Please let me know if this is what you were after.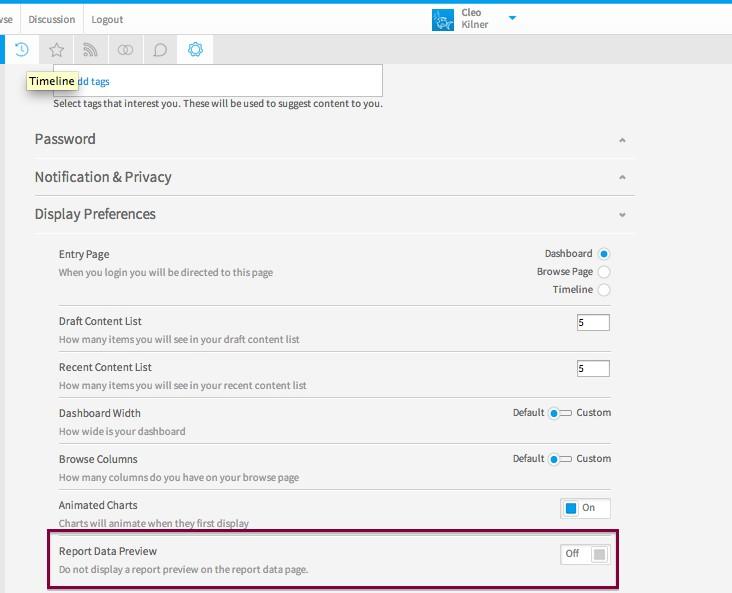 Hide SQL
Thank you for highlighting this for us. I have tested and replicated and I have created a support task for this to be fixed (Product Defect: 175607).
If you have any questions or you need further assistance with this request, please let me know.
Kind Regards,
Katie