Export Co-Display Report as PDF
26 February, 2015
Hi

We recently upgraded our Yellowfin to 7.1 (build 20141223). However, we are unable to export a Co-Display report (with no drill-through - 5 tabular reports) as PDF. Every other format (CSV, DOC etc) works as expected.

When clicking on the export button no action/message is taken/shown.

Thanks

Hi Stelios,

I'm sorry to hear you are running into trouble while exporting your Co-Display report to PDF. I think I may have replicated your issue. I created a 5 tab, Co-Display Report the way you described on the 20141223 build of Yellowfin. When exporting, I noticed that if the 'Export Tabbed Co-Display' slider is set to off, nothing will export.

If you set the slider to On, the report will export as expected.

I tested this in the newest version of Yellowfin 7.1 and I didn't encounter this issue. The slider functioned as expected.

To fix this I recommend upgrading to the most recent version of Yellowfin 7.1:

http://www.yellowfinbi.com/YFSupportCentreBuild.i4?buildId=186113

As always, please ensure your database is backed up before upgrading! Hopefully this information helps. If it doesn't please let me know.

Kind Regards,

Dustin

Best regards,

The Yellowfin Support Team

Contact Us:
Email: support@yellowfin.bi
Wiki: wiki.yellowfin.com.au/display/USER71/Home
Community Forum: www.yellowfinbi.com/YFForum.i4


Hi Dustin

I am unable to find the slider that you mentioned above.

I haven't created Tabbed Co-Display. I have dragged my reports into Co-Display Bottom so they appear one below the other and I still cannot export as PDF.

Can you reproduce that?


Hi Stelios,
I apologize for not being clear regarding the slider. I was referring to this: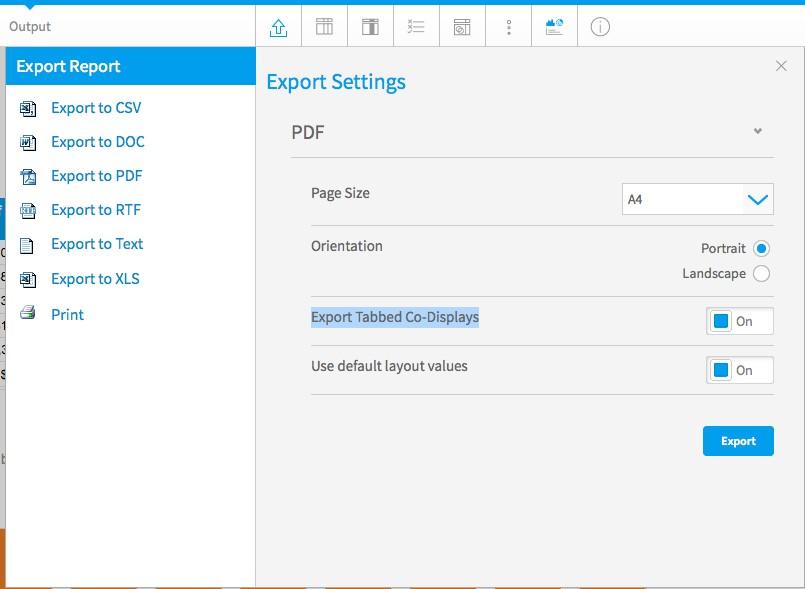 However, when I tried again today, I was unable to export the report to PDF using the 20141223 build regardless of how the 'Export Tabbed Co-Display' slider was set so it appears I may have misspoke. I can also confirm that I couldn't export if Bottom Co-Display was configured.
With all that being said, the 20150123 build fixes these issues, and export to PDF functions as expected.
I recommend upgrading to the most recent version of 7.1 to resolve this issue:
Build 20150227
I've attached a link to our wiki that covers upgrade recommendations:
http://wiki.yellowfin.com.au/display/USER71/Maintenance
Please let us know if you need any support regarding the upgrade process.
Kind Regards,
Dustin
Best regards,
The Yellowfin Support Team
Contact Us:
Email: support@yellowfin.bi
Wiki: wiki.yellowfin.com.au/display/USER71/Home
Community Forum: www.yellowfinbi.com/YFForum.i4