Horizontal Scroll bar missing on Dashboard table
8 September, 2014
Morning,

I have added a table to a dashboard which is having an issue... The issue I am having is that no scroll bar is appearing for this table, the data simply cuts off at the point of where I've set the size of the table, screen shot attached.

I've tried to toggle lock header/row columns to no avail. Set the number of records returned per page to 50,100, 10 etc. Removed the table from the dashboard, added it again, added it to a sub tab and it still wont appear. Have also tried to view this dashboard in IE11, Firefox and Chrome....

It started in YF7 and we have upgraded to 7.1 as well.

Cheers,

Aaron




Hi Aaron,

We don't have your screenshot describing your issue, can you please add it again and we'll assist further.

Kind Regards,

Danny

attachmenty hopefull this time

Hi Bjorn / Aaron / ?,

Apologies, but the attached Word document isn't clearly showing us what your issue is.

Can you provide us with a screenshot in .JPG or .PNG format of the issue you're facing?

Thanks again,

Danny

If you look at the last line on the table you will see Korean Air is cut off and missing a scroll bar on the left, only way to see the table correctly is to view the report.

In this example, there are 103 lines of data on the table with only 16 (and a half) lines viewable on the dashboard, when you should be able to scroll through the full list of data.

Something else worth noting, if I ctrl + wheel scroll (make text larger) on the report, the last line that is cut off appears, but still no other lines appear, nor does the scroll bar

Hello Bjorn,

Thanks for the screenshots. Can I confirm if your issue is the lack of a horizontal or vertical scrollbar, when the report is within a Dashboard? I have tested this in YF 7.1, by adding a large report to a dashboard, and a vertical scrollbar appears
on the right-side of the report on the dashboard.

Kind Regards,

Danny



Thats correct, there is no scroll bar (horizontal) present on the dashboard to scroll down through the data.

Hello Bjorn,
Please see the following screenshots, scroll options are appearing ( vertical & horizontal ) when a table report is added to a dashboard ;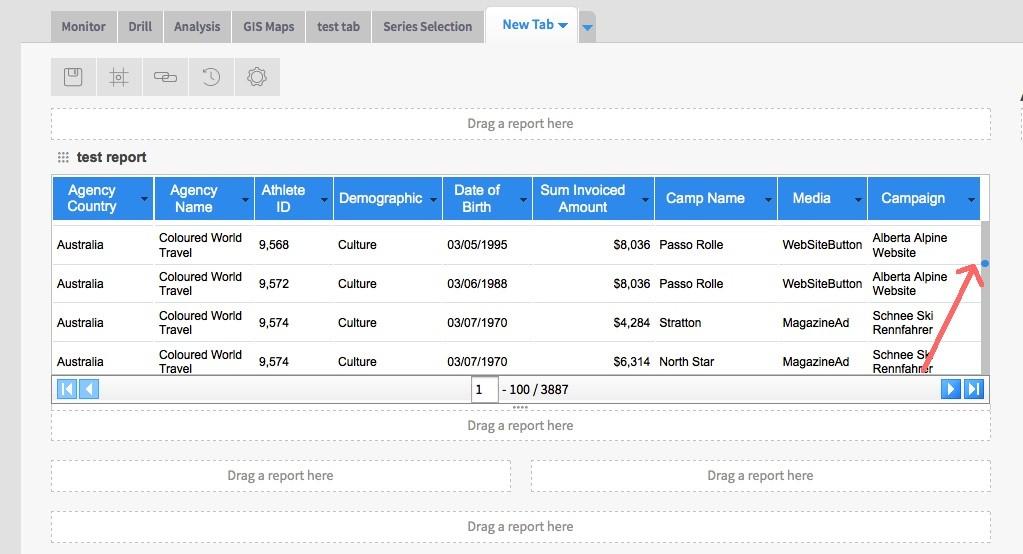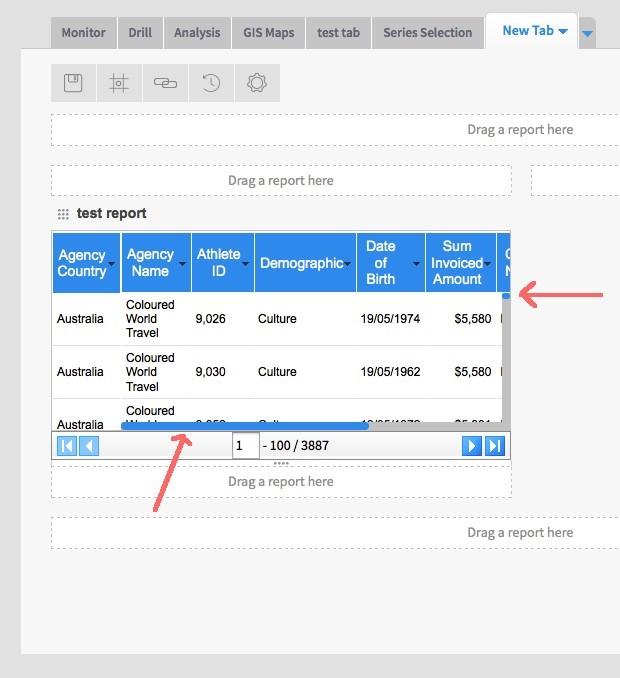 Thanks