How to get number of months
9 April, 2015
I have successfully built a sales report to show number of units sold by a category (inches) for each month. Great news!

Next I would like a higher level report showing for a date range what the Average sales units is per month. I am having trouble getting a value for the number of months data so I can divide my total units by that.

I have tried creating a DateMonth field and doing a count distinct thinking (12,1,1,2,2,2,3,3,3) = 4 however have had incorrect results.

Any clues?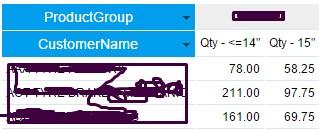 Hi,

Very sorry for the delayed response.
This post slipped through the cracks, which should not happen.
The good news is we have a new forum revamp in the works, so this should no longer be an issue in the very near future.

In order to help us get a better understanding of the data you are dealing with and you're expected outcome, can you please provide;

-An example of the raw data not aggregated and also showing the data type.
-How your current report is built
-What you expect to see

Once we have this, we can dummy up a report and send across detailed info on how it was built.

Apologies again for the late reply.

Regards,
David