How to split up Yellowfin – WebService running on a different Server than Yellowfin-Application
8 October, 2014
Hi,
we actually have a VLAN that can access databases of our customers but also our own database. At the moment, the Yellowfin-Server and it's database is located in this VLAN. As we want to set the Yellowfin-Login Page available in the internet, so our customers can access Yellowfin, we want to outsource the Tomcat-WebServer to another server, which is located outside of the VLAN (for security-reasons).
If we set up the whole Yellowfin-Server outside of our VLAN, it is not possible to access the databases of our customers. So we are looking forward for a solution to set up the Yellowfin-Application with access to the databases inside the VLAN, and the Tomcat-WebServer outside - for internet access.
I attached an image that should make it a little more easier to understand. It would be great if anyone could help us a little. Thanks for your input in advance!
Best Regards,
Konstantin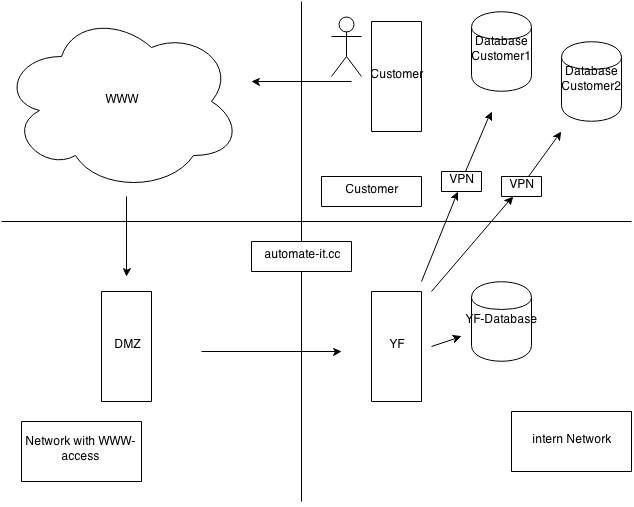 Hi Konstantin,

Thank you for contacting us.

Regarding your request I hope the following information will provide you with the details you need:
Tomcat can be on a separate server to the Yellowfin database.
It is our recommended architecture that the Application, Repository database and Source database all be on separate servers.

If Tomcat is just running Yellowfin, then they can just install Yellowfin as usual, point to the remote database at install time.
Otherwise they can be left to their own devices and install Tomcat manually, and deploy Yellowfin into it.

If you have any questions or need further assistance with this request, please let us know.

Kind Regards,
Katie

Hi Katie,

thank you for your reply.
At the moment we are running Yellowfin as you described, YF-Database, Database and Application each on another server.
I'm not quite sure if you understand our problem: As we are running Yellowfin at the moment, we cannot give customers access to the Yellowfin-Server as it is in a VPN, therefore we cannot set up internet-access. The VPN is needed, as the customer-databases are not only accessable within VPN.

Is there any "best-practice" that Yellowfin provides on how to set up this environment?

Best Regards,
Konstantin