Link Chart brushing On a Scatter Chart
23 January, 2015
Hi,

We have a dashboard with 3 Charts, including a scatter chart. We need to link the chart brushing on the scatter chart to the other 2 charts. However, within analytic setup, the Link Chart brushing option does not show up.

We have tried the same by changing the Scatter to a Bar chart containing the same fields, and the option shows up. Also, Yellowfin wiki does not include the Scatter Chart in the unsupported list for chart brushing. Additionally, we have also ensured that drill down/drill through is not enabled on any of the charts

Could you let us know why is this happening and what would be the solution?

Regards,
Sheldon

Hello Sheldon,

Thank you for posting your question on the forum.

Which version and build of YF are you using? E.g, 7.1, Nov

The only thing I can think of is that this will only work
with passing metrics to the linked report (chart), and the linked
report MUST contain a filter that matches the metric.

Please let us know on the above and we continue
to take a look at this for you.

Regards,

Kyle

Was there any resolution on this? Does chart brushing work with a scatter? We are having issues with it as well.

Regards,
Steve

Hey Steve,

Sorry to hear you are having some issues with this as well. What version and build of YF are you using?
Are you able to provide some screenshots of you Dashboard setup and more details of how you are testing
this?

Thank you,

Kyle


Hi Kyle -

We are using version 7.1 build 20150812. I'm sorry I wasn't clear in my comment above. Chart brushing does not work on any scatter plot I create. I'm not even trying to use it on a dashboard, just trying to get it to work on a report. I checked and I do not have any type of drill enabled on the report. It just doesn't seem to work.

Thanks,
Steve

Hi Steve,
This is quite strange. I've just tested it in the the official August build and it all works as intended.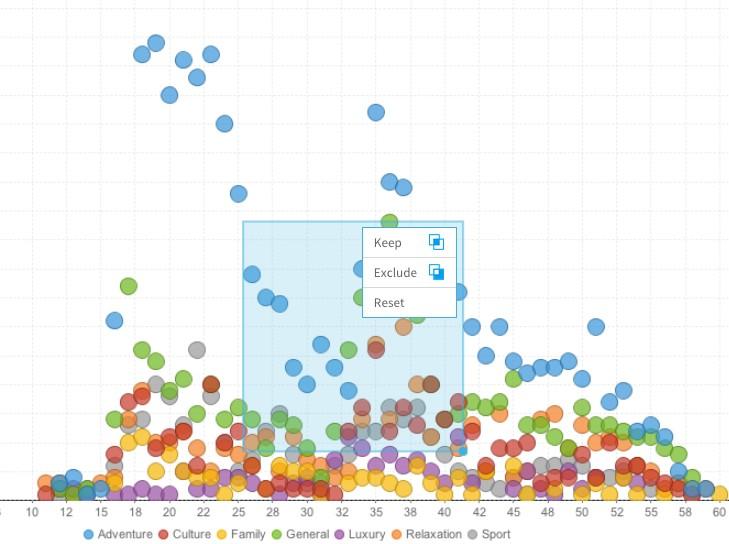 Your report cannot be in draft mode for brushing to work, it must be activated. If this isn't it, can you provide
some screenshots of how your report is made up?
Thank you,
Kyle
Hi Kyle -

From the Yellowfin example reports, I made a copy of the "Athlete Demographic Spread" report and changed the chart type to a scatter chart and activated it. Brushing still did not work for me.

Thanks,
Steve

Hi Steve,

We are kind of at a loss on this one. You mentioned that you were on 7.1 21050812, was this an interim build that someone from YF provided to you? I'm wondering if this has something to do with why you can't get the chart brushing to work for you.

Is it possible for you to update your current build to the latest release and test this again? The latest release is 20150922.

Also, have you tested this using other browsers?

Thank you,

Kyle


Kyle -

Yes, in fact that was an interim build provided to us to fix another issue we were having at the time. I will look into seeing if we can upgrade to the latest release. Btw - I did test using Chrome and IE and experienced the same issue with both browsers.

Regards,
Steve

Hi Steve,

Yes, if you are able to upgrade to the latest release and let us know how it goes, that would be great. If it still doesn't work, I guess we are back to square one!

Regards,

Kyle