Mobile Business Intelligence driving pervasiveness, faster decision-making
Organizations with leading Mobile Business Intelligence (BI) applications make critical business decisions five times faster than companies with primitive Mobile BI access according to a new Aberdeen study.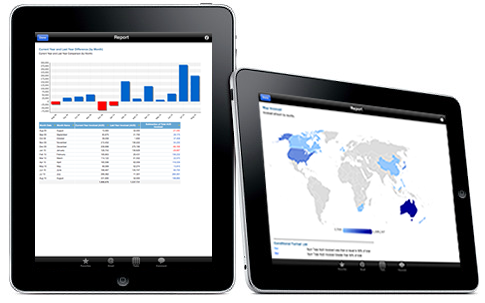 The research report – Actionable Intelligence for the Agile Enterprise – also revealed that the introduction of Mobile BI to the enterprise is a crucial facilitating factor for achieving pervasive BI deployments, with organizations using industry-leading Mobile BI experiencing twice the usage rates compared to companies with underdeveloped Mobile BI capabilities.
The key drivers for Mobile BI adoption
Respondents identified the three main drivers underpinning the adoption and implementation of Mobile BI as:
The ability to achieve competitive advantage (54%)
The ability to increase the productivity of mobile employees (41%)
The ability to eliminate delays in alerting key decision-makers to critical information (30%)
Definition of Mobile BI maturity
The research report divides respondent organizations into three categories based on the maturity of their BI rollouts:
Best-in-Class

(Top 20% of aggregate performance scorers)

Industry Average

(Middle 50% of aggregate performance scorers)

Laggard

(Bottom 30% of aggregate performance scorers)
The Best-in-Class are distinguished from Industry Average and Laggard companies by two main performance criteria:
Ability to find required information using Mobile BI
Customer satisfaction
The criteria were measured over a 12 month period.
Benefits of Mobile BI
The report identified several significant benefits of a mature Mobile BI deployment, including:
Reduced time to information:

Best-in-Class organizations are able to find required information to make critical business decisions 87% of the time compared to a 55% Industry Average and only 14% by Laggards.

Reduced time to decision:

Top performing organizations (Best-in-Class) achieved a "time-to-decision" of 3.8 hours, 1.7 times faster than the Industry Average, and over 5-times faster than Laggards.

Increased customer satisfaction:

92% of customers from Best-in-Class organizations reported being extremely or very satisfied, compared to 62% for Industry Average, and 13% for Laggard organizations.

Increased executive performance:

Executives at Best-in-Class organizations achieved 84 percent of personal KPIs, Industry Average executives 72%, and Laggard 69%.

Increased revenue:

Best-in-Class companies realized a 21% increase in revenue from last financial year, compared 12% from Industry Average organizations, and 6% from Laggards.
Think faster and more effective decision-making sounds good?
Think faster decision-making, increased revenues and happier customers are goals worth achieving? Contact Yellowfin to find out how Yellowfin's world-class Mobile BI platform and applications for the iPhone, iPad and Android devices can make these heady aspirations a reality.
Yellowfin is making Mobile Business Intelligence easy.