A "Business Intelligence Renaissance": 2012 wisdom of crowds BI market study
31 May, 2012
We are very fortunate. We reside in a time of great – unprecedented and unparalleled – change.
Much like the Italian populous of the 14th – 17th centuries, we are in the midst of profound progress, development and transition. Traditional ideas are being challenged, and new concepts – advanced via innovative and uncharted modes of thinking – are being unearthed.
Long-held ideals reinvented and reborn anew – viewed through fresh frameworks, constructed via a new set of visual communications tools, to help interpret and understand the world.
Then, these revolutionary concepts, transformational insights and perspectives were delivered by pioneering artists such as Masaccio, Donatello, Brunelleschi and Leonardo da Vinci. Today, a new breed of Business Intelligence (BI) vendors are challenging the status quo by offering totally unheralded means, methods and techniques for exploring our modern world – our information and our data.
The newly released third annual Dresner Advisory Services (DAS) Wisdom of Crowds Business Intelligence Market Study documents that profound shift towards emergent consumer-oriented BI.
Download your free copy of the report and find out why Yellowfin received the equal highest overall ranking and highest outright score in the study's "Emerging Business Intelligence Vendors" sub group. Download Now >
"I've been focused on Business Intelligence for nearly a quarter of a century and I've never been more excited about the industry than today… Enter mobility, collaboration, cloud, visualization, big data and social, and predictive – to name just a few," wrote report author, former Gartner Research Fellow, and President, Founder and Chief Research Officer of DAS, Howard Dresner. "And these phenomena have made Business Intelligence more complete, more accessible, more usable, more flexible, more scalable and more affordable than ever before. It's nothing short of a Business Intelligence Renaissance!"
Coupled with the rapid evolution of BI vendors and offerings, is the marked modification of BI's target market and the personnel involved in the BI buying decisions of prospective organizations.
"In many organizations, end users have taken the 'wheel' and are now driving Business Intelligence," wrote Dresner.
New generation user-oriented BI solutions dominate: Users thumb their nose at 'traditional' BI
The latest edition of Dresner's Wisdom of Crowds report – based on 859 responses from professionals with first-hand experience using vendor products and services – analyzes market place trends throughout 2011 and assess user perceptions towards BI for the coming year.
The study also appears to reveal an interesting general trend away from traditional BI vendors. The study divided vendors into sub groups:
"Titans" – the largest and long-established BI players (IBM Cognos, Microsoft, Oracle and SAP Business Objects)
"Large Established Pure-Play" – BI vendors predominately focused on BI software and services with business background of 15 or more years (Actuate, Information Builders, MicroStrategy and SAS institute)
"High Growth" – BI vendors that have achieved critical mass in the market and are growing at an extremely high rate (Qliktech, Tableau and Tibco Spotfire)
"Emerging" – BI vendors that are typically younger than other categories and offer unique and often innovative business models, technologies and/or services (Acrplan, Dimensional Insight, Jedox, Pentaho, Jaspersoft and Yellowfin)
The global study compared and ranked 17 of the world's foremost BI vendors on a five-point scale, across 33 different criteria, based on seven categories, including: Sales experience, value, quality and usefulness of product, quality of technical support, quality and value of consulting services, integrity and whether existing clients would recommend the vendor and its product to others.




None of the "Titan" vendors were amongst the "Top 10" vendors for any of the study's seven comparative categories. Further, three out of the four worst overall rankings came from this study sub-group. Conversely, four out of the five best overall rankings came from the "Emerging" vendor sub-group.
The eight least recommended BI vendors all came from the more traditional BI players within the "Titan" and "Large Established" vendor sub groups.
And, in terms of "quality and usefulness of product", seven out of nine of the new-generation vendors from the "High Growth" and "Emerging" vendor sub groups achieved product ratings of four or better out of five. Conversely, only one out of eight vendors across the "Titan" and "Established" vendor sub groups achieved a product rating above four.
Business users take control
During the three years that the DAS wisdom of crowds study has run, a notable trend towards business-user-oriented deployments has been identified, with a simultaneous drop in IT-aligned BI programs.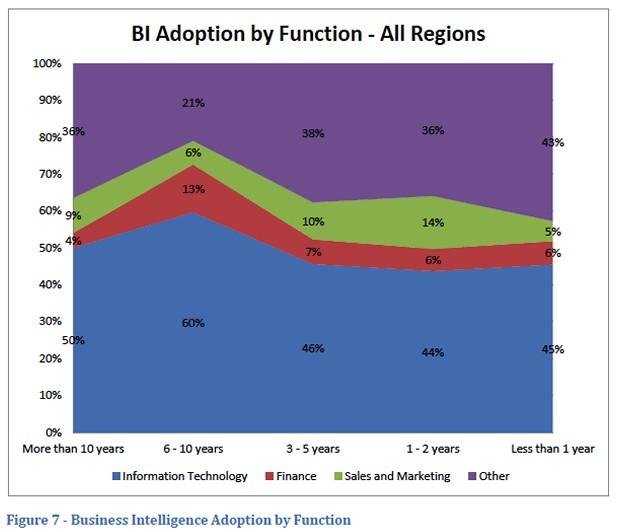 Whilst this worldwide trend appears to have leveled-off, business-user aligned deployments now make up a majority of worldwide implementations (54%).
Number of BI products by size of organization
The 2012 study indicates that "the proliferation of multiple BI tools continues to accelerate". The study also suggests this continued rise in the number of BI tools residing within a single organizational environment is principally due to "line of business independently invest[ing] in [end/business-user-oriented] solutions."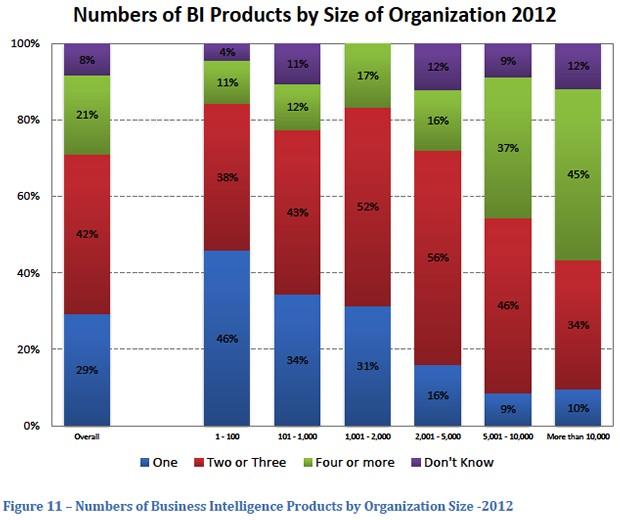 This theory is supported by the fact that "Nearly half of the largest organizations reported the use of four or more tools" – larger organizations are more likely to have implemented traditional BI tools in previous IT-led deployments.
Further, the report goes on to say that "it is noteworthy that the line-of-business functions were more likely than IT to be unaware of numbers of tools in use. In our opinion, this speaks to the growing independence of line-of-business functions when investing in Business Intelligence".
Number of BI products by vendor sub groups
When analyzing BI investment trends by vendor sub groups, it also becomes apparent that new-age end-user-oriented – or 'self-service' – BI solutions are becoming increasingly popular.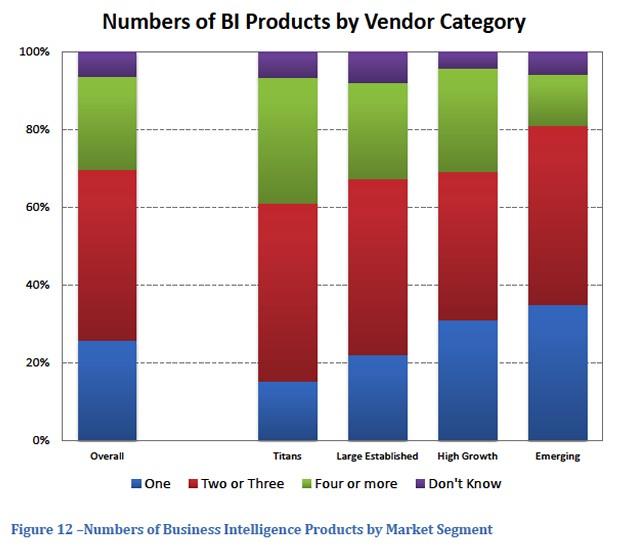 Customers of traditional "Titan" tools are most likely to have multiple BI solutions, while customers using "Emerging" BI software report the fewest number of BI tools. Perhaps this tendency suggests that "Emerging" tools – those that "offer unique and often innovative business models, technologies and/or services" – cater better to the needs of modern BI users and environments? What is more certain, is the reports conclusion, which states that this new breed of BI often makes data analysis easier for a wider audience: "In discussions with users we have seen a trend to use multiple tools in parallel or in concert with each other. For example: using a 'Titan' tool to extract data from corporate systems and then importing into an 'Emerging' or 'High Growth' tool for analysis."
New generation solutions boost BI adoption by SMBs
The 2012 wisdom of crowds report acknowledged a strong uptick in BI investment from small to midsized businesses (SMBs).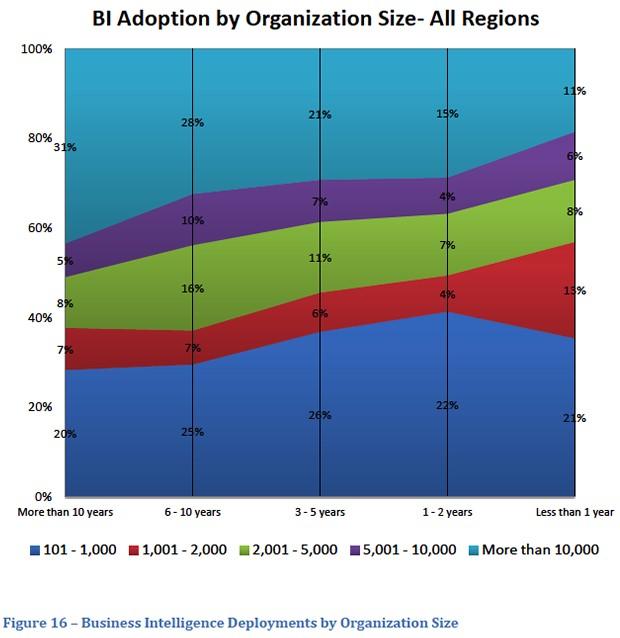 The report attributed this notable trend over the past 12 months "to greater availability and lower costs associated with newer product entries."
The report confirmed this hypothesis by comparing the size of respondent organizations to vendor sub groups.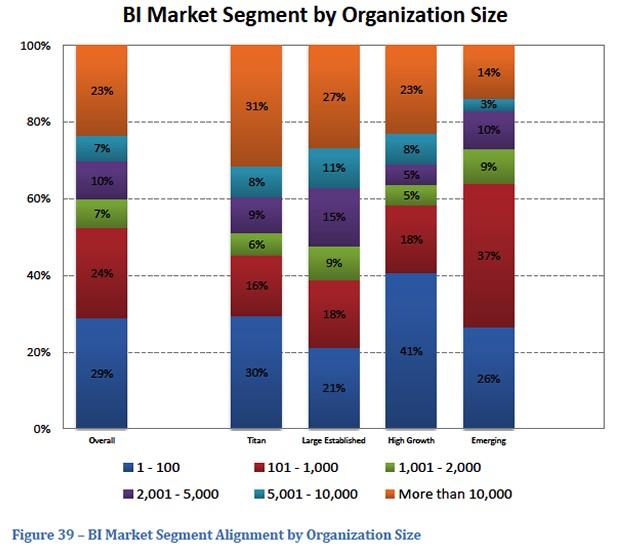 The report demonstrated significantly higher SMB adoption of "Emerging" vendor products, in comparison to other vendor sub groups:
63% of "Emerging" vendor customers are from organizations of 1,000 employees or less
59% of "High Growth" vendor customers are from organizations of 1,000 employees or less
39% of "Large Established" vendor customers are from organizations of 1,000 employees or less
46% of "Titan" vendor customers are from organizations of 1,000 employees or less
"High Growth and Emerging BI products have a strong concentration of adoption within small and mid-sized organizations," stated the report.
New generation BI solutions underpin BI success
Overall, 41 percent of survey respondents "completely agreed" that their BI implementations had been successful. Importantly, the report found that users of new business-user-oriented BI solutions experienced higher degrees of success: "Users of Emerging and High Growth segment products were more likely to report success than other segments."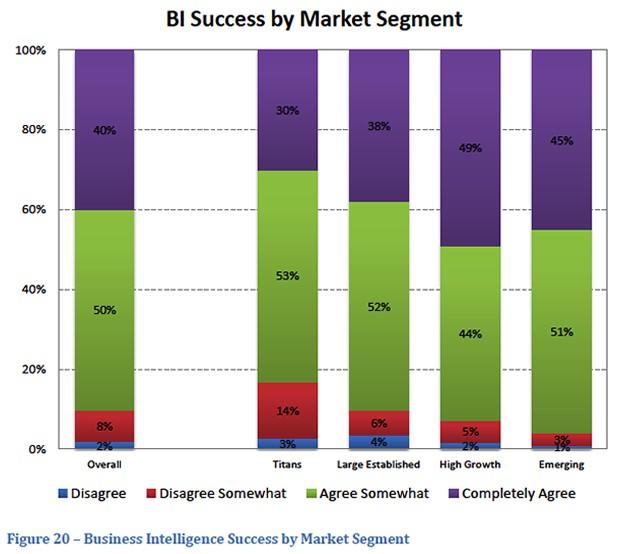 Conversely, a higher proportion of users of "Titan" and "Large Established" BI products experienced difficulty:
17% of users of "Titan" technology either disagreed or disagreed somewhat that their BI initiative had been a success
10% of users of "Large Established" technology either disagreed or disagreed somewhat that their BI initiative had been a success
7% of users of "High Growth" technology either disagreed or disagreed somewhat that their BI initiative had been a success
Only 4% of users of "Emerging" technology either disagreed or disagreed somewhat that their BI initiative had been a success
Technology prioritization trends demonstrate demand for 'self-service' capabilities
The report also confirmed the widespread movement towards consumer-oriented BI deployments by establishing relative/comparative demand for specific product features and functionality.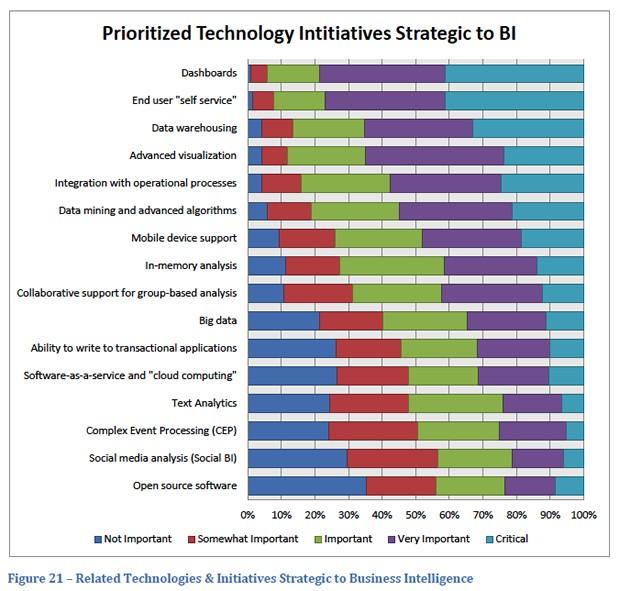 "End user 'self-service'" ranked alongside "dashboards" as the most important BI competency, with 42 percent of respondents stating that both capabilities were "critical" to their strategic BI initiatives.
What's it all mean?
Well, it means that both suppliers and buyers of BI technology have begun to act on the realization that consumer-oriented/business-user/self-service (call it whatever you want) reporting and analytics has the potential to reach a far wider audience and deliver far superior Return on Investment.
The core point of interest, regarding the subsequent stage of development within the global BI marketplace, is this: How will emerging BI players progress, and the traditional campaigners react? Whatever happens, watch this space. The next 12 months is bound to be filled with express expansion, the emergence of new product lines, rapid reorientation of key messages and a plethora of acquisitions, takeovers and mergers.