Data visualization assesses the changing program of events at the Olympics over time
Today's data visualizations and infographics brought to you by Yellowfin; now making Business Intelligence even easier.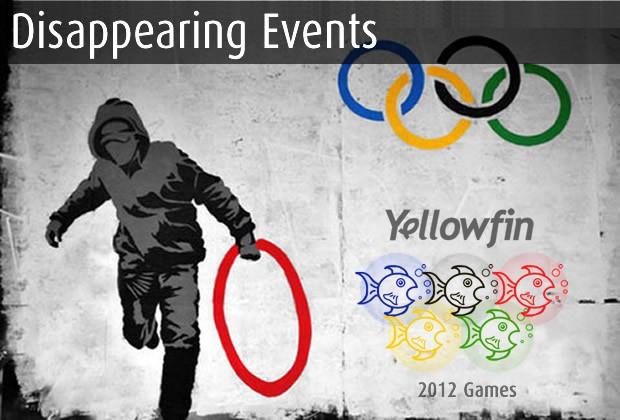 Fashion is a funny thing. It rarely makes sense, and is almost never based on grounds of logic or practicality.
Thanks to our first London 2012 inspired Olympic blog post – Dissecting female participation at the Olympic Games with infographics & data visualization – we know that this year's Games will play host to over 14,000 athletes competing across some 300 event categories. But, despite this impressive array of events and majestic display of athletic diversity, something's amiss – literally. While you might be aware of the well-publicized inclusion of new events and event categories (such as 2012's inclusion of women's boxing), did you know that many events have made quiet exists from the Olympic program? Apparently, they just fell out of fashion.
A note on definition: 'Event categories' signify an area of competition (such as 'track and field'), whereas an 'event' denotes a single pursuit (such as the men's 100 meter sprint).
All events vs decommissioned events over time at the Summer Games (1896 – 2008)
Note: The below chart is fully interactive. Simply click on any of the years to drill into the detail and discover which events have been removed.

While some early fluctuation is evident, where a number of events bit-the-dust in the Olympics' foundational years, it's fairly clear – as a general rule – that many more events have been added than removed from the Games' schedule – see event count below.
It's also evident that a greater number events have been dumped from the Olympic roster in recent competitions – this may well have to do with the introduction of femal equivalent sports (eg soccer becomes male soccer and female soccer respectively).
So which events have missed out on selection for London 2012?
Olympic events discontinued at the Summer Games (1896 – 2008)
There's been a plethora of events that have endured the unpleasant misfortune of being retired from the Games' roster by the IOC since Olympic competition began in 1896. The below table simply offers a selection of the – in retrospect – more comical discontinued activities.
Note: The below table is fully interactive. Simply click on any of the listed events to drill into the detail and discover which athletes won medals in these now defunct Olympic rivalries. This table only represents a selection of the Games' now nonoperational events.

Among the more – by contemporary Olympic standards – odd events, were Dueling Pistol (OH&S concern much!?), Music: Composition for Orchestra, Architectural Design, and the good old Tug of War. It seems that the developmental years of the Olympics harbored a far more liberal and artistic definition of "games".
Other chuckle-worthy obsolete events included the men's Obstacle Race (Swimming), men's Plunge for Distance (Diving), Sculpture, Croquet, Literature and Designs for Town Planning.
Interestingly, the Games surrounded by major military operations – especially World War I – comprised a great assortment (or overabundance) of shooting events of varying obscurities, such as the Small-bore Rifle (Moving Target).
Also, did you know that the original five-day Modern Pentathlon was removed from competition and replaced by a streamlined, more audience-friendly, one-day version for Atlanta's 1996 Olympics? The Modern Pentathlon is also the only event to be created specifically for the modern Olympics – that is, it did not exist prior to the commencement of Olympic competition. Despite the immediate reintroduction of the revised Modern Pentathlon for the Games of the XXVI Olympiad, the competition is widely tipped to be made redundant beyond the 2012 Games.
Event by category over time at the Summer Games (1896 – 2008)
We've established that the number of Olympic events has, generally, risen over time. But what about the number of event categories – has the number of event categories risen over time too? Or have the number of categories stagnated, or decreased, while the number of events within each category have multiplied?

Well, it appears that both the number of total events and number of event categories have grown since the inaugural Games of 1896. As previously pointed out, the tumultuous nature of the first few decades of Olympic competition was categorized by the rapid inclusion and exclusion of events. After this initial period of disruption, event categories have been gradually introduced, reintroduced or abandoned – and in far fewer numbers. Table Tennis and Taekwondo are examples of recent additions.
Also, the marked rise within the above graph indicates the addition of new Olympic events within existing event categories.
Event by category as a percentage over time at the Summer Games (1896 – 2008)
However, assessing the rise and fall of event by category over time as a percentage gives a better indication of the dominance / popularity of specific types of sporting endeavors compared to others. In short, it's easier to visualize fluctuations within, and between, event categories. And, it's easier to assess the impact of those fluctuations on the appearance of the overall Olympic schedule.

For example, we can see that the event category 'Track and Field' only comprised 16 percent of total Olympic events at Beijing (2008), compared to 22 percent of the total events held at the first modern Summer Games in Athens. Conversely, the category of 'Swimming' made-up 11 percent of all events in 2008, and only seven percent of total events in 1896.
Where to next?
Stand-by for our continuing series of Olympic data blogs, appearing daily until London's Closing Ceremony (12 August).