Analyzing Swimming at the Summer Games with data visualization
Today's data visualizations and infographics brought to you by Yellowfin; now making Business Intelligence even easier.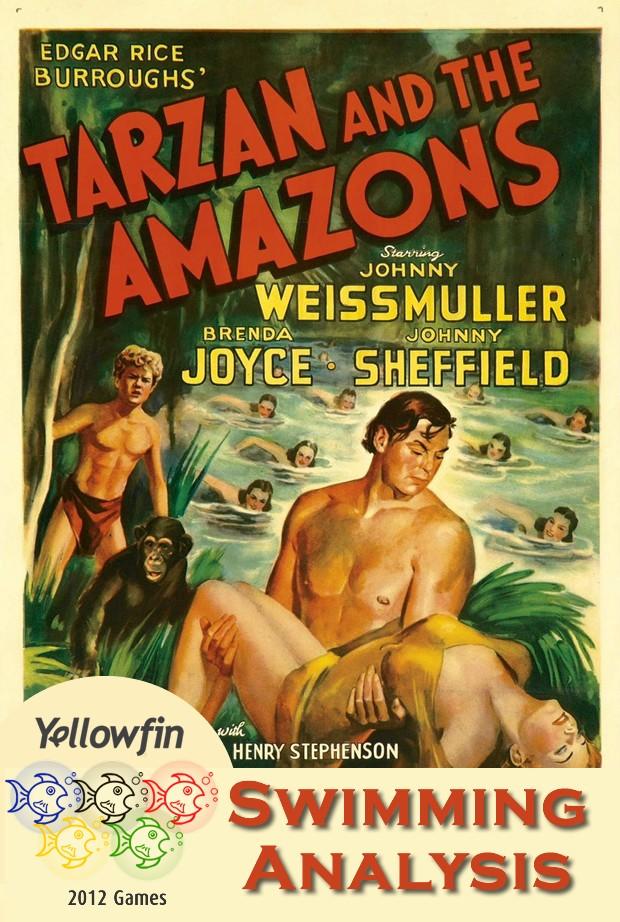 It happens in every culture. Certain aspects, skills or pursuits are assigned greater comparative value than others.
In Japan, an itamae – a cook in a Japanese kitchen or chef in a large restaurant – is held in extremely high regard. Many westerners think of the Japanese itamae as a "sushi chef". It takes around 10, and as many as 20, years of training and apprenticeship to become a fully recognized and qualified itamae of sushi.
Likewise, French pastry chefs and waiters hold privileged positions of respect in French society. Young hopefuls have to undergo many years of on-the-job training before reaching seniority within their profession.
And, in the Olympic culture of the modern Summer Games, Swimming carries an inherent honor and prestige.
Dashboard: A critique of great swimmers, swimming nations and swimming feats at the Olympics
Note: The below dashboard is fully interactive. Again, we've simply chosen to elaborate on but a minor selection of potential talking points. So start clicking, drilling and filtering to delve into the depths of Olympic swimming history, and discover the nations, events and individuals that have kicked, gasped and hauled their way to victory.
Swimming has been a mainstay of Olympic competition, featuring at every modern Summer Games. Additionally, as a sporting category, swimming has the second largest number of events on the current Olympic program (Athletics, or 'Track and Field', has the most). Female participation in the pool has been a fixture since the 1912 Summer Olympics – the Games of the V Olympiad, held in Stockholm, Sweden.

Infamous names – associated with athletic and Olympic greatness – like Weissmuller, Spitz and Phelps all made their names amidst the lane ropes and chlorinated water of the Summer Games. And; they were all American. In fact, the land of the free and home of the Eagle has completely and utterly dominated the Olympic swimming circuit, claiming a total of 489 medals (214 Gold, 155 Silver, 120 Bronze) between the 1896 and 2008 Games. Australia ranks an exceedingly distant second, winning 168 medals (56 Gold, 54 Silver, 58 Bronze) over the same period.
The rockstar's rockstar: Men's 100-meter freestyle final
And, just as the men's 100-meter sprint is arguably the poster event of the modern Games, the cherry on top of the cherry that is Olympic Swimming is undoubtedly the men's 100-meter freestyle final: An almost-over-before-you-blink-affair that's characterized by muscular triangle-shaped goliaths and a flurry of limbs.
Unsurprisingly, a little analysis reveals America's dominance in this esteemed event, with the USA claiming a total of 28 medals. Although Australia's had its fair share of success in this frantic aquatic dash, with eight medalists of its own.
At the last Olympics (Beijing 2008), America and Australia again featured prominently in the men's 100-meter freestyle, with Eamon Sullivan (AUS) and Jason Lezak (USA) claiming Silver and Bronze respectively. Well, Lezak actually tied for third with Brazil's César Cielo Filho (that's why our beautiful infographic looks a bit weird!).
And at London 2012, the Yellowfin team will again throw its oh-so-parochial support behind Aussie – "The Missile" – James Magnussen, as he attempts to compensate for his sub-par performance in the men's 4 X 100 meter freestyle final.
Where to next?
Keep a red chlorine-filled eye out for our continuing series of Olympic data blogs, appearing daily until London's Closing Ceremony (12 August).