What's Cool in 6.2 – Your content never looked so good!
As I was trying the new Guadalajara blend from my local coffee house, and wondering how on earth they convinced me to part with $4.50 for this particular 'premium' brew, two random facts struck me:
The human eye can detect 10 million color hues; and
People generally read 25% slower from a computer screen compared to paper.
So why did these facts strike me down? Firstly, I was playing with my random fact generator app on my iPhone, and secondly, I was using Yellowfin 6.2's new 'Browse' feature to view content: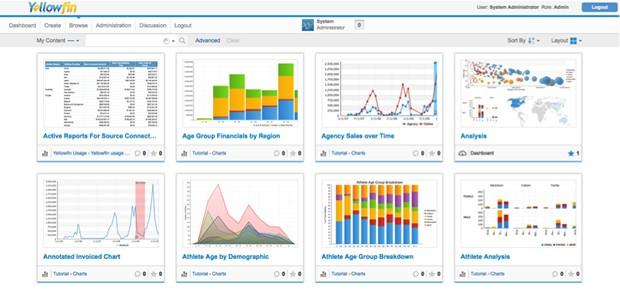 Instead of having to read through the old 'list' view of the world, I see a preview of all my content – whether it be reports, dashboards or anything else. Plus, I can sort and filter anyway I want.
Note: Yellowfin 6.2, to be released at the end of this month, will be the new version of Yellowfin's Business Intelligence solution.
Now, it's far quicker and easier to locate the content I'm after. And, being able to sort by comments lets me have a good ole' sticky beak at what's going on.
I don't want to give too much away before the big launch in a few weeks, but needless to say, your content never looked so good!
Perhaps tomorrow I might try something overpriced from São Paulo and see what else I discover in 6.2.