Real-world state of the BI market: Webinar recording and slides
Thinking about implementing a Business Intelligence (BI) solution, but aren't sure how to navigate your way through an increasingly noisy business analytics software industry? Relax. We've got you covered.
Check out the recording of our recent Webinar series – The real-world state of the BI market. Discover the inside knowledge you need to ensure BI and analytics success.
And the best bit? It'll only take 30 minutes of your time.
The real-world state of the BI market Webinar recording
The real-world state of the BI market Webinar presentation slides
We've even uploaded the slide deck – created and delivered in Yellowfin's very own Storyboard presentation module – to Slideshare; allowing you to move through the presentation at your own pace. And, we've included a downloadable PDF version, making it even easier to share with colleagues and friends.
Download a PDF version of The real-world state of the BI market HERE >
What will you learn?
Listen in as we dissect the results of Dresner Advisory Services' (DAS) 2013 Wisdom of Crowds Business Intelligence Market Study – the BI industry's most in-depth research report into major global implementation, usage and technology developments.
The real-world state of the BI market Webinar, and associated slides, outline:
How to take advantage of the latest trends shaping the BI marketplace
Why new generation consumer-oriented BI is set to dominate at the expensive of 'traditional' BI
Why Yellowfin was rated No.1 in DAS' competitive ranking of the world's foremost BI vendors
If you're thinking of deploying BI, you need to see beyond the hype. Take advantage of our expert analysis and explanation of the industry's most prevalent, tangible and relevant trends.
More on Dresner Advisory Services' 2013 Wisdom of Crowds BI Market Study
To download DAS' 2013 Wisdom of Crowds BI Market Study, and discover why this well-regarded report ranked Yellowfin first compared to 23 of the world's leading BI vendors, GO HERE >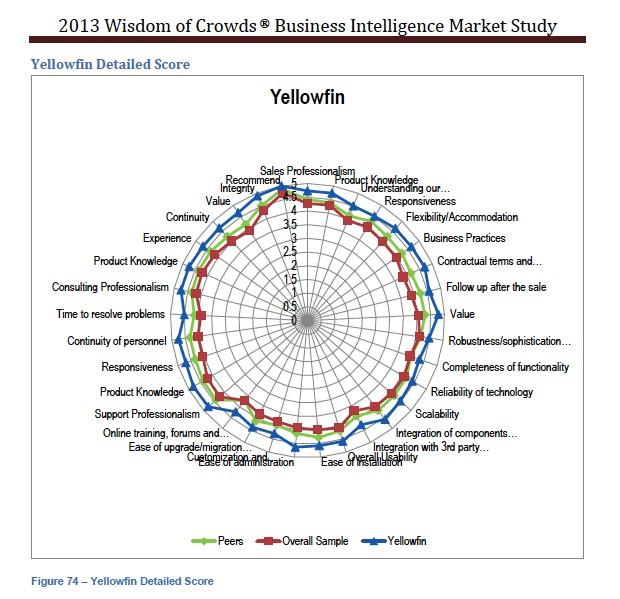 "Yellowfin's unmatched performance in 2013's wisdom of crowds study underscores the success of our consumer-oriented approach to the BI market. Not only do these outstanding results reflect the quality experience enjoyed by our customers, they also demonstrate Yellowfin's ability to deliver unrivalled product, services and support."
– Yellowfin CEO and co-Founder, Glen Rabie
More on Yellowfin
Please don't hesitate to contact us for additional information. If you haven't yet had a personalized demonstration of Yellowfin 6.3, simply register your details HERE >
To get started with Yellowfin today, simply visit www.yellowfinbi.com and click "Try It".
Stay in touch
Stay in touch via the Yellowfin LinkedIn Group, and for regular news and updates, follow Yellowfin (@YellowfinBI) on Twitter.
We look forward to speaking with you further about making Business Intelligence easy.
Best regards,
The Yellowfin team